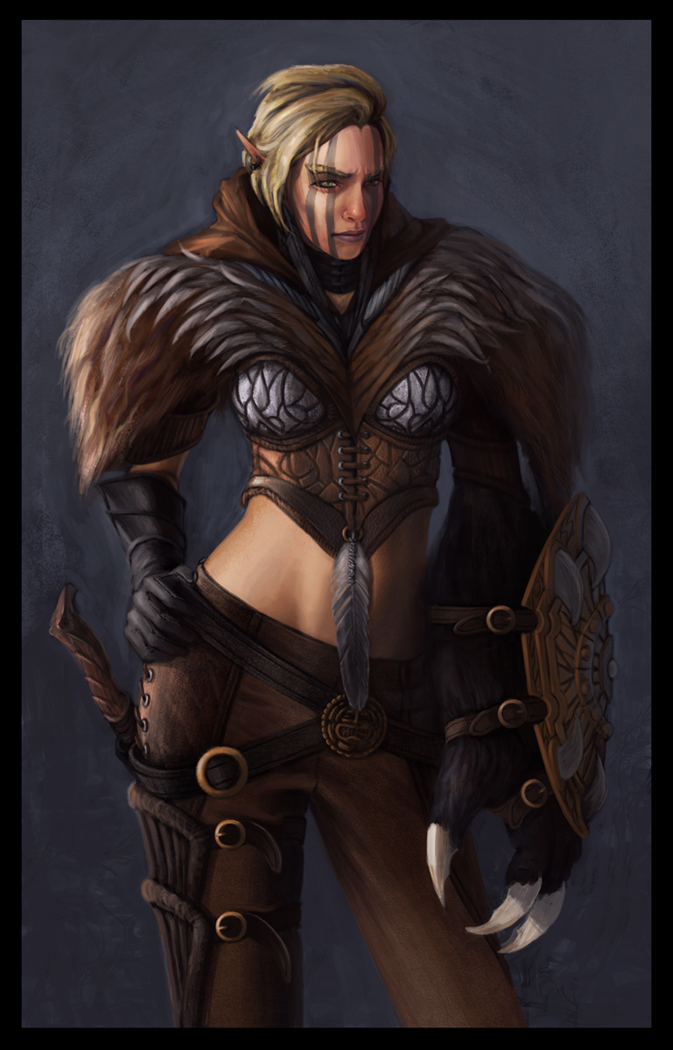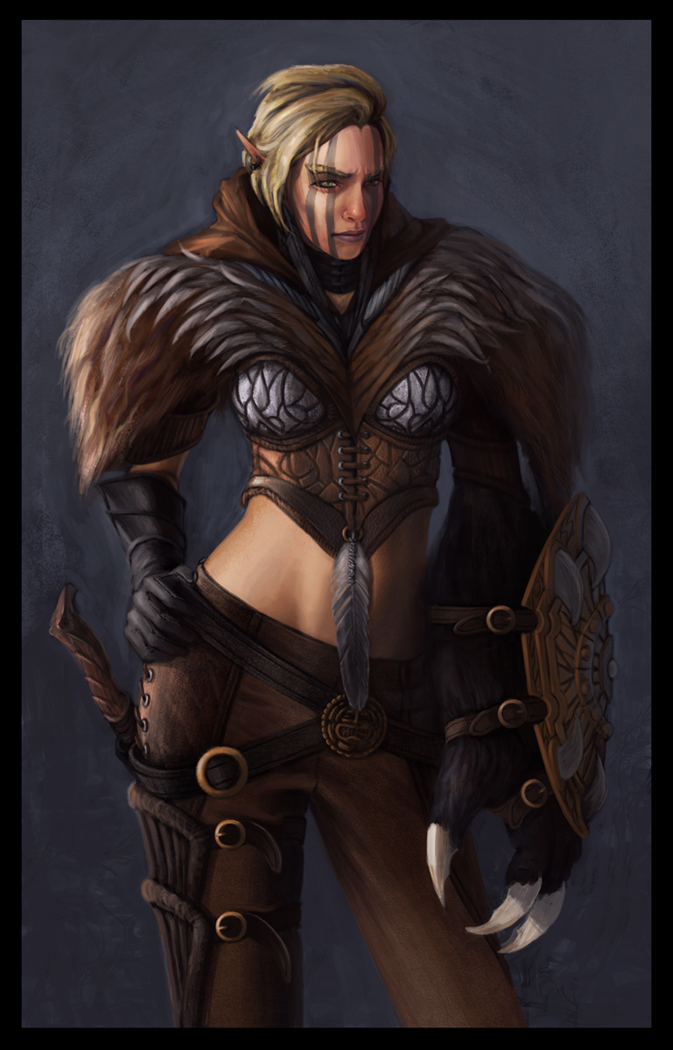 Watch
A made up character whom I've named Aerin Clawblades, partially inspired by a very Elf-like friend whose face I referenced for this piece. The idea is that she is able to morph partially or entirely into animal forms.
This was mostly an exercise in rendering different types of materials and capturing a likeness, took about 3 days.

It certainly works. I like the way the colours blend together.
Reply

Good to see you alive Jujub, I thought you might have fallen off the grid or something.

I really like the design of the character and reminds me of a D&D range who's chosen enemy to be Owlbears. Very tribal

Perhaps a sheen on the fur on her shoulder might make it work better, don't get me wrong I can tell it is fur but with the strong light you have going I am thinking you might see that a bit. the leather parts seem to work pretty good and I like the texture you have going on it maybe you could vary it a bit more by have worn parts where it rubs against something and gives it a smooth shiney feel but only on those rubbed parts. I really like how you did the feathers.
Reply

Hey, thanks for the comments! It's been a busy summer, with boring jobs and some not-so-boring jobs.
Geez, I don't remember the Owlbear much, didn't they have a Bugbear as well?
I actually updated with a newer version, the fur has been refined among other things.
One of these days, I'll read some Lovecraft... I'm constantly reminded of him when I see you work!
Reply

NP, Jubjub you know I alway like your work. I know what you mean about stuck with boring jobs, hopefully some of those jobs were art jobs.

The Owlbear looks pretty much like it sounds and the Moonkins that the druids on WoW can turn into look a lot like owlbears, but if you ask me they look more like furrbies. Here is a pretty good look at an Owlbear
[link]
Glad you been liking my Lovecraft stuff I have been working from his works for two reasons. First he is an awesome writer and second his stories always contains tons of cool creatures and gods in them so it makes great practice for interpreting from a story. BTW way I have the descriptions almost all separated from his works so if you want I can send you a copy if you wanted a shot at doing some too. Love to see your take.

Reply

Reply

ahaaa jub is still alive!! welcome back bro! great work man!
Reply

Thanks man! Yeah, it's been a lazy summer, LOL. Not that I haven't been doing any work, it's mostly been job related, which has nothing to do with what I really enjoy doing.
Reply


summers are there to be lazy my friend! i've seen it here on DA bro, i've started to believe they've all left the planet, never run so less on comments and visitors but!! they're all starten to come back know. keep submitten ey!!

Reply

Wow, sweet design, it really rocks!

I love those fantasy races who are either beastmasters or can change into beasts, hehe.

Awesome job.

Reply

Hey! Thanks for the kind words! Of course, any opinions and crits regarding the design will be taken seriously as well!
Reply

very nice. is this one apart of the concept art job you got from that videogame company? i saw your latest stuff on your blog. cool book cover friend.
Reply