Another 18$ sketch request from my D&D player who paid to have them finished. This is a bit after the previous image: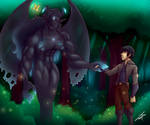 Kida: "Tell me, what is the sun?"

Zelos: "It's what gives people light and warmth. It helps things grow and change. It's the reason we're alive even. But it can burn people too, but it doesn't mean to."

Kida: "...are you a sun?"

If you want to support my work you can too here hehe:
www.patreon.com/juacamo
Image details
Image size
3300x2552px 5.31 MB

The picture is precious, the description made it even more adorable. Really good job at this.