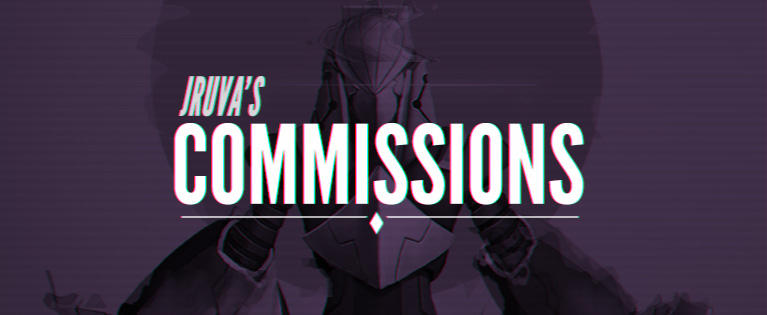 Commissions are currently

Open!

This journal is mostly to document rights and such which you will find in the lower section. All the basic stuff you need to know is on the upper section.
For my Term of Agreement/Privacy Policy regarding commissions,
please click here
.
----

Commissions:
Prices and Commissions listed are for Private/Personal Commissions only. Non-personal commissions, inquiries for freelance work, projects or any other form of published or profitable work and similar has different pricing. Just a heads up.

Prices listed are estimates and base prices, and are to be adjusted accordingly based on subject matter, size, detail,complexity, etc. Total price will be given when ordering. All prices listed are USD.

___________________________________________________________________________________________________________________


__

Sketch
__

Just a regular sketch. Digital or traditional.
Digital inking costs more according to complexity of sketch.
-
Bust up: $5 + $5 per character
Half/ Full Body: $10 / $20 . + $10 per character
*)You can request to add color for +$10. This can be done after completion of sketch
__

Colored Commission

__

Colored drawing with a basic background.
Ideal for basic character commissions/character portraits
-
Bust up: $30 + $10 per character
Full Body: $40 +$15 per character
Additional background (such as simple objects or related) will add to the price. depending on complexity
__

Full Commission
__

A more detailed drawing that includes a full background/scenario.
Ideal for more detailed commissions involving a background or an action by characters.
Background/scenario can also be requested without character
-
Starting price: $80
Keep in mind: Price will be adjusted according to complexity of commission. Price May be lower depending on complexity

__

3D Model

__

3D model of a prop (jewelry, weapon, shield, random object, etc) or a character. Price will vary greatly depending on complexity and needs
Will send a.obj file, not rigged.
-
Starting price:

Props: $40
Characters: $ 70
Keep in mind: Price will be adjusted according to complexity of commission. Price May be lower if it's a simpler prop/character, please ask beforehand, or higher if it's more complex

(eg a simple prop may cost 20 or 50 bucks instead of 30, or character may cost 30 to 100 bucks depending on complexity. Bear this in mind when asking for a quote)

__

Graphic Design

__

Logo creation or graphic design related inquiries (such as banners, ads, trifolds, etc.)
-
Starting price for logos (Personal Use):
$60
Starting Price for ads/publicity (Personal Use):
25$
Keep in mind: Price will be adjusted according to complexity of commission. Price May be lower depending on complexity



NOTE: Price will change if the logo is to be used for commercial purposes
EG: games, animation, companies, businesses, etc.

---------------------
---------------------
Contacting/Payment:
I only accept Paypal! If you are in Mexico, I can accept bank deposit. Proof of the deposit or paypal shall be confirmed before starting a commission.

To ask for a commission, simply send me either an
e-mail
to:
ruvology (at) gmail.com
or a note/PM via deviantart or any of my other social media.
IMPORTANT
: please do not send paypal money to the email adress listed above, I will provide you with the paypal adress once the commission has been agreed on)
In this e-mail, please specify everything about your commission, with info such as:
type of commission (sketch, cg, number of characters, bust up/half body, etc)
specific backgrounds (if any)
information about commission (character info, reference, etc . Please keep it short and sweet, anything to give me a basic idea of how the character is or how they look is good. Short sentences are preferred over paragraphs of information)

use for commission (personal or commercial)
Or anything really, just as long as it tells me what you want me to draw and all the things you think I need to work on the commission. You can be formal or casual on the mail, your choice

I will reply with costs and anything else you would like to discuss. That is, ideas, possibilities, the cost itself, etc. After both parties agree on what the commission will be and the payment,
I'll link you to my paypal adress .
More of this below.
Please note I may take a while to finish a commission depending on other responsibilities at hand, so your patience is greatly appreciated! I will try to finish a commission as soon as possible.
---------------------


General info:
A payment plan can be discussed. You can either pay full or 50% to begin and 50% when it's finished. full payment is preferred on lower-cost commissions (such as sketches, basic coloring, etc)

I cannot assure how long a piece will take, but roughly 1-2 weeks should be the general finish time depending on the commission,or 3+ weeks on larger pieces, all depending on free hours available on my schedule for commission work. Constant pressure of the commission won't help speed up the process, so I humbly ask you for patience and comprehension!

I will keep you updated with the progress of the commission, from rough sketches to color process. Fixes and modifications can still be done at this point. If you are satisfied with the final result, the commission is then complete, and you are sent the full image in full resolution.

No fixes or modifications shall be made after sending you the final image. They are non-refundable past this point too.
Please supply any visual reference of anything and everything that can help visualize the idea of your commission. If a character commission, pictures depicting said character are important for the commission to happen, so please send them!

I can do pretty much any style you wish for, and add anything you want in it as long as I can get a basic idea, so sending reference helps a lot.
---------------------



I will draw...
Original characters (characters you have created for yourself or projects, as well as fancharacters, based on existing fiction. If requesting someone else's character, please confirm to me you have permission for this, otherwise I can decline)
Concept Art
Fanart
Nudity

Anthro (animal, demon, etc.)
het love/boy love/girl love (as long as it doesn't fall under the category of porn)
I can also be paid to do other miscellaneous tasks,such as:
character redesign
landscape art
character sheets
orthographic sheets (for 3d modelling)
mugshots
icons
anything crazy like fixing the colors/color pallete of one of your characters

Please ask me for pricing of these if you're interested as pricing may vary. You can also ask if I am available to do X thing for you, chances are I can!


I will not draw...
Fetish art
Pictures with heavy sexual content/porn
Gore
Hate art
Anything involving use of drugs

Any other questions about commissions you can contact me via the email provided above or send me a note on Deviantart

!

----

That's it. Thank you for your support!!