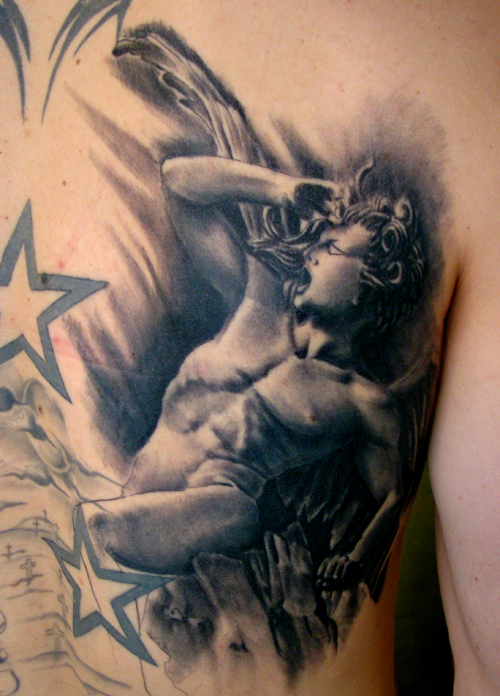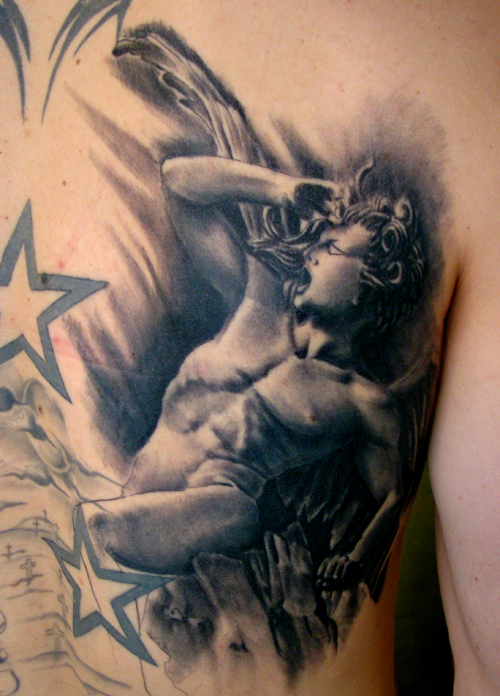 Watch
fallen angel tattoo, unfinished piece. Only the angel is done by me. It should be bigger but he already had some tattoos on the back.

Damn, I live in London. I guess a trip to Sweden could be possible. Are you a paid tatoo artist? Would you be able to remake an old tatoo like what I have described?? I cannot stop looking at your art. My idea was exactly ike that 15 years ago, but something else came out. Can you help?
Reply

what do you mean by paid tattoo artist? I'm a professional tattooer and i work at a good tattoo studio in Stockholm but i'm self employed (i don't have a boss

).
Most of the tattoos can be fixed/repaired. It really depends on what you have but at the same time i have to tell you that there are a few amazing tattoo artists in London too. You might want to take a look and also the prices in London are a lot better than in Stockholm.
I think you should consider your best options.
If you still want to be tattooed by me, you are always welcome

Reply

Hi, where are u based. I have an angel tatoo, that is 15 years old and needs refreshing but also changing a bit. it doesnt really have shadows, it looks more like a wet tatoo and my original idea was exactly what u have done here. looking so real.
Reply

I love how you blend everything into the skin...it's amazing, and this is amazing.
Reply

This is fantastic. Good job.
Reply

thank you very much. i don't understand why this tattoo don't really call the attention to anyone on deviant art. From my point of view it's turning our pretty nice.
Reply

I think the same thing everytime I submit a tattoo, but that's because the ones I do aren't any where near the quality of yours. You are one talented dude and your work inspires me to harder. I'm teaching myself, I know this is frowned apon by traditionaly trained tattoo artists, but at this stage, it's my only option.
Reply