Ellie Ming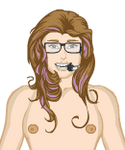 Real Name: Ellie Ming
Age: 31
Gender: Female
Alignment: Neutral
Hair Colour: Brown (with Purple Highlights)
Eye Colour: Brown
Powers/Abilities: None
Weapons/Tools: Advanced Holographic Hands
Additional Notes:
Ellie Ming
is a news reporter for Nu York City News (NYCN) and her camerawoman is
Lydia Stephenson
. When Ellie was reporting on live television, something had gone wrong during the scene behind her and she was too slow to move out the way. Though she later made a recovery, her hands were too badly damaged and were amputated. As a result, a subsidiary of Mooney Tech, called Starry Industries and Technological Advancements (or S.I.T.A. for short), had designed some cybernetics which can project holographic hands which can interact with objects just like normal hands, except these holographic hands can extend to a foot in front of the user and so some things can be easily reached when they normally couldn't. She reported on a seemingly random arson attack and interviewed
Jason Burne
, the firefighter who was in charge of extinguishing the fire, and the Detective
Samantha Blake
.

Gallery
The following links lead to images of or including Ellie Ming


Nu York City News Interview
Ellie Ming
Interview in the Park
Colouring Pages
Colouring Pages of Ellie Ming
Earth-N Colouring Page Pack 1
(includes 1 page)
for more profiles, see here