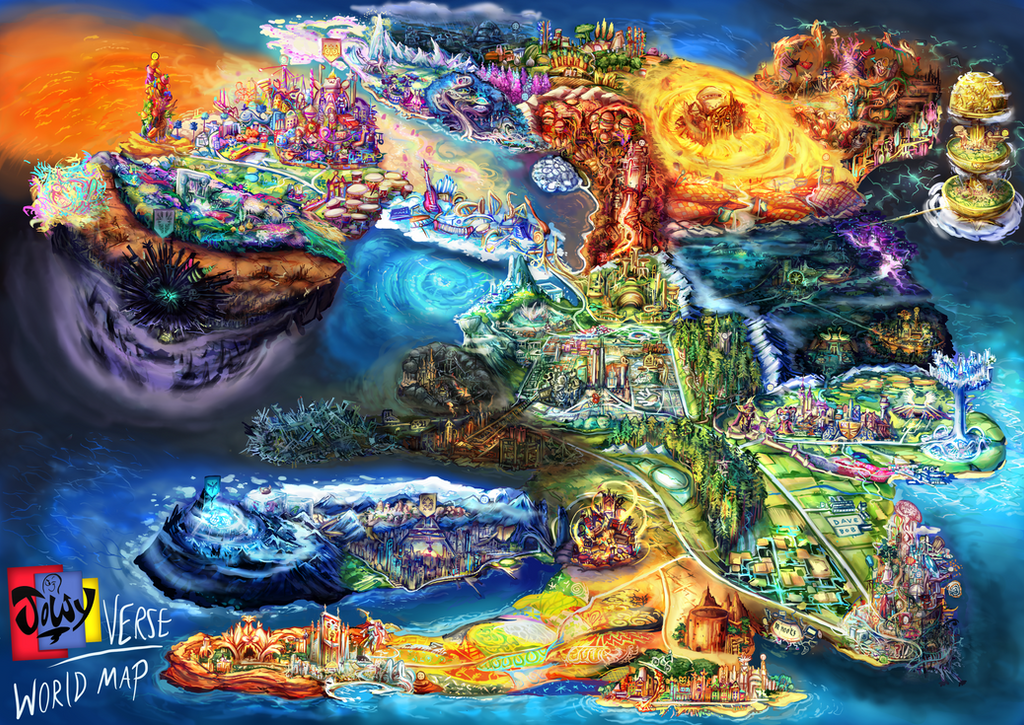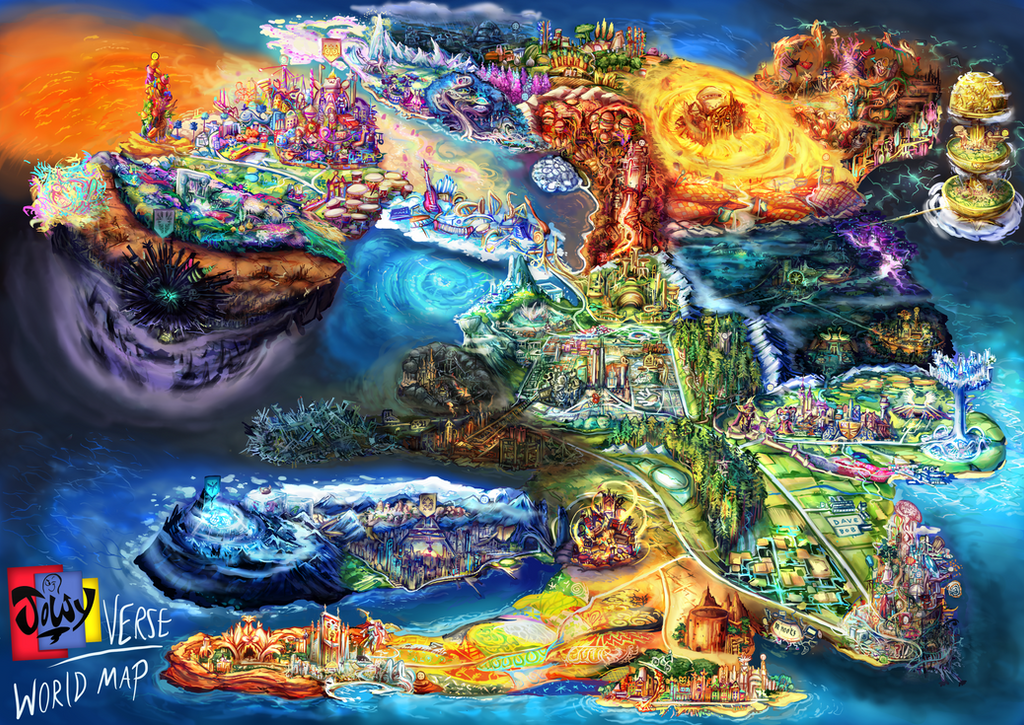 Welcome all to the Jowyveres in colour for the first time ever

I have been working on this map for almost a month in between freelance and commission work. This particular painting is to distinguish landmarks, atmospheres and colour schemes of each individual area. I have a much more in depth map planned in the future but this will make a much better substitute when I inevitably return to the Jowyverse and its cast of characters.

(which is my next illustration planned)
Each world is unique in its design and source of inspiration, And This year I have been coming up with an interesting history on each of these locations and how they all play a part in how this fictional universe operates I would go in to detail but I do not want to bore you and I am still working on finalising the world bible before I am happy to share it with you guys.
The crazy thing is Some of these worlds I have had in my head since 2001 and 2008 so its nice to finally give them some justice by adding them to the new improved World Map.
There is my alternate map with the place names which are still WIP names but help give the world more of an Identity.

Until next deviation LATERS

You can check out what information I have on my world and characters here

jowybean.deviantart.com/galler…
painted in photoshop CS6 with a wacom tablet pro in 25 hours and a half (one of the longest Pieces I have made to date).

Is this Cute

Win

Fail

It's a CRIME that no one's tried to give this the critique it deserves. I guess I'll have to take a whack at it.

I'm just going to be blunt right out of the gate; this map is fantastic.

Let's start at the big picture and go down from there. First and foremost, the landscaping is a revelation. Drawing natural landmasses at any scale is a frustrating endeavor, and the fact that you were able to make an entire continent with a natural outline shows a good bit of knowledge and care. In short, this place looks like a real geographical location, even with all of its whimsical components.

Said whimsical components are easily the most impressive part of this piece. There is a STAGGERING amount of color and detail caked onto each region, but it never becomes too much. It's all in service of telling us the story, personality, and atmosphere of each zone. And doing so from a satellite's eye view? THAT is a show of effort.

One gripe I DO have is that some of the areas blend into each other somewhat, specifically when it comes to the center-east and south-east, but that probably won't matter after some familiarization. But on the subject of which, the lack of the legend labeling and naming each area from the sketch version is a tad annoying. How would a newcomer tell between Sewing Valley and the Fabric Marshes? No idea!

Honestly though, these are just scrapes for negativity. It's no hyperbole that there is a very real blend of imagination, talent and passion here that is seldom seen in commercial projects today. The whole feel of the Scales and Jenny concept carries this blend, so it's nice you were able to make a world befitting the insanity.

To make a long wall of text short, this is a WIN.
The Artist thought this was FAIR
4 out of 4 deviants thought this was fair.