Jowy B which has recently become my permanent name for my artistic identity has been specializing in bold colourful imaginative art and graphics of cute (mostly anthropomorphic) characters with a sci-fi fantasy steampunk spin.
I really enjoy creating anthro characters like this , Right now there's no story or character with these designs its just for creative expression.
I will think up a better name but i might stick with Flower core universe for now.

However I do have a septate illustration project that focuses on my two mascots Velvet and Fringe.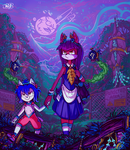 so if you want more of a visual insight in to this universe i have been developing then go there
www.deviantart.com/jowyb/galle…
Image details
Image size
1746x3163px 1.5 MB