this is my newest Commission I did for
Klamnei
a really fun and interesting one in terms of lore and history of Granny Smith.


interested in getting your own jowyB commission like this one? please do not hesitate to message me (as long as there is no tight deadline and its not NSFW) i am available to create what you envision.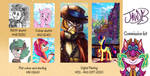 Here is what
Klamnei
says about the scene I have portrayed for them.
I've sometimes heard people wonder about Granny Smith's name before she became a grandmother. That had to have been weird, right? Being a child and saddled with the name "Granny"? Surely that wasn't the case. "Granny" just has to be a family nickname that's spread into common knowledge. Even IF at some point she legally changed her name to be "Granny Smith", her birth name HAD to be something else.
And I even have an idea on what it might be.
Edith Smith: A reddish-green apple of the MACINTOSH line. Tough and pulpy, but great with cooking.
research-groups.usask.ca/fruit…
I honestly don't know why the showrunners didn't use this. The name, the description, the freaking lineage, it's all here. The only sticking point is the apple's green AND red coloration, but even this can be explained, as like humans, the eye color and hair color of equines can change throughout the first few years of life.
And that's what this picture here is all about. Granny is showing the grandkids some pictures from her early life before her colors changed. Perhaps they already knew her real name was Edith, but they'd never envisioned her sporting a splashy scarlet coat! "Macintosh Red', Granny calls it, and while it may had faded on her, she's glad to see it got passed on.
Granny Smith is a cool character. I understand why the showrunners didn't give her more focus, but it still feels like a wasted opportunity. This mare is a pioneer, an entrepreneur, a businessmare, a clan matriarch, and one of the most successful farmers in the country. She endured the terrible hardship of being widowed. She raised her son on top of handling the farm. She eventually gained a daughter-in-law, only for tragedy to strike again and leave her to raise three grandkids. Yet even still she managed to pull through on top of whatever responsibilities she had.
In my mind, Granny Smith isn't some frail, fading, borderline-senile nopony. She's the god damn matriarch of the Apple clan. She's smart, strict, resourceful, indomitiable, and proud. She loves her family more than life itself, and if you threaten them in any way, Celestia herself won't be able to save you. She can be quite intimidating when she wants to be—not only are workhorses much larger than the average mare, a long life of farmwork has turned her into a veritable piece of iron. Trust me, you do NOT want to be on the receiving end of one of her kicks. The family resemblance to her grandkids is clear as day: same jawline, same thick 'straw' look to their manes, same bright, sharp eyes.
until next deviation friends
Laters
here are my other links

Image details
Image size
3732x2920px 8.6 MB