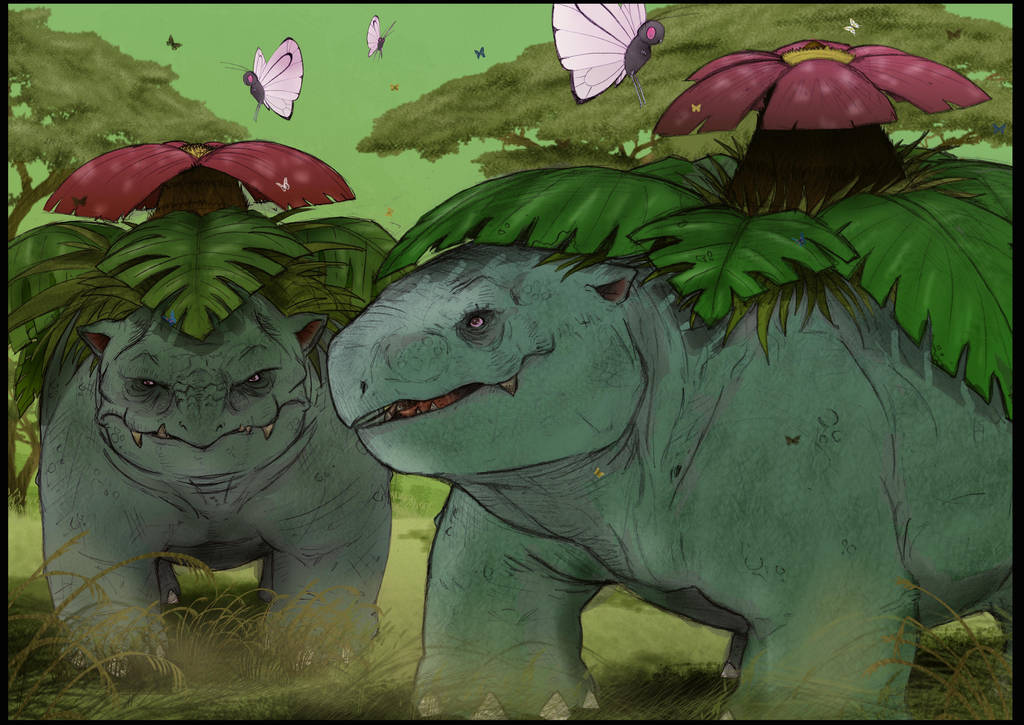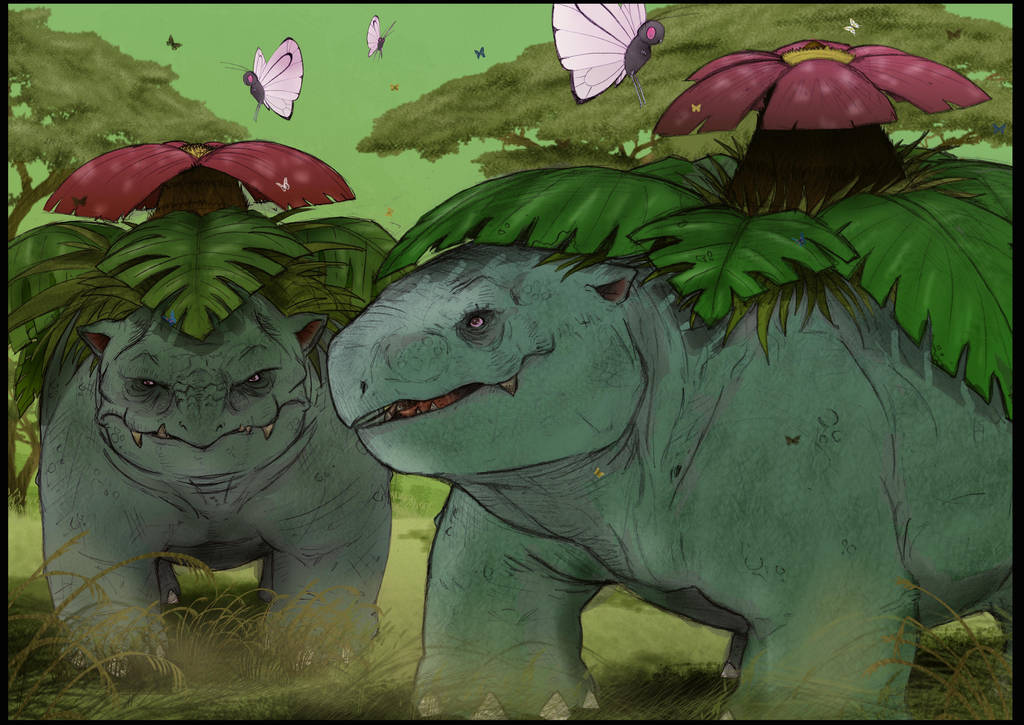 Watch
This info is ripped off 'Autumn Family'. Here the venusaur have gathered for a Pollunation of the plants. they do this just before they mate so the seed will be ready in time for the baby bulbasaurs. female in forground and male in background

I made them look a lil more like their orginal anime selves, even tho i love the EVA pic, she just wasnt like the original enough to warrent putting in the book.
Venusaur mothers are very protective of their young and will protect them for up to five years after their born. After the five years they seperate that bond allowing the calf to start their own life.
Venasaurs will live in a large group of up to 16 feamles and one bull male. They protect their young ferociously and will even protect others calfs if needed.
They live in a matriorical society, meaning they are run by an alpha female or matriarch, in this case Eva is the Matriarch as she is the eldest female.
At a certain age the males will leave to find their own groups and sometimes will wonder all their life looking for a family. females will have a bull male for up to 12 years and then they will decide to have a new one and push them out. this stops inbreeding.
When the females are pregnant and are about to give birth they will travel off on their own and lay up to three large eggs.
The gestation period for the eggs are only a few days while their mother watches over them and when they hatch their mother will implant a seed from her flower into their backs.
She will then take them back to the herd once the bulb has begun to grow.
Their species has evolved to live along side the plant and if this process is not done they die in a matter of days as their amune systems are not strong enough on their own.
Hope you like it

While the description for this picture is thorough and beautiful, we feel that the picture speaks well for itself. Venusaur, like modern leviathans, gather about a dusty savannah, their flowers potent with a fertile aroma that not only attracts mates but the fine taste of a flock of Butterfree. Pieces like this show a beautiful depiction of the world of Pokemon as it should be, as real as our own, uncensored, and very much alive. While the Venusaur themselves are lovingly detailed and take up the bulk of the picture, we can't help but also give praise to the dainty Butterfree figures far above, their luminescent wings moving the viewer's eye around the entire picture.
The Artist thought this was FAIR
30 out of 31 deviants thought this was fair.