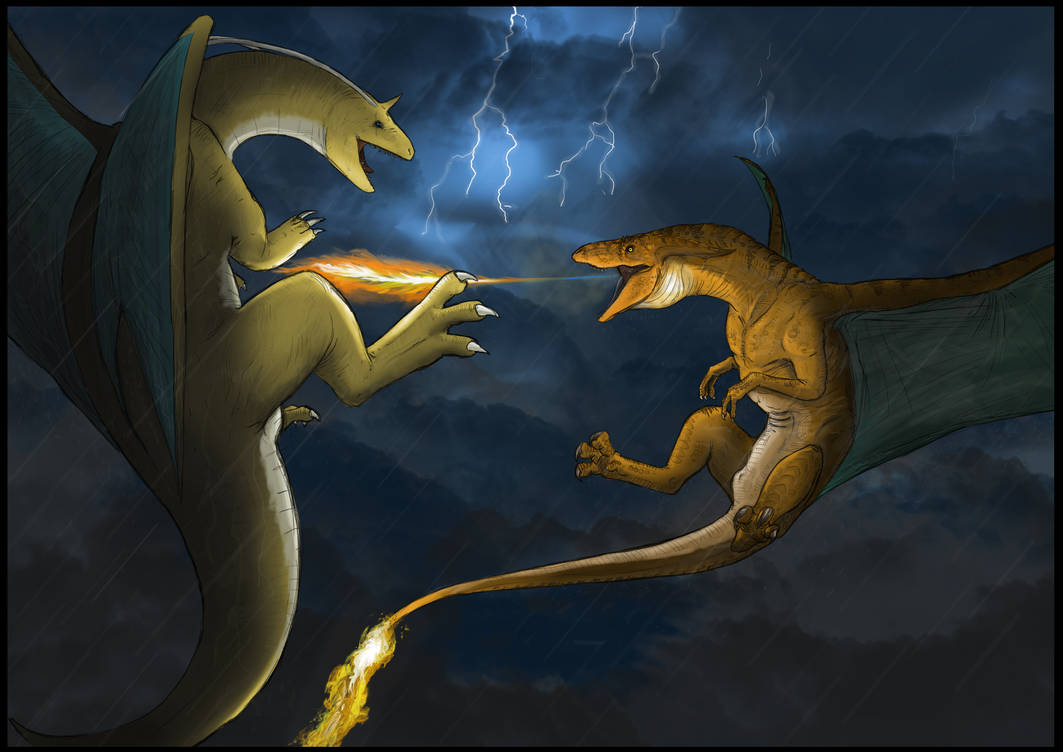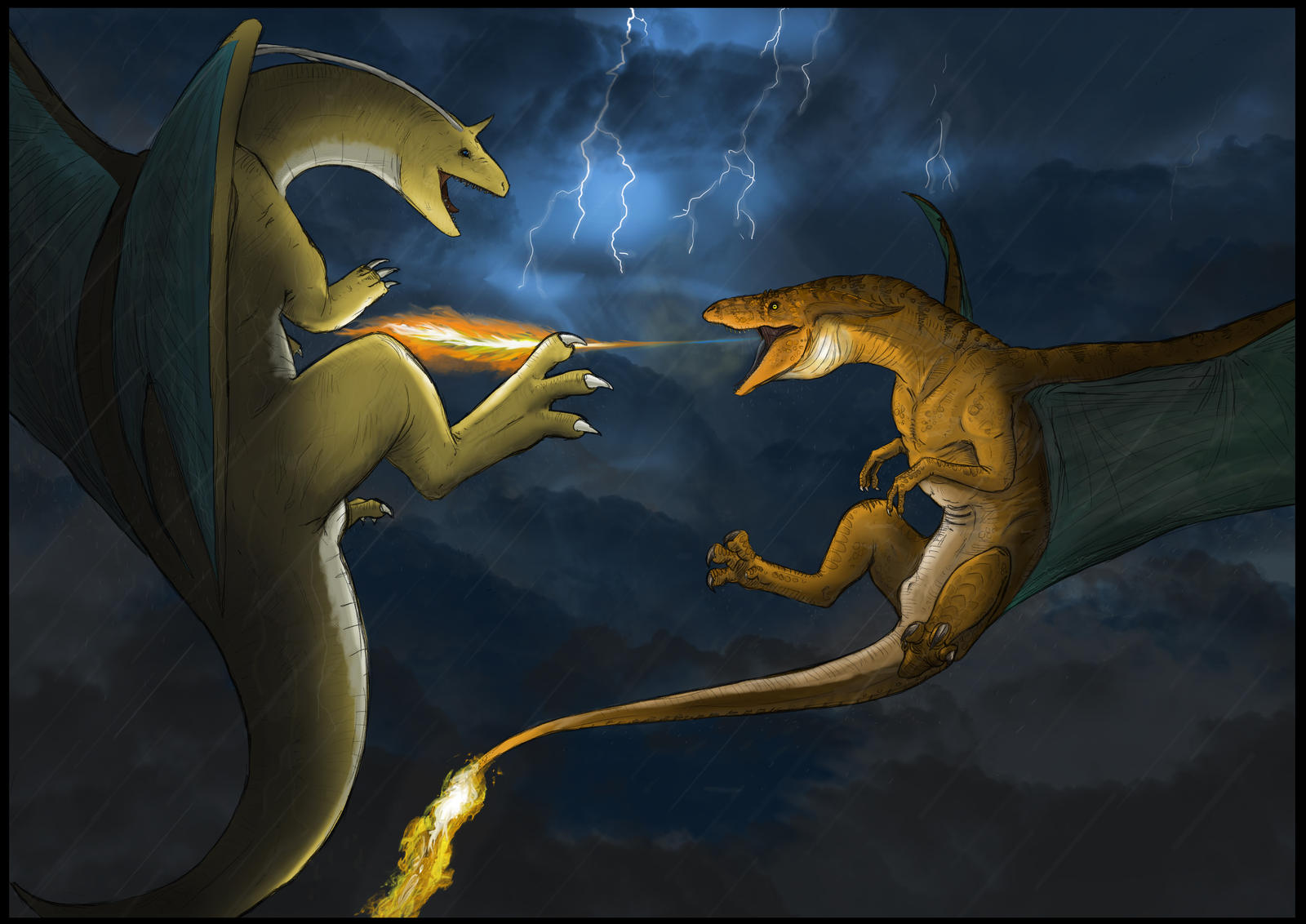 Watch
This is just a picture i wanted to draw?

Hope you like it

What can we say to resume all this? The idea is interesting, the execution is so clever and epic, and the tecqnique is to congratulate. I have to say it's a great masterpiece...but I can't help but to say one or two things I didn't like.

First of all, I have to say that the main fuel becuase this idea works, at least for me, it's because is the showdown between, what I say, one of the coolest Pokémon (Dragonite) against one of my favorite Pokémon (Charizard), but both of them can be considered two of the most famous and recognized Dragon-type Pokémon. For a pretty pathici first gameplay; i grew a big dislike to Dragonite, because of I was a terrible player, so I never had the idea how to catch Dratini and how to raise it, so a big envy was developing on me. However, I really grew a big fond for Charmander, Charmeleon adn Charizard, becuase they were the first "Oh my God, I just love these Pokémon" for me: I always choose Charmander like first Pokémon (even in Firered). In this work, what I love is to see howw my favorite Pokémon fights against the Pokémon I was never able to get, like a kind of revenge, and I can't help but wish all the luck to Charizard, and labeling Dragonite like the villain; I just wish I'm not the only one thinking this. But, I digress.

I think the idea is pretty displayed. The dark scenary, the thunderstorm, the lightning and the lights effect, all these makes this scene like the "Final Battle", like the "The Fight of the End of the World", you just know this is epic, and it really inspires plenty of ideas to the people that is thinking to write a story.

Then, about the character design...I'm kind of sorry to say it doesn't work 100%. Don't get me wrong, it well worked, the details give live to the characters, they're just so descriptive...but, maybe TOO DESCRIPTIVE. Look, it's a really clever idea to try a different design, and it's cleverly themed the dragons with the design of the originals creatures, but I see a little too much of Poetic License.

I know the which is the main cause: Pokémon is a more animated style, and this work try to be realistic, and in Fanart laws, this is all valid, and it works most of the times. But what I want to say, it goes a little far away from the original design, and at first you may think this is 100% away from Pokémon, and I think what I don't like so much is that they don't have a so "pretty-to-look-at" face. I know they're dragons and beauty is not a strongly relationed face.

But, as a work istelf, it really WORKS and it's really GREAT. Even being a little realistic, the creatures displayed here looks great in this work, the theme is played in a breathtaking way, and you can't help but fall in love with the care of the details, shades and lights.

To the artist here: if you keep making this kind of fanarts, GO AHEAD, you have so muhc talent. But, if you're planning of making an original work of this kind, YOU REALLY SHOULD.

A great work!!!
The Artist thought this was FAIR
5 out of 7 deviants thought this was fair.