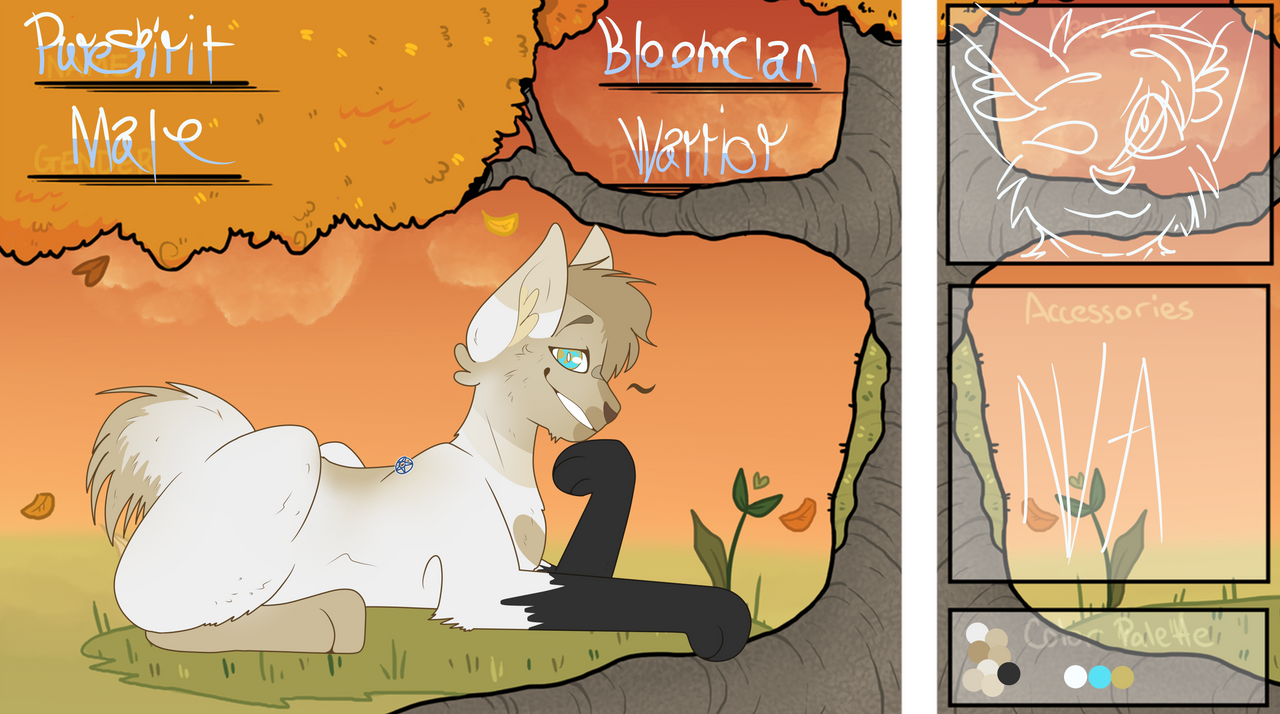 Watch
Former names || Purekit, Purepaw
Future names || ???
Name meaning ||

Prefix: For the pure white in the majority his pelt
Suffix: For his determination throughout his apprenticeship
Nicknames || Pure, Loverboy
Sex || Male
Gender || Male
Age || 70 moons
Clan || Bloomclan
Rank || Warrior
Mentor/Apprentice
|| N/A
Former mentor/apprentice(s)
||
Duskfeather
Appearance || A white tom with brown markings littering his body, including a heart shape on his chest. His eyes are piercing blue with yellow specks.
Breed || Birman x Asian Semi-longhair x American bobtail
Scars and Disabilities || N/A
Belief in StarClan || 90% || "Starclan chose my sister to be the leader of Bloomclan, I'm sure they're out there."

Belief in The Dark Forest || 90% || "Gotta be somewhere for the baddies, right?"
Loyalty to the clan
|| 100% ||
"My family is here, why wouldn't I be loyal to my sisters clan?"
(

) Good. || (

) Neutral. || (

) Bad. || (

) Hidden (Optional.)

Friendly!!
"Hey, what's up? It's a beautiful day today huh?"



Relaxed!!
"It'll turn out fine, nothing to worry about."

Excitable!!
"Woah, seriously? That's great!"

Flirty!!
"Hey sweetheart~"



Absentminded!!
"Huh? What?"

Determined!!
"I got this."



Over-Protective!!
"Hey, be careful. I haven't heard good things about that place.."

Sneaky!!
"Okay, if I'm quiet no one should notice.."

Lazy!!
"I'll do it later, don't worry about it."
★ F A M I L Y
---
Mother and Father || Creamheart (mother), Speckledeye (father)

Aunt || Browntail
Uncle || Spottedleap


Brother(s) || Gorseheart

Sister(s) || Acornstar
★ H I S T O R Y
---

History:

Kit || Purekit, Acornkit and Gorsekit were born to Speckledeye and Creamheart, two Leafclan warriors. He enjoyed playing with both his siblings and the other kits whenever he could, being a very playful and excitable kitten. A few moons after they were born the drought came, causing them all to group up into Direclan, safely on the gathering island. Purekit was too young to fully comprehend what was going on, all he knew was that they were moving somewhere else. He enjoyed the increase in kits he could play with, but his favorites were always his siblings. His father often told them tales of previous battles the clan had been through, and Purekit loved every one.

At this point, the trio would often sneak out of the nursery. The increase in kits made it a little easier, if they timed it right. It was always Acornkit's idea, but Purekit never objected, he loved getting to see the outside whenever they left. One day when they escaped they went out farther than ever, and they encountered a fox. The fox threw Acornkit into a tree and hurt Gorsekit, but Purekit froze and stayed back out of the way of the raging animal. Just in time to keep the fox from harming Purekit, their father Speckledeye attacked the beast. He was angry, but he suppressed it and went easy on the kits. He comforted Acornkit when she blamed herself for the encounter, and told them all that this is why they need to stay in the den, to avoid creatures like that. Purekit never tried to sneak out again.

Apprentice || Purekit became an apprentice alongside his siblings, with Direclan still being the only clan. His mentor was Duskfeather, and he instantly took a liking to her, becoming very excited for his training. His excitement was quickly shut down however when his mother died because of the drought. His sister got over it much quicker, but Purepaw just couldn't accept it. He stopped showing up to training sessions and stayed in his bed, despite his sister's attempts to cheer him up.

Duskfeather quickly noticed that he wasn't showing up on time, or at all anymore. It didn't take her long to figure out what was happening, and that he was in the apprentices den and had been for some time. She went in and tried talking to him herself, she herself lost both of her parents and thought she could help the grieving apprentice better than the others. It took a while, but he finally opened back up to Duskfeather and began his training sessions again. He had a lot of catching up to do, but he was determined to get caught up in time to become a warrior with his siblings, and he did.

Warrior || Purepaw proudly became a warrior with his siblings, earning the name Purespirit for his determination and spirit to catch up on his training in time. It was uneventful for a while, until Honeystar died and Thistletuft became the next leader. His sister Acornpad was chosen as the next deputy, and he was a little worried if she'd be able to handle it, but he knew she was a good choice. At this point Purespirit tried to branch out more, making friends with many of the Direclan cats. Some didn't like him much for his flirty nature, but there was one that stood out to him. Snowshade was a pure white she-cat that he instantly fell for. The first time he spoke to her she seemed to enjoy his presence, which excited him. They later became friends, and lovers.

After a while of being together, Snowshade began looking at the possibility of kits. Purespirit wasn't sure if he was ready to go that far just yet, but that was all Snowshade would talk about. After a while he got tired of her constant nagging and pressuring him into it, so he said yes. She became pregnant with his kits. It wasn't even a moon later that the floods began, and all of the leaders perished in the waters it brought. The deputies had a gathering and decided to split back into separate clans, except this time just three rather than five. He was proud of his sister for becoming leader, and of course decided to go with her to Bloomclan. Snowshade however had different ideas, and tried to convince him to go with her to Smokeclan. They fought, and both went their separate ways.
Sexual Orientation || Bisexual
Romantic Orientation || Biromantic
Gender Identity || Male
Preferred Pronouns || He/Him

Status: Single

Looking for ||
|0| Quick Fling
|0| Long-Lasting Relationship
|0| One night stand
|0| Strictly sexual
|0| Crush
|| Too young
|| Not interested
|| Taken

Preferences: No real preferences, he'll flirt with anyone at all



Interested in || N/A
Crush || N/A
Mate || N/A
Kits || ???


★ R E L A T I O N S H I P S

// Annoyed ||


// Disliked ||



// Hated

// Like ||


// Respected ||



// Very respected

// Wary ||


// Cautious ||



// Avoided

// Slight crush ||


// Crush ||



// Obsession

// Friend ||


// Good friend ||



// Close friend

// Like (platonically) ||


// Really like (platonically) ||



// Love (platonically)

// Wants to get to know them ||


// Misses ||



// Can't bear without

// Not trusted ||


// Slightly suspicious ||



// Very suspicious

// Shy ||


// Jumpy/Nervous ||



// Fearful

// Dead

// Family

// Mentor/Apprentice
name | bullets | opinion~NPCs~
Speckledeye |







| "I know losing mom wasn't easy, but I hope you and her are happy together in Starclan, dad."
Creamheart |







| "I miss you, mom.. Things just weren't the same when you left."
Snowshade |-


| "She was my mate, but I don't know what I saw in her. She always wanted her way, no matter what."
~Owned by other members~


Acornstar
|





| "I'm so proud of how far she's come, leading an entire clan! Heh, I used to wish I could be in that position myself."
Gorseheart
|




| "Lil bro!! I love him just as much as I love Acorn. He's come far too. I think we all have."
Duskfeather
|





| "Ah.. She taught me everything I know, besides my dazzling people skills. I think she joined.. Rushclan? I hope she's happy."
★ T R I V I A
---

Likes ||
Puns/Jokes - "You've... Cat to be kitten me."
Siblings - "I love my siblings so much.."
Flirting - "I cant help it, I see a pretty cat and bam. Flirt time. It's not my fault pretty cats show up every 2 seconds."
Playing - "I love playing with kits and apprentices, they're usually so fun an excitable."
Dislikes ||
Foxes - "They're what hurt my siblings.. I don't know how I got out of that without a scratch."
Floods - "The flooding many moons ago took so many lives.."
Being bossed around - "I'll follow orders and everything but c'mon, I don't need young cats bossing me around. I can take care of myself."
Fears ||
Foxes - "I don't want to see another one of the orange menaces again."
Flooding - "What if another one happens.. We'll lose so many more cats.."
Dreams
||
He isn't sure what he really wants
Other ||
★ ROLEPLAY
---
(

) Yes. || (

) Maybe/Depends. || (

) No.
Timezone || EST (Eastern Standard Time)
Discord
||

Yep!! (Joshie!!#3626)
Notes
||

Possibly!!
Comments
||

Meeehh
Other Chats
||

Perhaps!! Just ask
G
||

Yeet
PG
||

Yeppers
M
||

Uhhh depends,,

Roleplay Example || Purespirit's tail swayed as he walked through the forest, near one of the borders. He listened to the sounds of birds chirping peacefully in the trees above him, letting the occasional sun rays light up his fur. He'd been out of the camp for the whole morning, just walking around. Sometime in the afternoon he began his trek back, stopping to catch some prey on the way. When he reached camp he had a few squirrels and a rabbit in his jaw, and he happily deposited them into the fresh kill pile.




Congratulations! Your character is now a mentor, and their apprentice is
Fireflypaw
. Your character's rank up will be announced in the next news. As a mentor, your character can now teach their apprentice how to hunt, fight, patrol, and protect their clan!
Reply

Oh dear lord, the handsome baby
Reply

WHY IS HE HANDSOME
thats illegal
Reply

IT'S NOT MY FAULT
MY HANDS WERE JUST DRAWING HIM AND HE SUDDENLY TURNED HANDSOME
it's very illegal he shouldn't be allowed to look that good
Reply