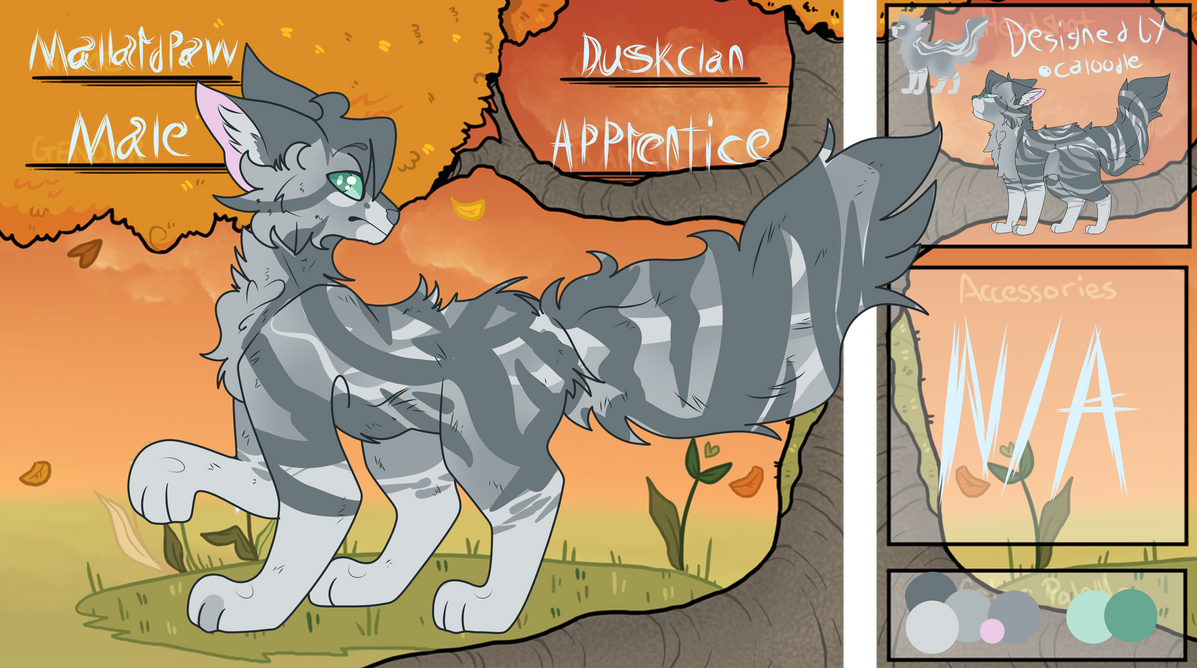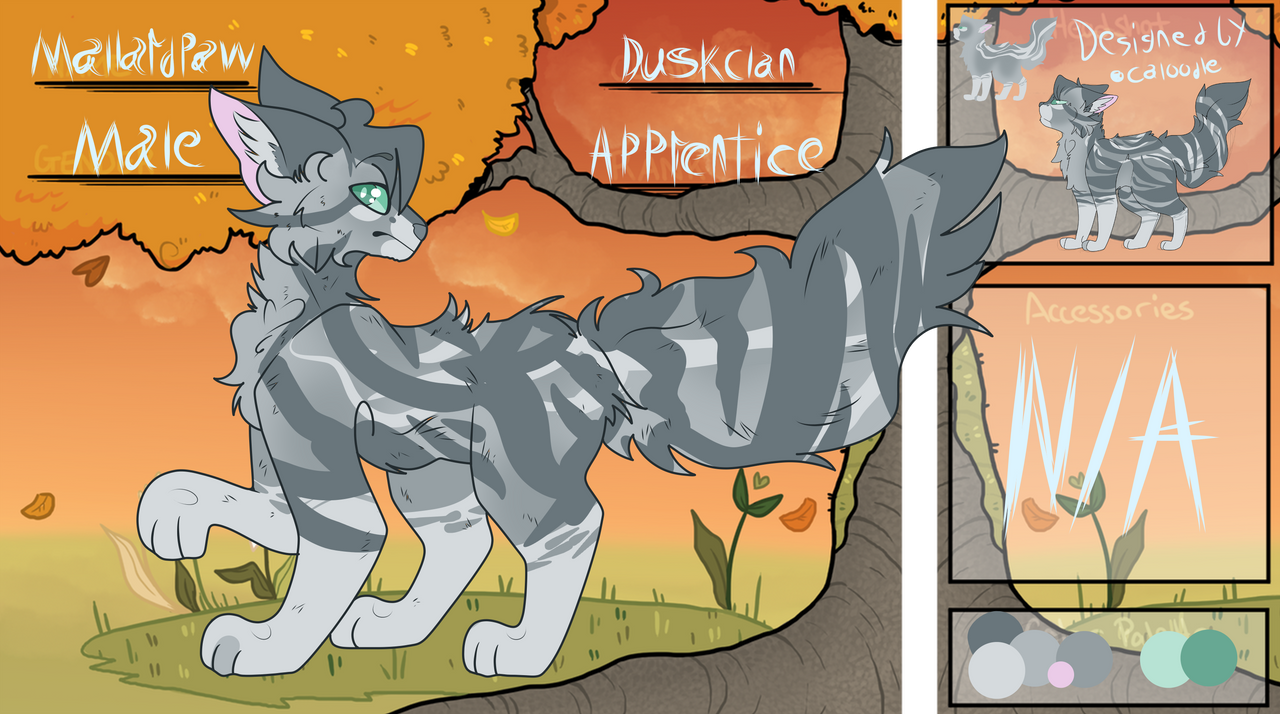 Watch
Former names || Mallardkit
Future names || ???
Name meaning ||

Prefix: A secret reference to his Smokeclan heritage
Suffix: Because he's an apprentice
Nicknames || Mallard, Mal
Sex || Male
Gender || Male
Age || 6 Moons
Clan || Duskclan
Rank || Apprentice
Mentor/Apprentice || TBA
Former mentor/apprentice(s) || N/A
Appearance || A blue-gray tabby tom, his legs are a brighter almost-white gray and his eyes are a murky green.
Breed || American Shorthair x Maine Coon x Russian Blue x Turkish Van
Scars and Disabilities || N/A
Belief in StarClan || 100% || "Starclan is where the good, heroic cats go after their death."

Belief in The Dark Forest || 100% || "The opposite of Starclan. Evil, villainous cats go there."
Loyalty to the clan
|| 100% ||
"I mean.. Why would I go against my home?"
(

) Good. || (

) Neutral. || (

) Bad. || (

) Hidden (Optional.)

Loyal!!
"One day I'll fight for my home!"



Smart!!
"Hmm.. Maybe you're hiding... Here! Got you!"

Brave!!
"I'll fight that monster for you!!"

Serious!!
"Strong warriors have to be serious, we don't have time for games."



Ambitious!!
"I'm gonna be a great warrior one day."

Cold!!
"You were mean to Goosekit.. Go play by yourself."

Impatient!!
"Can you hurry up? I have things to do!"
★ F A M I L Y
---
Mother and Father || Webstar (mother), Ripplestar (father)

Aunts || Fuzzykit, Riverstep
Uncles || N/A


Brothers || Duckkit, Goosekit

Sisters || N/A
★ H I S T O R Y
---

History:

Kit || Mallardkit, Goosekit and Duckkit were born to Ripplestar and Webstar, however no one knows that Ripplestar is the father at this moment, not even the kits themselves. He usually hangs out with his mother in the nursery rather than playing, though occasionally he'll let loose and have a blast with his siblings. His serious exterior hides a playful young kit on the inside, even if he says otherwise.

As time passed, a much smaller Bloomclan moved into the Duskclan camp. This confused Mallardkit, but being able to meet new kits was enjoyable for him. He and his siblings even got to meet Acornstar's kits, though they didn't talk much, and instead mostly looked at each other. Soon Mallardkit and his siblings apprentice ceremonies were coming up, and he grew more excited for it every day.

Apprentice || TBA

Warrior || N/A
Sexual Orientation || Undecided
Romantic Orientation || Undecided
Gender Identity || Male
Preferred Pronouns || He/Him

Status: Single

Looking for ||
|| Quick Fling
|| Long-Lasting Relationship
|| One night stand
|| Strictly sexual
|| Crush
|0| Too young
|0| Not interested
|| Taken

Preferences: N/A



Interested in || N/A
Crush || N/A
Mate || N/A
Kits || N/A


★ R E L A T I O N S H I P S

// Annoyed ||


// Disliked ||



// Hated

// Like ||


// Respected ||



// Very respected

// Wary ||


// Cautious ||



// Avoided

// Slight crush ||


// Crush ||



// Obsession

// Friend ||


// Good friend ||



// Close friend

// Like (platonically) ||


// Really like (platonically) ||



// Love (platonically)

// Wants to get to know them ||


// Misses ||



// Can't bear without

// Not trusted ||


// Slightly suspicious ||



// Very suspicious

// Shy ||


// Jumpy/Nervous ||



// Fearful

// Dead

// Family

// Mentor/Apprentice
name | bullets | opinion

~NPCs~

TBA
~Owned by other members~


Webstar |






| "My mother, I love her with all my heart."
Duckkit |





| "Duckkit is my brother, I love him just as much as I love my mother."
Goosekit |





| "Goosekit is also my brother, and I love him just as much as I love my mother as well."
★ T R I V I A
---

Likes ||
'Roleplaying' games - "I'm the great warrior Mallardpaw, I'll protect you!"
His Siblings - "I love them! No one bullies them on my watch."
Planning ahead - "I know exactly what I want to be when I grow up."
Playing - "I love having fun with my siblings! ...But I have to be serious, like a real warrior!"
Listening to his mother - "She knows best- and she has great stories!"
Dislikes ||
Bullies - "No one likes a bully!"
Only being allowed to leave camp when a warrior is with him - "It's limiting. I can take care of myself."
Fears ||
Never becoming a warrior - "It's the thing I want most.."
His siblings or family getting hurt - "I hate seeing them upset or hurt."
Dreams
||
To be a great and loyal warrior for his clan
Other ||
★ ROLEPLAY
---
(

) Yes. || (

) Maybe/Depends. || (

) No.
Timezone || EST (Eastern Standard Time)
Discord
||

Yep!! (Joshie!!#3626)
Notes
||

Possibly!!
Comments
||

Meeehh
Other Chats
||

Perhaps!! Just ask
G
||

Yeet
PG
||

Yeppers
M
||

Uhhh depends,,

Roleplay Example || Mallardkit yawned as he awoke, the sun had just barely began rising but he was ready to be up and about. He looked at his sleeping mother and siblings, before quietly sneaking up to the entrance of the nursery. He didn't leave, not wanting to upset his mother or anything, but he just looked out at the camp and the warriors that were awake. He couldn't wait to join them out there, leaving for patrols and protecting his home. He looked back as he heard his mother shift, returning to his spot and laying back down quickly before she woke up.




Congratulations! Welcome to the world, you have a long life ahead of you filled with joy and happiness but also filled with struggle. As a kit you must stay confined to camp, and you cannot have mates or kits of your own yet. But you will enjoy playing with your denmates and apprentices, convincing older cats to teach you some hunting or fighting moves, and being a thorn in every cat's side.
Reply

Reply