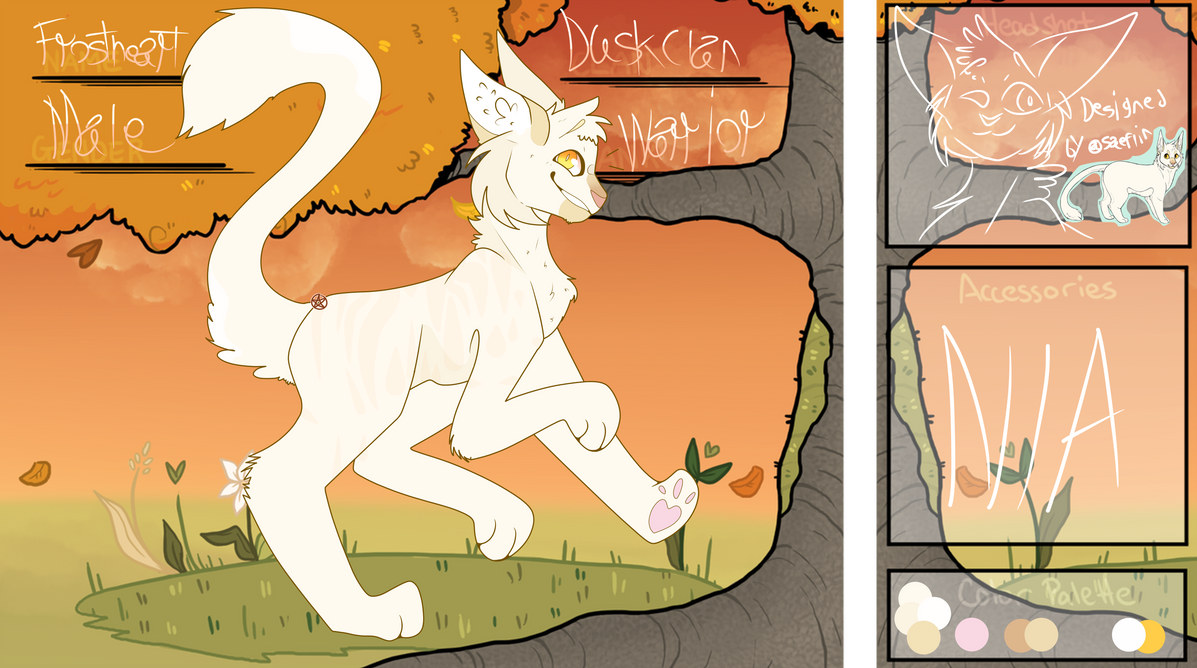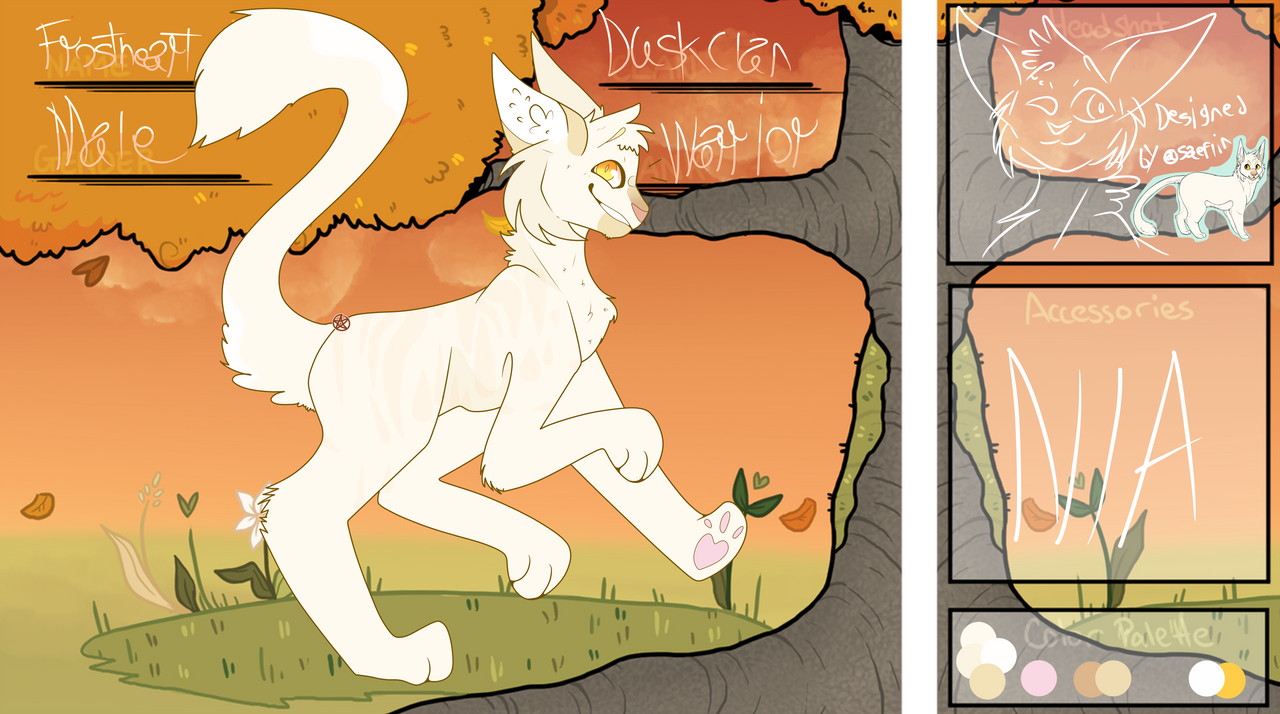 Watch
Former names || Frostkit, Frostpaw
Future names || ???
Name meaning ||

Prefix: His white fur and small amount of visible markings reminded his parents of frost
Suffix: For his big heart and kind nature
Nicknames || Frost
Sex || Male
Gender || Male
Age || 28 moons
Clan || Duskclan
Rank || Warrior
Mentor/Apprentice || N/A
Former mentor/apprentice(s) || Foxstep
Appearance || A nearly pure white tom-cat with only a few barely visible markings littering his pelt, his eyes are a bright gold.
Breed || Mix
Scars and Disabilities || N/A
Belief in StarClan || 100% || "Starclan exists. I have no idea why Tuftstar stopped following them... But they exist."

Belief in The Dark Forest || 100% || "I'm sure this place exists as well, if you sent the horrid cats like them up with Starclan that'd be.. Chaos."
Loyalty to the clan
|| 100% ||
"I love my clan dearly. I wish I could be braver to protect everyone.."
(

) Good. || (

) Neutral. || (

) Bad. || (

) Hidden (Optional.)

Kind!!
"Are you okay? You can vent to me if you want."



Friendly!!
"Hello!! What's your name?"

Loyal!!
"I'm always here for you."

Jumpy!!
"whAT WAS THAt?"



Anxious!!
"WAIT, didn't someone say they thought they saw orange around that area? What if it's a fox? We cant take that risk!"

Self-Conscious!!
"W-what if they don't like me???"



Cowardly!!
"W-we should leave this to them, they're doing just fine on their own, let's get out of here!"

Artificial!!
"Huh? Oh yeah! I'm good!"

Insecure!!
"What if I'm not good enough to protect her.."
★ F A M I L Y
---
Mother and Father || Clovershine (mother), Ashstripe (father)

Aunt || N/A
Uncle || N/A


Brother(s) || N/A

Sister(s) || Lightningfang, Mistwhisker, Stormstrike
★ H I S T O R Y
---

History:

Kit || Frostkit was born to Ashstripe and Clovershine along with his three sisters, Mistkit, Lightningkit and Stormkit. They were born in Direclan, and were too young to really remember when it split back up into four clans. Their parents both took their kits to join Foxclan, and they all quickly got along with the other kits that went as well. The lingering storms were a little scary to him, however when Frostkit was having fun he barely took notice to them at all.

Not too much time passed when Frostkit began to notice Lightningkit followed an elder, Owlfur, around. By the time he'd noticed she'd been doing it for a while, but he never had the courage to follow her out of the nursery unless she dragged him along herself. Despite only going when she asked, he very much enjoyed hearing the stories from the elders, and he began to grow excited (and a little scared) for the warrior life he knew awaited him and his sisters.

Apprentice || Soon their apprentice ceremony came around, and Frostpaw was more than a little bit worried about who his mentor would be. He'd seen some other apprentices with very strict mentors, and he was worried he'd be disappointing to whoever had to mentor him. Luckily Starclan must've heard his prayers, as his mentor was Foxstep. Foxstep was Embertail's best friend, and Embertail just so happened to be Lightningpaw's mentor! He heavily enjoyed this fact and was sure their apprentice days would go by smoothly. Foxstep was very lenient with Frostpaw, they understand his anxiousness and he appreciate that more than they knew. Foxstep would often group up with Embertail and the two friends would train their apprentices together, which was always loads of fun for Frostpaw.

Towards the end of their apprenticeship, Owlfur passed away. Frostpaw knew Lightningpaw was close to them, and tried his best to comfort her when he could. It didn't take Lightningpaw long to bounce back from it, astonishing her brother. He envied being able to come back from losing Owlfur that quickly. Frostpaw continued training under Foxstep until his apprenticeship quickly came to an end.

Warrior || Frostpaw became Frostheart, for his caring and kind nature towards others. He was as happy as he could be becoming a warrior alongside his sisters, everything seemed perfect. Now that he could leave camp at any time, he loved going for long walks through the territory, and for a brief time he felt invincible. Like nothing could touch him. Until one night he found out that Lightningfang's closest friend never came back from a patrol, and his anxieties made a massive comeback. Worry and concern filled everyone. Only a few sunrises later her body was discovered, and everyone presumed it was a dog attack. Lightningfang became quiet and reserved and Frostheart slowly stopped going on long walks alone. He knew he couldn't do much to null the pain his sister was feeling, but he tried his best to be there for anything she needed. When she started trying to be the best she could be for her lost friend, it made Frostheart the happiest brother in the world.

A few moons later Tuftstar made the announcement that Rushclan would no longer serve under Starclan. Lightningfang was outraged, as were many other cats, himself included though he didn't outwardly show it. He couldn't understand how someone who'd been given such a great gift by Starclan.. Being the leader of an entire clan.. Could just turn on them in an instant. When Lightningfang decided to leave with Webrunner's group and the rest of their family decided to stay in Rushclan, Frostheart felt completely torn. After running out of time as Webrunner's group began to leave, he made the quick decision to join Lightningfang. He absolutely hated that their family would be separated, but Lightningfang was his closest sister and he didn't want her to go on her own. Internally, he knew he had made the right choice in choosing to join the group. He and Lightningfang became proud warriors of the new clan, Duskclan.
Sexual Orientation || Bisexual (leaning towards she-cats)
Romantic Orientation || Biromantic (leaning towards she-cats)
Gender Identity || Male
Preferred Pronouns || He/Him

Status: Single

Looking for ||
|| Quick Fling
|0| Long-Lasting Relationship
|| One night stand
|| Strictly sexual
|0| Crush
|| Too young
|| Not interested
|| Taken

Preferences: Friendly cats that he can be himself around, someone that'll love him just as much as he'd love them



Interested in || N/A
Crush || N/A
Mate || N/A
Kits || N/A


★ R E L A T I O N S H I P S

// Annoyed ||


// Disliked ||



// Hated

// Like ||


// Respected ||



// Very respected

// Wary ||


// Cautious ||



// Avoided

// Slight crush ||


// Crush ||



// Obsession

// Friend ||


// Good friend ||



// Close friend

// Like (platonically) ||


// Really like (platonically) ||



// Love (platonically)

// Wants to get to know them ||


// Misses ||



// Can't bear without

// Not trusted ||


// Slightly suspicious ||



// Very suspicious

// Shy ||


// Jumpy/Nervous ||



// Fearful

// Dead

// Family

// Mentor/Apprentice
name | bullets | opinion~NPCs~
Ashstripe |






| "My father. I miss him and mom very much.."
Clovershine |






| "My mother. I miss her and dad very much.. They were both dear to me."
Mistwhisker |




| "I haven't seen her or Storm since we left for Duskclan.. I hope she's taking care of Storm."
~Owned by other members~


Lightningfang
|






| "I love my sister with all my heart. She's been through a lot.. But she's still strong. I respect that."
Stormstrike |




| "I haven't seen her or Mist since we left for Duskclan.. I miss them, and I hope they're doing alright.."
★ T R I V I A
---

Likes ||
Wind - "It's such a peaceful sound.."
Family - "I love my family more than anything."
Kits - "They're so full of energy, not a care in the world. I remember being like that."
Dislikes ||
Fighting - "My mentor taught me how to fight really well but.. I only fight if I have to."
Crows - "I don't know, there's just something about them that concerns me."
Fears ||
Losing Lightningfang - "She's the only family I have in Duskclan.. I don't know anyone else too well.."
Dreams
||
His family being all together again one day.
Other ||
★ ROLEPLAY
---
(

) Yes. || (

) Maybe/Depends. || (

) No.
Timezone || EST (Eastern Standard Time)
Discord
||

Yep!! (Joshie!!#3626)
Notes
||

Possibly!!
Comments
||

Meeehh
Other Chats
||

Perhaps!! Just ask
G
||

Yeet
PG
||

Yeppers
M
||

Uhhh depends,,

Roleplay Example || Frostheart felt the cool breeze hit his fur as he walked out of the warriors den, letting out a sigh and closing his eyes until it passed. It was getting colder, and soon they might see snow that actually sticks around for a while. He couldn't wait for it to get here so he could mess around with it. He shook himself from his thoughts and approached the pile of fresh kill, picking something small out and eating while he listened to the wind and the distant sound of kits yelling at each other in the nursery. Maybe he'd visit there later.