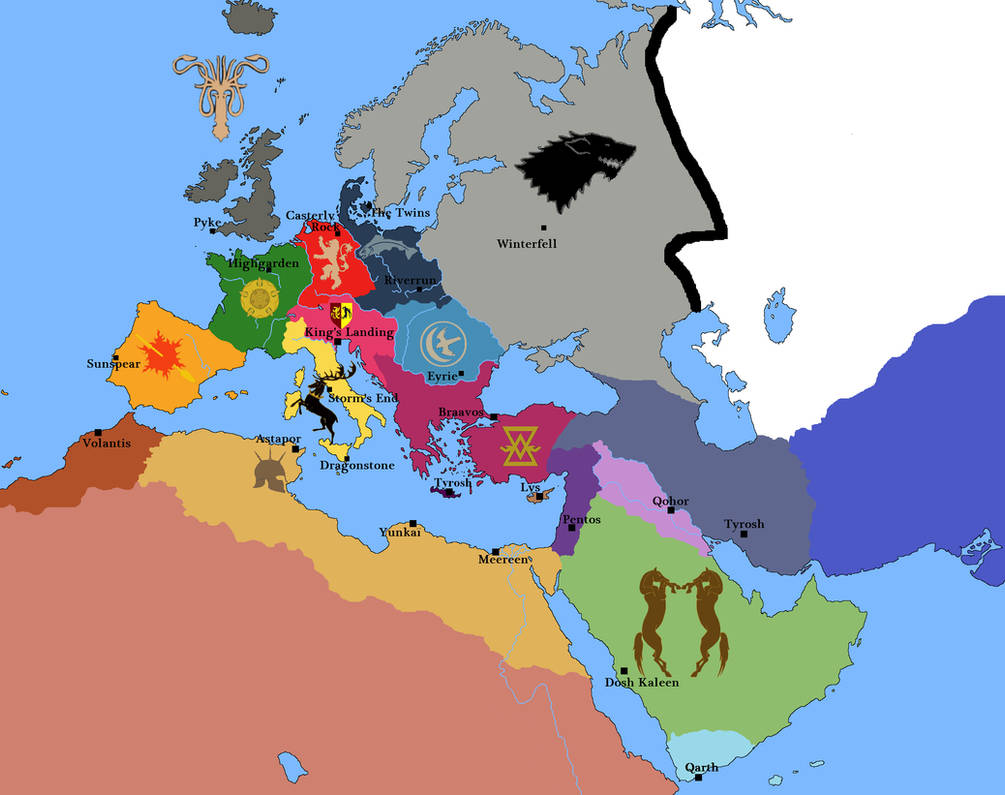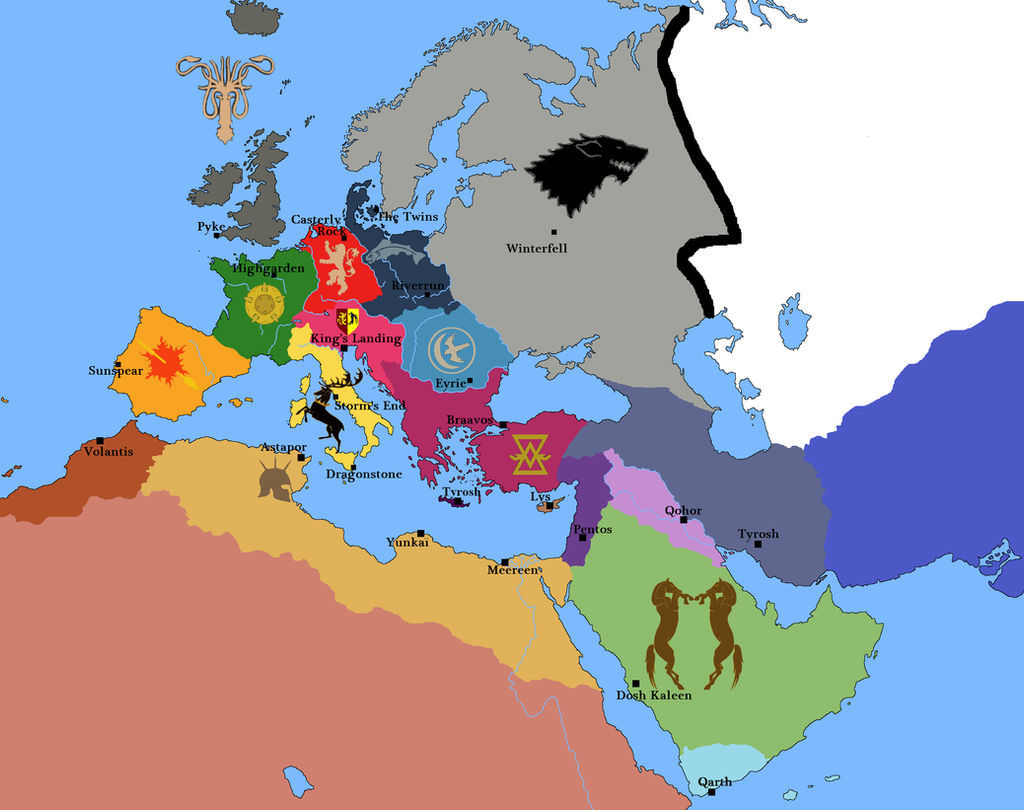 Watch
A reinterpretation of the Game of Thrones map in Europe.
Westeros is a large part of the Europe with:
-Crownlands who takes place in North Italia, Slovenia, Croatia, Austria, South Germany and Swiss. (Pink)
King's landing takes pace in Venice.
-Stormlands (House Baratheon) takes place in Italia and other
Mediterranean islands: Peyredragons takes place in Sicily. (Yellow)
Storm's End takes place in Syracuse (Sicily).
-The Reach (House Tyrell) takes place in France, Belgium, Luxembourg and a little part of Germany. (Green)
Highgarden takes place in Paris.
-Dorne (House Martell) takes place in the Iberian Peninsula (Spain and Portugal). (Orange)
Sunspear take place in Lisbon.
-Westerlands (House Lannister) takes place in Germany, Netherlands, and a little part of
Czech Republic and Swiss. (Red)
Casterly Rock take place in Bremen (Germany).
-The Iron Islands (House Greyjoy) takes place in British Isles (UK and Ireland) and Iceland. (Dark grey)
Pyke take place in Penzance (United Kingdom).
-Riverlands (House Tully) takes place in Denmark and different parts of Germany, Poland,
Czech Republic, and Ukraine. (Dark blue)

Riverrun takes place in Prague (
Czech Republic) and The Twins takes place in Copenhagen (Denmark).

-The Vale of Arryn (House Arryn) takes place in Romania, Moldova, Slovakia and differents parts of Hungary, Serbia, Croatia and Ukraine. (Blue)
The Eyrie takes place in Bucharest (Romania).
-The North (House Stark) takes place in European Russia, Finland, Sweden, Norway, the Baltic contries, Belarus and a large part of Ukraine and Poland. (Grey)
Winterfell takes place in Moscow.
-The Wall takes place on the Ural Mountains
(Black)
, beyond the wall is the east of Russia (White)

Essos is the Middle East, North Africa and a part of Europe.
-Braavos takes place in Istanbul (Turkey), it's a rich city like Constantinople, and there are similitude with the greek culture, so the territory of Braavos takes place in a part of the ancient Byzantine Empire (Greece, Turkey, Bulgaria, Albania, Macedonia, Bosnia and different parts of Romania and Serbia). (Magenta)
-Lys takes place in Nicosia (Cyrpus), because it's an island close by Bravos territory's (Turkey). (Light Marron)
-Pentos takes place in Jerusalem, and her territory covers Israël, Palestinia, Lebanon and different parts of Jordania, Syria and Turkey. (Purple)
-Qohor takes place in Bagdad and her territory covers Mesopotamia (Irak, Koweït, and differents parts of Turkay and Syria). (Light purple)
-Tyrosh takes place in the ancient city of Persepolis, and her territory covers Iran and other contries. (Blue-grey)
-The Dothraki Sea covers Arabia. I see well the Arabian tribes for the Dothraki with the arabian horses. (Light green)
The Sanctuary of Dosh Kaleen takes places in Mecca.
-Qarth takes place in Aden and her territory covers a part of the Yemen. (Light blue)
-The Slaver's Bay covers the North Africa with Egypt, Lybia, Tunisia and Algeria. (Dark yellow)
Meeren takes place in Alexandria, there aren't pyramid in Alexandria, but it's a coastal city like Meeren.
Yunkai takes place in the ancient city of Cyrene (Lybia).
Astapor takes place in Carthage (Tunisia), because I see well the Unsullied like the carthagian army.
-Volantis take place in Casablanca and her territory covers Marocco. (Marron)
-Valyria takes place in the Indies (Mallow)
-The Red Waste takes the place of the Sahara. (Light Marron)