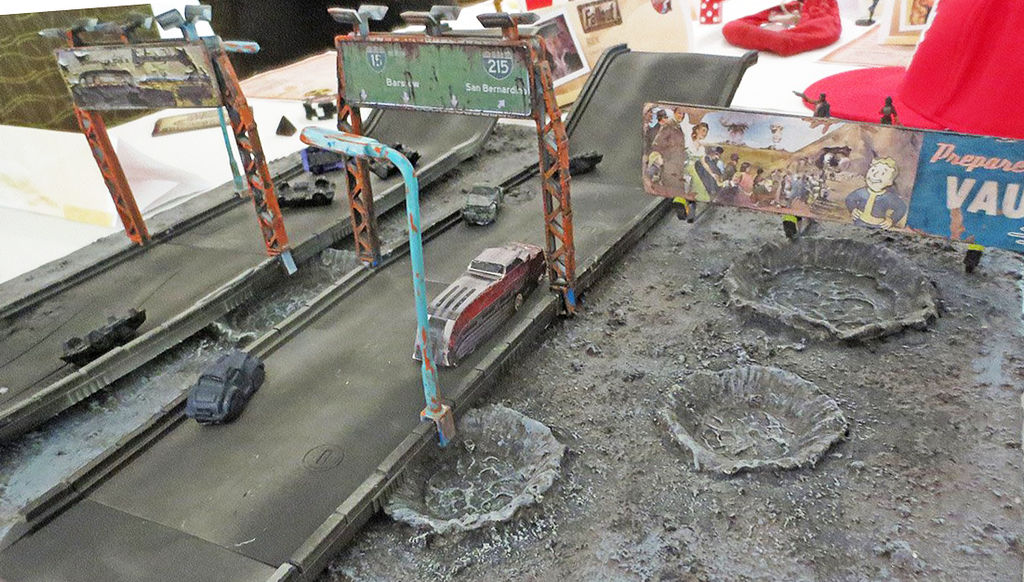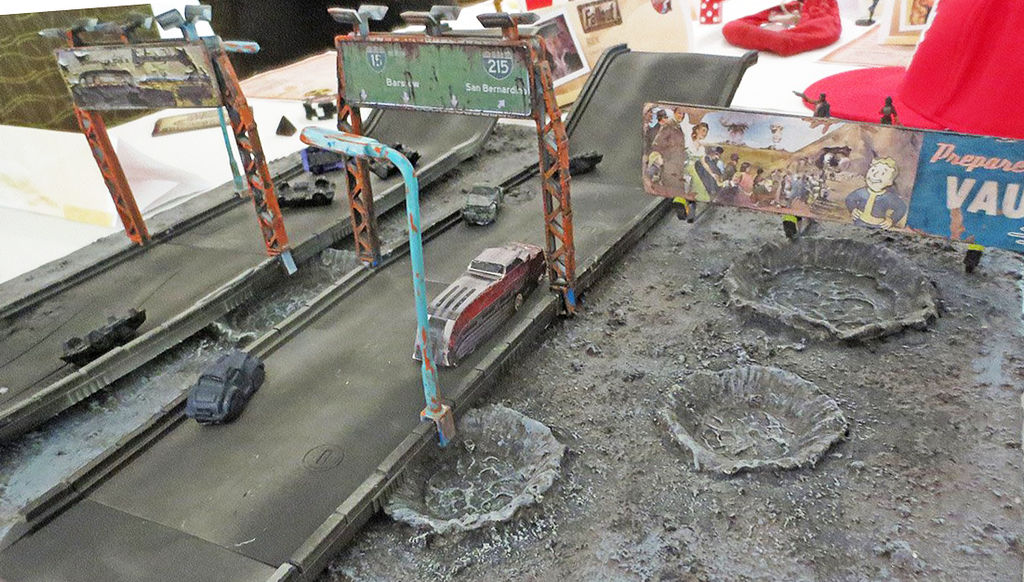 Watch
Setup for the "road battle" portion of my Fallout-themed Savage Worlds RPG scenario I ran for Necronomicon 2016 (October 31, 2016), titled "The Long 15." For this, I made a simple "papercraft" version of my Nuka-Cola Delivery Truck (pictured at 32mm scale elsewhere in the gallery:
www.deviantart.com/jordangreyw…
). To do this, I pretty much just took photos of the toy from different sides, trimmed and adjusted the resulting "textures," and made a boxy little "paper model" to print onto cardstock and cut out to put on the table, alongside an assortment of "retro" Micro Machines toys and playing pieces from the old Milton Bradley "Thunder Road" board game. (So, that'd make this roughly in the neighborhood of N scale, though there's an awful lot of leeway there.)
For the post-apocalyptic roadway terrain, I used a big piece of foam board with some clean kitty litter and some sand from the back yard (I live in Florida, so there's sand EVERYWHERE) mixed in with some latex paint for texturing, plus a few plaster-cast "craters" worked into the board with some epoxy putty for blending. The action was supposed to take place on a stretch of retro-futuristic "super-highway," so I used some Hot Wheels linking road sections to represent an "8-lane" highway, as each Hot Wheels "lane" was wide enough to hold two of the Micro-scale cars side-by-side. Some clip-on plastic signage and light poles proved quite handy for quickly rearranging the scene to transform it into overpasses, off-ramps, broken roadways, etc. -- I was able to get them looking "rusty" just with some smattering of Pumpkin Orange (a nice rusty-colored, thick acrylic paint), lightly dry-brushing with patches of Dolphin Gray to catch some of the highlights, washes of Graphite Gray (which tended to run off of the bare plastic sections, but nicely accumulated in the painted "rust" areas), and then some alternating detailed lining with light or darker gray to try to accent "rust patch" areas and suggest shadows and highlights around them, as if the surrounding paint might be peeling away.
Further Fallout-esque branding was accomplished by using screen-captures of signage from the Fallout games, and using Photoshoppery to force the elements into the proportions I needed to fit on what billboard pieces I had.
In the background is a red Nuka-Cola cap one of the players generously gave me. (Another time, a player in one of my convention games mailed me a bunch of home-made Nuka-Cola bottle caps afterward. I am floored by the generosity of Necronomicon gamers.

)
Fallout is a trademark and property of Bethesda Softworks. Savage Worlds is a trademark and property of Pinnacle Entertainment. No challenge to copyright or trademark status is intended by any of my "fan work" inspired by these games.