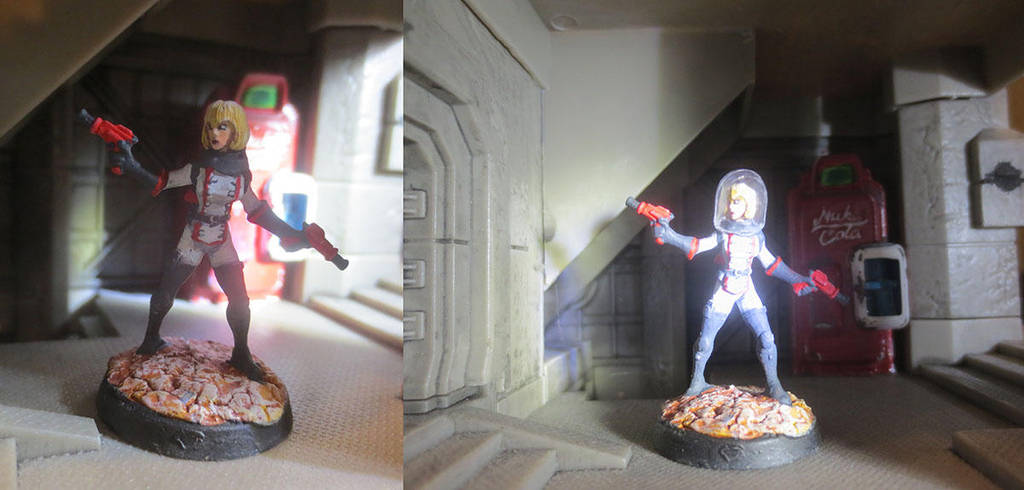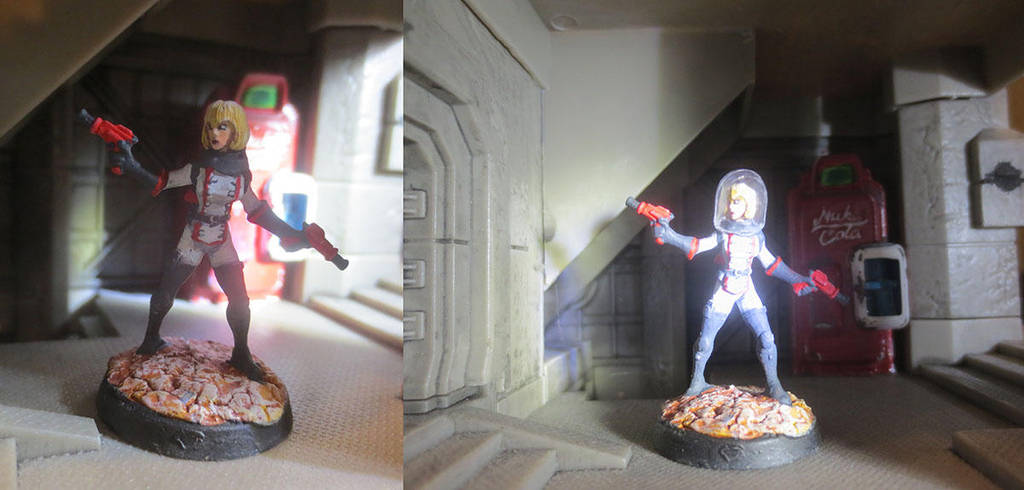 Reaper Miniatures Chronoscope #50227, "Dee Dee, Astro Girl" (32mm scale pewter gaming miniature) painted to represent someone dressed up like "Nuka Girl," the Nuka-Cola "pin-up" mascot from Fallout 4. I borrowed a clear bubble helmet from a HeroClix mini (a "SHIELD" agent) in an attempt to represent her helmet. This version of Nuka Girl is slightly more space-worthy than the typical rendition, seeing as she doesn't have a bare midriff, so maybe that suit can actually provide some protection from rads and toxins in the post-apocalyptic wasteland. (Or maybe it's just a silly costume. Who knows?) This would probably also work well for Slipstream. (In fact, I've painted up another copy of the very same miniature for just such a purpose.)

This is one of several "Fallout in-universe hero" characters I've been painting up as potential "Mystery Special Guest Stars" for my "Rooby-Doo" RPG scenarios, in the tradition that "guest stars" could just as easily be a real-world actor or musician as they could be, say, Batman and Robin, in the old Scooby cartoons. (I'm also working my way through the "Unstoppables," plus Captain Cosmo and Jangles the Moon-Monkey, so maybe next year I could use them as pre-gens for a very META sort of Fallout-inspired game.)

Nuka Cola, Nuka Girl, Fallout, etc., are all properties of Bethesda Softworks and Zenimax. This is just fan-art silliness.

I like the trim on the uniform.
Reply

Thanks! But ... argh! I just now noticed that it's practically impossible to see the red lines on the sleeves and pants legs (as per the original Nuka Girl costume) due to the straight-on positioning I picked for both of these photos.

When I take photos, I take several at once, at various angles, with different lighting positions, in the hopes that I'll get lucky and at least ONE will turn out properly focused and somewhat clear. As it so happened, the shots that were the clearest for both the "with helmet" and "without helmet" shots turned out to be the straight-on view, when I really should have had two different angles -- at the very least so it's possible to see that there's a red rocket-pack on her back.
Reply