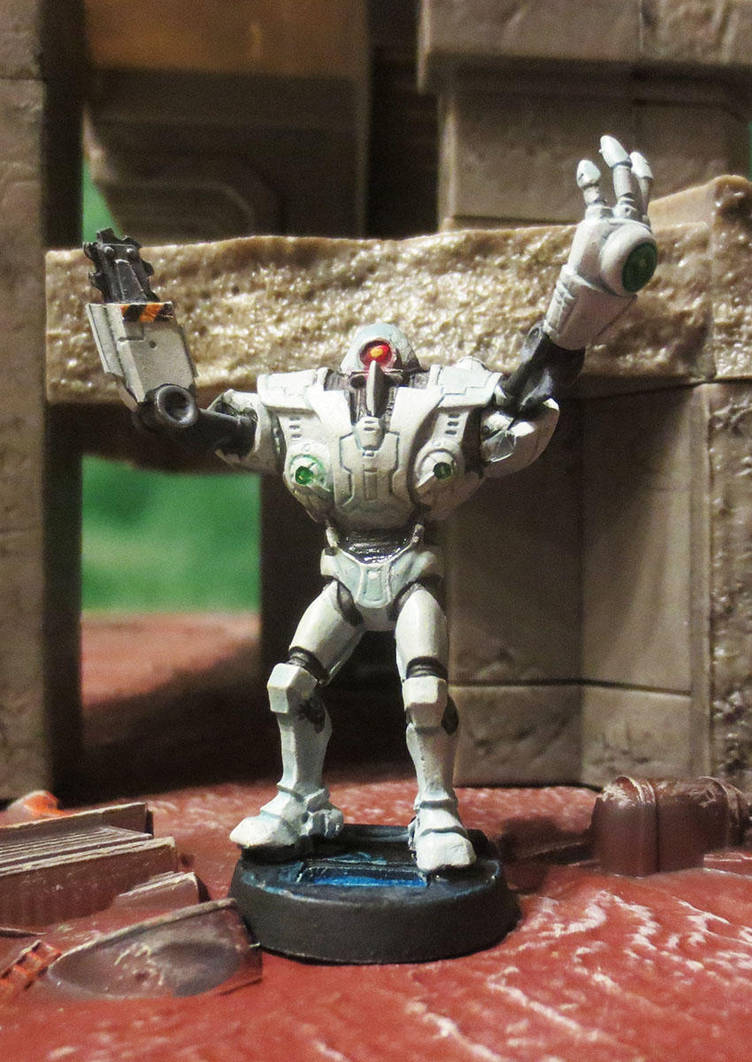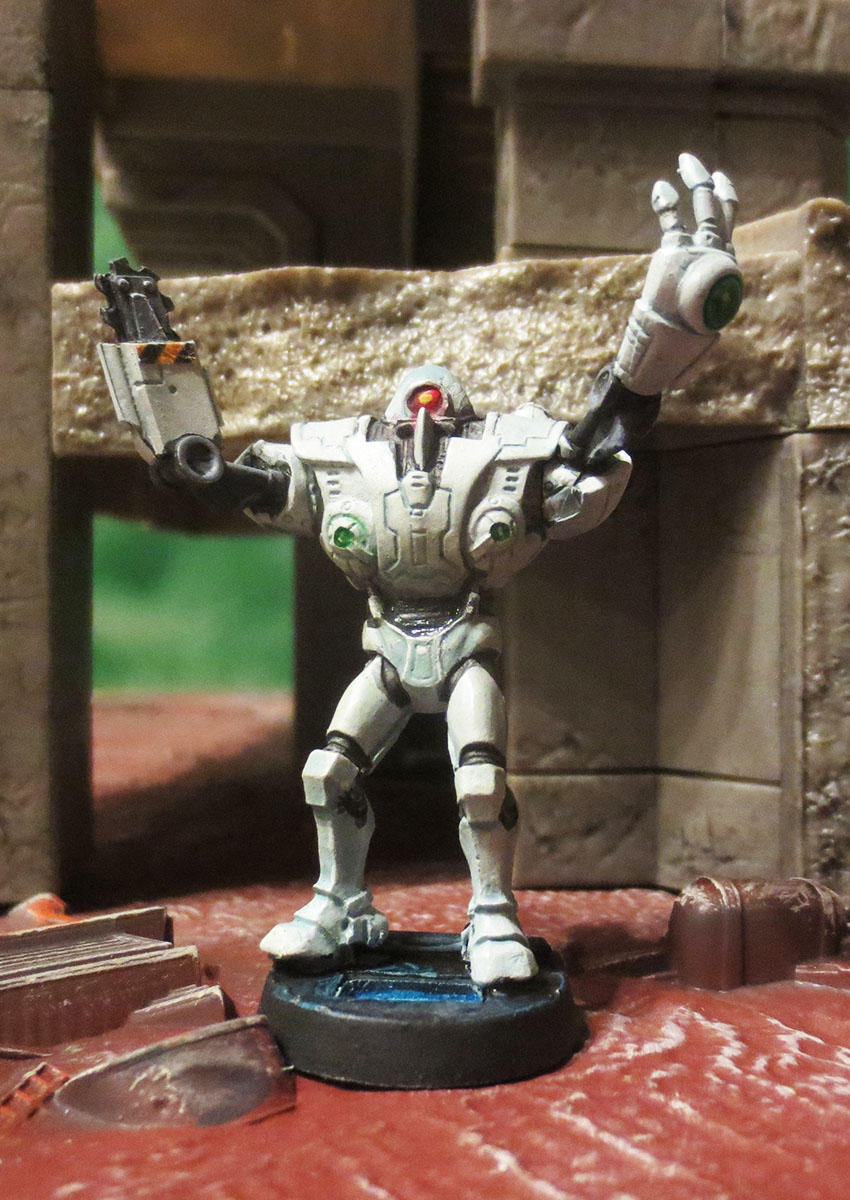 Reaper / Studio 2 S2P80001 "HoE Hellstromme," 32mm scale pewter gaming miniature, from the Deadlands: Hell on Earth Reloaded Kickstarter. Most of the miniatures from this Kickstarter were sculpted by Bob Ridolfi, but this particular one was sculpted by Julie Guthrie. I tried to paint this up to approximate the color concept art by Cheyenne Wright. The miniature comes in three parts -- main body, with two separate arms -- and therefore I have some leeway in how to position the arms. Given Dr. Hellstromme's reputation as a mad scientist, I figured that in his cyber-incarnation, it would only be appropriate to have his arms held high as if laughing maniacally to the heavens as one of his new creations comes to "life."

Finally! This represents the last of the Hell on Earth Kickstarter minis in my collection that I took so long to get painted up. There were a few other minis that I simply didn't *get*, and I might somehow get some of those and paint them up later, but for now at least I have one more box checked off my "Need to get around to painting this some day" list. (But that's one LONG list, so it doesn't really count for much.)

I've not seen this figure before! Can you link me to it please?
Reply

See, that's the thing -- they had to go and make this a "Kickstarter exclusive." I strongly dislike that sort of thing. I mean, it's one thing if "We're going to make this available through the Kickstarter, and we're not adding it to our regular catalog, but we might have it for sale at special events, such as conventions," or something like that, but the idea that you're going to have a sculptor sculpt this thing, you're going to make the molds, and only do a few and then -- GONE FOREVER! Ack. That's just sad. They did the same thing with post-apocalyptic Stone ... who works GREAT as a Fallout-type non-feral ghoul character. (The HoE version of Stone is packing twin SMGs.)
Link to a Pinnacle site post about it, showing the "green" for the HoE version of Hellstromme:
www.peginc.com/tag/miniatures-…
Actually finding the HoE minis anywhere is a challenge. Even though they're manufactured by Reaper -- and branded as such on the blister packs -- they never showed up as part of Reaper's catalog, so I guess they were only available through Studio 2 for a while. I don't understand why they didn't just add them to Reaper's Savage Worlds line.
Reply