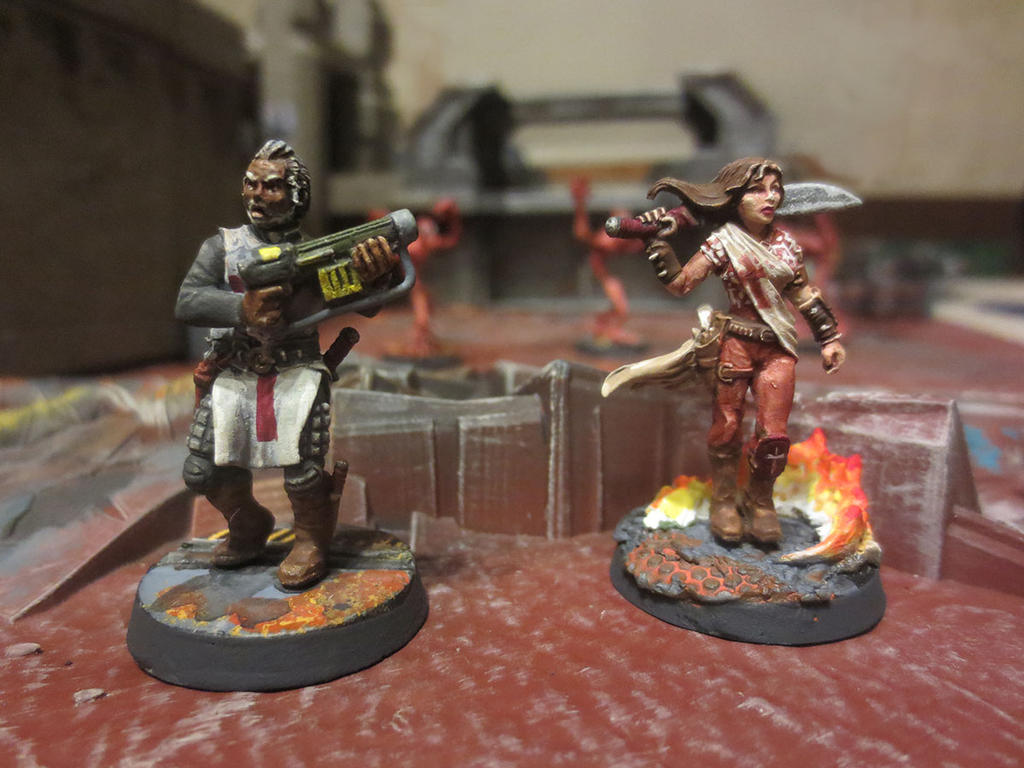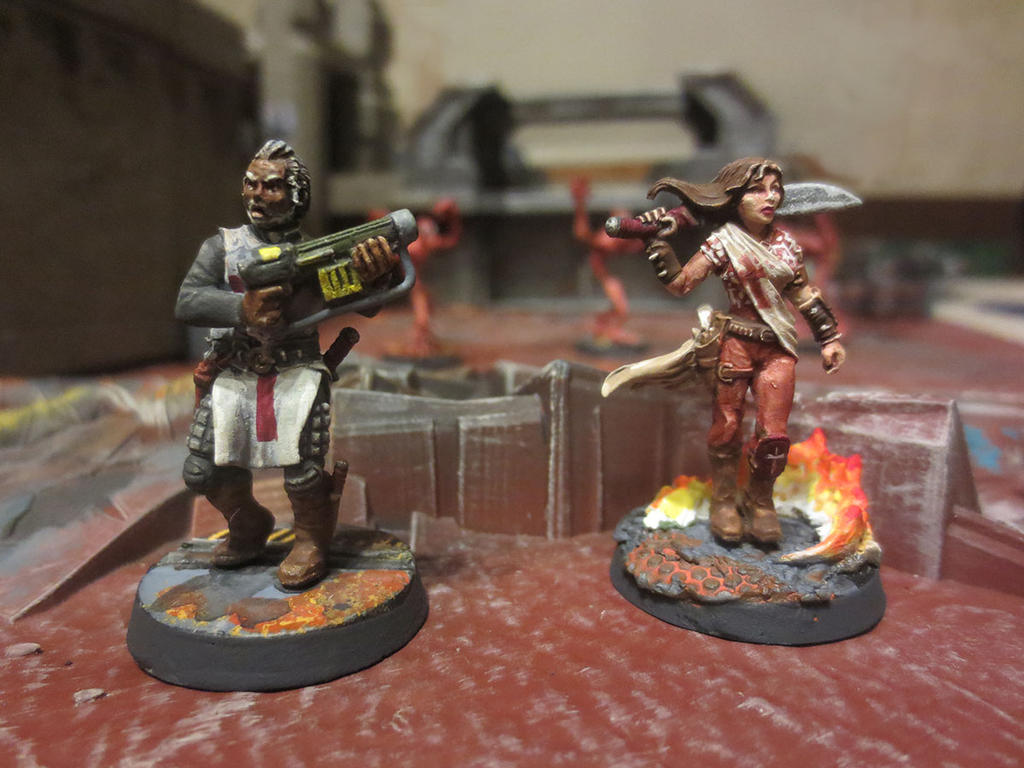 Reaper/Studio 2 S2P80002 "Templar 1 (female)" and S2P80017 "Templar 2 (male)," 32mm-scale gaming miniatures (sculpt: Bob Ridolfi) from the "Deadlands: Hell on Earth Reloaded" kickstarter, 2012-2013. Here, I've finally gotten around to painting them up as "Templars" from the Hell on Earth postapocalyptic setting.
In old Deadlands (the "Weird West" RPG), the "Blessed" were characters who had divine powers, usually focused upon things such as healing, banishing the undead, and so forth. Fast-forward to the post-apocalyptic future where things went bad after the Reckoning, and that role is filled by the "Templars" -- a theocratic group that basically sends forth wandering "paladin" types to slay monsters and for general do-goodery.
The oddball thing about the Templars, according to the official fluff in the RPG, is that, despite those big red crosses on their garb, they're not religious. Their powers come from some generic source of goodness. Why the "Templar" trappings and whatnot? I've no idea, really -- I kind of suspect that it was a case of "editorial artifact," that the Templars originally were going to be some sort of "church militant" of the post-apocalyptic future, but too many playtesters were prepared to see them therefore as VILLAINS (I mean, c'mon, of course that's how that sort of thing would be portrayed in any post-apocalyptic TV show, comic, or movie, right?), which would make this a dubious sort of PC archetype ... so they decided to just sort of gloss over that whole religion thing (but, hey, they already had this fabulous ARTWORK done, so they couldn't very well go back and cross out all the crosses).
Er, anyway, that's just my theory. I suppose I could just ASK someone, and get the actual story behind it, but what fun is there in that?

The very first game of "Deadlands: Hell on Earth" I played in, incidentally, the GM declared that the Templars WERE bad guys of the self-righteous oppressive crusading sort, and he forbade anyone from picking a Templar as a PC class. ("Witches" were perfectly fine, incidentally, even with the bit about needing fresh human skulls for one of their more potent spell attacks.) So, if my theory was correct, I don't think it quite conveyed the intended message.
Back to the miniatures, the one on the left I slightly modified to add a piece of wire to the rifle, and then painted it a bit differently in the hopes of evoking the general look of a laser rifle from the Fallout universe. (Deadlands: Hell on Earth doesn't really have a distinctive catalog of in-universe gun types, so it's not like that precludes the mini's usage in a standard HoE campaign.)
The one on the right was based on one of the signature pieces of art for the Deadlands: Hell on Earth kickstarter. In THAT art, this Templar looks a bit ... hmm ... ill-equipped for battle? I mean, REALLY. Basically, the way she's drawn, she's got this weird drapey shawl thing haphazardly wrapped around her body, and flapping in the wind, but lest you think that's ALL she's wearing up top, there are these scribbled red bits that suggest that she's got some sort of scrappy red bra underneath. I can't help but wonder whether the "red bra" was added later as a result of editorial feedback ("Uhm, nice, but she's a little TOO pin-uppy."). Anyway, for a more serious post-apocalyptic "Templar" hero, I transformed the little straps and just painted in a shirt -- red-and-white plaid, that is. (I don't know if there's anything particularly "western" about it, but it just somehow felt a little more dignified than a mere t-shirt.)
In the background are a few wormlings. I'll post a less-blurry image of those in another picture.