Deviation
Submit your art
Upload your creations for people to see, favourite and share.
Status update
Post an update
Tell the community what's on your mind.
Journal
Post a journal
Share your thoughts, experiences and the tales behind the art.
Literature
Submit your writing
Upload stories, poems, character descriptions & more.
Poll
Ask the community
Find out what other deviants think - about anything at all.
DA Muro
Paint a picture
Experiment with DeviantArt's own digital drawing tools.
GOOD NEWS, EVERYONE!You can buy characters from me.How does that work?
Periodically I'll post a batch of characters to choose from. Each will have a light back story and personality pre-packaged with it. Once you pay the nominal fee, you get to use these characters in any way that you'd like royalty free (which means you owe me nothing after the fact).
The specific details regarding pricing are on each of the batches. I've listed out which characters are available still from each set. Feel free to click on the pictures below to find out more.
Paycheck Leniency

After you place an order, you can't place a new order if there's still a payment outstanding.
So if you want to "place a hold" on a character and pay later, you can do so. But while that character is unpaid, you can't claim another one.
"People keep beating me to the dopts I want!"

You can consider signing onto the Gremlins' Benefits Subscription. This will provide you with a full day of First-Look-First-Dibs via email. More info here -->
artofjonfreeman.com/Subscripti…
Cheers!
TAG TEAM WARS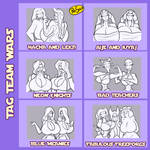 A long time ago ... in a pay per view match far far away ...
Please add +$5 to the price since they're couplesPRE-SOLD!! - Hatcha and Lekti - these two oil wrestlers are fan favorites since they skip straight to the good stuff
-
Aije and Iuyaj
- they hail from the highly regarded Twi'lek Beating Baths
ADOPTED!! - Neon Knights - a Zeltron and Pantoran who have more eye searing laser shows than any other duo in the league
-
Bad Teachers
- this rodian and duros are so bad at teaching ... they don't have any pupils ... 8I
-
Blue Meanies
- chiss twins who play the heel/badguy on stage, but are super amicable during fan appreciation events
-
Fabulous Freeporgs
- this trio of nautolan, torgruta, and wookie are three bad ladies you don't want to be messin' with
A FACEFUL OF TIDD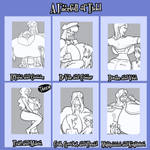 [Sergio Leone-esque music cue goes here]
Please add +$5 to each dopt due to them being couples
-
D'Yana and Ooowwe
- the shel'zi just had to ask her wookie beau to name a couple things he really likes about her
-
Dr Vale and Conner
- this experimental psychologist is doing her best to treat coulrophobia ... to rather mixed results
-
Doralee and Vinn
- not that he's complaining, but he really wishes he knew why women keep thinking this will lower the price
ADOPTED!! - Pearl and Mason - really wishes she'd stop trying to make "piggy front rides" a thing
-
Grish, Sprocket, and Thread
- this orc knows that abducted gnomes are only beneficial if you task them to very important projects
-
Mightymamm and Knigihtvision
- she loses more sidekicks that way...
FOUR ARMED CUTIES

Four thumbs up!
-
Ari'El
- she's a little obsessed with the old mythical legend of the little mermaid ... even if her own size is off the mark
-
Saynm'Ree
- she acts as a sort of spirtual well being counselor, and always dissappoints everyone when she sends them away without nary a hug
-
Ji'Mee and Fuf
- this pearl diver from Glee Ansem is sure glad she hired the little blue shel'zi as an assistant
-
D'Laney
- a Canto Bight Super Star who dominates all the tables
ADOPTED!! - P'Mella - a smuggler, mainly, and she's happy to distract with that smuggling compartment in her blouse if it means getting past the blockadeADOPTED!! - Feen'X
- she's the comms support for Quad Squadron of the Rebellion, even if all the other squads jokingly say she's the one needing support
GALACTIC WRESTLING FEDERATION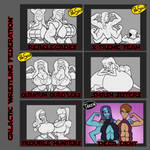 Sports bars across the galaxy fill to the brim whenever these sexy flexies take to the ring!
* Please add +$5 to the price tag since these are couplesPRE-SOLD!! - Rebelegades - When they debuted during 3ABY, they were heels (as per Imperial mandate), but after the Rebels won, they quickly surged to become some of the most prominent faces of the business
PRE-SOLD!! - X-Treme Team - Their personalities of this shel'zi and jawa are just as odd-couple as their physiques are
PRE-SOLD!! - Quandom Quadleks - Orn Free Taa always puts his money down on these two buxom beauts
-
Smash Sisters
- the twins (Ground and Pound) and their manager (Ms Press'ia) dominate the minor leagues (through extensive cheating)
-
Trouble Hunters
- Nobody really understands what they're trying to do with their costume gimmic, but they do it with such huge energy that nobody cares
ADOPTED!! - Deca Dent - They call themselves the two-lady royal rumble
OUI WHEE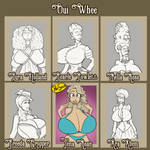 Fancy dresses, from Victoria and beyond!
-
Lura Holland
- a creepy dark magic cult mistress who prefers to maintain a defined regal air
-
Pearle Powlett
- Giggles are free, Oggles are five pence, and a Jiggles require an appointment (as they are her specialty)
-
Bella Ross
- in her opinion, excess is the key to success
-
Freeda Cropper
- she has her own variant song of "a spoonful of sugar"
PRE-SOLD!! - Tena Roan - all the classy gents agree that she's the highlight of every Victorian Secret catalogue
-
Ara Ahem
- she's proud to be everyone's discrete fun aunt, especially given her habit to say her name repeatedly
CASH ONLY $100 FOURFOR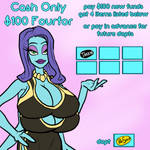 5/6 open
- $100 in new funds (no credit or coupons)
- Gets you 4 dopts or select promos (you can pay in advance for future dopts)
- Details in the listing
BOOBVANIANS

From the booben isles of distant shores, these elves bring mystical gifts!
... or boobs. It could just be boobs.
ADOPTED!! - Reithor - She claims to be a babysitter, though most accuse her of being a baby smoosher.PRE-SOLD!! - Ahyar - She's one of the most graceful SAVAGE JUNGLE WARRIOR WOMEN you'll find
ADOPTED!! - Pengnis - She's a librarian who wants patrons to check in then check her out.PRE-SOLD!! - Plum Sugar - She swears she was left under the tree by the big man, himself, and is going to be your gift. totally true.
PRE-SOLD!! - Kareniel - She wants to speak to your manager ... in private ... in the secluded back room.

-
Norinde
- She wasted her collegiate years learning every iteration of disrobement spells.
DOPTHROS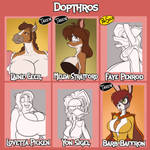 these puns are less than human... but the dopts are still good
ADOPTED!! - Laine Cecil - HORSE sense is her specialty. 8IADOPTED!! - Melda Stratford - DOE'n't bother her, ok?PRE-SOLD!! - Faye Penrod - she can be a bit hungry and WOLF down the young hotties ... eh?
-
Lovetta Picken
- this needy lady is basically a yanBEARe
-
Yon Sigel
- don't worry, she uses nothing but FOWL language
ADOPTED!! - Barb Baffron - this super hero constantly has to deal with her obsessive RABBIT fans
SOOPER STRONK WIMMINZ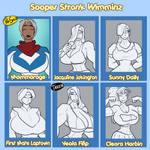 BIG FUN WITH BIG SEXIES!
PRE-SOLD!! - Mammarage - she gains her powers through the jiggles in her body ... seriously ... stop laughing
-
Jacquline Jokington
- stand up comedian who always gets a standing ovation from her crowd
-
Sunny Daily
- really just wants to study her nondescript book in peace without prying eyes
-
First Mate Laptown
- always makes sure that nothing's wrong with the Captain's log
ADOPTED!! - Veola Filip - she claims to offer massages, but really just ends up grinding on her clients
-
Cleora Harbin
- she demands to tend to your babies
HERO OF DOPTATION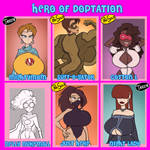 HEROES OF HOTNESS!
ADOPTED!! - MightyMom - she used to be more chill and tolerable before she had kidsPRE-SOLD!! - Suff-O-Gator - crushing love is the best cure for crime
PRE-SOLD!! - Cotton L - she loves this white cotton button up jumper she calls a uniform
-
Nelly Nukemall
- it's best to just go along with what she says
PRE-SOLD!! - Just Here - she take pride in how low effort she's low efforting her low effortADOPTED!! - Night Lady - and definitely not lady of the night, that's totally someone else
DOPTER HEROES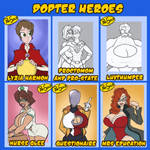 bumbudabummmmm! hero time!
PRE-SOLD!! - Lyzia Harmon - a mousy secretive sorceress with a magic Frisbee
-
Proctomom and Pro-State
- super doctor and super athelete who leave criminals with a bum deal
PRE-SOLD!! - Luvthumper - she leaves a wake of broken hips and beds in her pursuit of justicePRE-SOLD!! - Nurse Glee - she has a unique super power of being able to rapidly read all of a person's thoughts and health during regular physicals
PRE-SOLD!! - Questionaire - She'll provide all the answers you could want
PRE-SOLD!! - Mrs Education - She ditched her hero/civilian double life gig after getting fired from her teaching position over "undisclosed incidents" and merged the two
DO TWO BUDDIES MAKE A HAREM?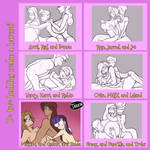 I think I tripped over the line back there... and kinda fell over it rather than crossing it...
Please add +$10 per dopt due to trios
-
Avril, Raf, and Bonnie
- elven cougars don't have to rotate their prey as often when they stick to other elves
-
Rose, Jarred, and Joi
- it's doubtful if it's actually helping, but at least he's enjoying his psych therapy sessions
-
Henry, Kerri, and Rubin
, - she didn't realize this was THAT kind of restaurant ... not that she's complaining
-
Colin, MilfX, and Leland
- this super hero is more than enthusiastic about her "fan appreciation nights"
ADOPTED!! - Maxine, Quinn, and Zaida - she may have forgotten to mention a little detail about this relationship...
-
Grecx, Pam'Ela, and Trohr
- this shel'zi traded in her shoulder angel for something more to her liking...

SWIMSUIT BUDDIES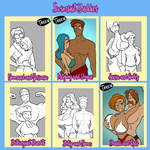 Seems like they want to start less than appropriate party activities!
Please add +$5 to the price due to couplesADOPTED!! - Normand and Yessenia - she's already made her decision, you need to move alongADOPTED!! - Marjory and Bryan - she's just making sure before she continues flirting
-
Anissa and Cortez
- they're open to collaborative dating
-
Bathingsuit Bandits
- they won't rest until they deem everyone is "appropriately dressed"
-
Betsy and Norm
- these two lifeguards seem a bit "distracted" to actually do their job right
ADOPTED!! - Denna and Russ - her policy is "dance first, ask questions later"
SHEL'ZI DOPT'ZIS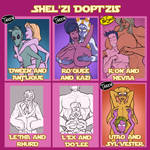 Four arms to handle the fun!
Please add +$5 because couples' doptsADOPTED!! - Dween and Anj'Lique - she loves riding her rodian
ADOPTED!! - Ro'Quee and Kazi - it's actually rare when they make it outside the house on date nightsPRE-SOLD!! - R'On and Hevaa - despite his open defense of her, everyone's sure that the devaronian model is a bacta juicer
-
Le'Tha and Rhurd
- why yes, she absolutely loves her men hairy
-
L'Ex and Do'Lee
- every massage from a shel'zi is a four-hand massage
ADOPTED!! - Utao and Syl'Vester - and here she thought she'd be the teaching one in the relationship
AFTER DATE NIGHT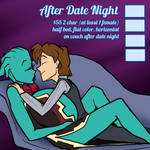 ... AND NOW THEN THEY KISSED!
$55
- 2 characters of choice (one must be female)
- flat color half body drawings
- on the couch after a pleasant date
... AND THAT'S TERRIBLE!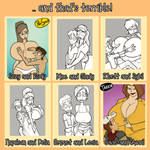 They haven't stolen forty cakes (that's as many as four tens worth of cakes), but they certainly aren't behaving correctly either ... and that's terrible!
* please add +$5 to the price since they're couples' doptsPRE-SOLD!! - Suzy and Rudy - he has to keep reminding her it's not THAT kind of pool
-
Moe and Glady
- ... cup check!
-
Rhett and Sybil
- at least one of the two is unconvinced that this is how you're supposed to be fitted for a bra
-
Napoleon and Delia
- ... always happens whenever this snowbird flies, and she always requests the same TSA agent
-
Emmet and Lesia
- he's a little too proud of her closet-geek status
ADOPTED!! - Case and Avril - this filthy shipper is living the TMNT-slashfic dream at the local con
LEKU WARS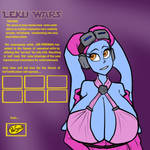 $45, single char, half bod flat color
- turn chosen character into a twi'lek
- Costume will be modified to be a bit more star-wars-y
- for shiggles!
HAREM TIME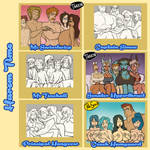 A gaggle of gaggles!
Please add $20 due to the complication of 5 characters per setADOPTED!! - Ms Swivelwisp - the self-appointed "mama cat" of the street is doing her weekly inspection of the neighboring "tom cats"
-
Captain Sinew
- leader of the sinew force, though to outsiders it's unclear if they're super heroes or hedonists
-
Ms Teachall
- she's got her hands full overseeing the after school film club
ADOPTED!! - Senator Hyperthrust - a small senator from the outer rim who always has his trusted advisors on hand
-
Principal Hangover
- fundraising is going quite well this year!
PRE-SOLD!! - Coach Hamguard - poor boy didn't expect this
LUST MAGNET PROMO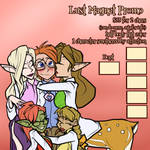 $55 for 2 characters, +$15 for each additional
- half body, flat color
- Toss the shady Lust Magnet onto a character of yours and have the results play out.
- i.e. one character wearing the Lust Magnet becomes the center of needy affection
- That's it, really. Just stupid fun.
Bonus Fries
- adopt the promo models for $60 (for the full group)
-
Dr Breegan Farlsworth
- he didn't think the product was actually active when he put it on. But given the reactions of his coworkers, he's debating leaving it on.
CHEEB PAIR WARS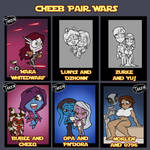 Small battles across the galaxy!
ADOPTED!! - Mara Whitedwarf - the theelin and her little D-series droid, "Dink", is doing their best to make a quick buck
-
Lunys and Dzhonn
- this little balosar actress calls the wookie her "long dzhonn"
-
Zurke and Yuj
- a placidly married chiss and nightsister couple, because evil loves company
ADOPTED!! - Bubee and Cheeq - the pantoran is doing a decent job training the togruta in the sexy path of the forceADOPTED!! - Opa and Pn'Dora - this twi'lek and shel'zi cougar pair are doing their best to catfish some young prey on dating nets
ADOPTED!! - Norlen and 0796 - the kaminoan is rather pleased with this clone's advantageous genetic defects, and is considering keeping this one for herself
ELDRITCH DOPTS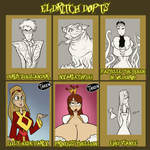 Dopts which should not be...
-
Derek Zuulander
- unnaturally really really good looking messenger of an elder dog
-
Nyarlethpug
- this pet aberration is incomprehensibly hideously cute beyond all region
-
Pastelle, the Queen in Goldenrod
- gazing upon her sigil causes artistic types to obsessively create cognito hazard artworks ... of tiddz
ADOPTED!! - Cult Guide Darcy - she will happily tour you through the ritual sites with cheeful gleeADOPTED!! - Princess Thellun - heavy are the boobs that wear the crown
-
Chief Viance
- she keeps the anomalous activities at her cafe at bay
DEMONS IN DISGUISE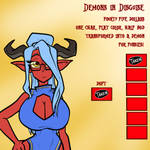 6/6 open
Hellishly good times!
$45
- single character of choice
- flat color, half bod
- chosen character transformed into a demon!
- all this for funsies (i.e. don't get caught up in "canon" nonsense)
CLEARANCE!

Get the remaining items for $25 each!
set will close 4/8
SOCKEM DOPTEMS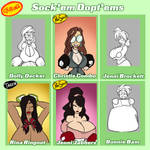 I doubt their efficacy at boxing, but they are at least slightly foxy.
-
Dolly Decker
- the neighbor kids are fairly convinced she invites them over for aerobic boxing strictly for the "accidental malfunctions" resultant from her poor choice of active wear
PRE-SOLD!! - Christie Combo - manager turned boxer turned pinup boxer ... gal's done it all
-
Jenni Brockett
- a casual cynicism hides her killer-instinct
ADOPTED!! - Rina Ringout - for some reason, her lovers seem to fall for this tactic and go down without a fightPRE-SOLD!! - Jenni Jabbers - punchy princess of pain
-
Bonnie Bam
- she swears it's a regulation glove
CLEARANCE!

Get the remaining items for $25 each!
($30 after you factor in the +$5)
set will close 4/6
POKEMAMACITAS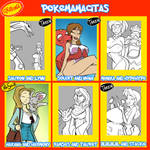 Poke a mom!
Please add +$5 to the price because Pokes
-
Sauron and Lynn
- She's quickly questioning if she caught the rayquaza or if he caught her
ADOPTED!! - Squirt and Nena - After that one incident, this gym trainer has been put on indefinite leave ... leaving her more time with her octillery and likeminded trainers
-
Monika and Hypehype
- she tries to dress it up, but he just wants to conga line
PRE-SOLD!! - Hakana and Harmony - a chill and proper trainer, who has a soft spot for her little Minccino
-
Ramses and Tauret
- why yes, this woman and her persian would like to speak with your manager
-
Blblblbl and Stackie
- she believes motorboating is the best way to develop pokebonds with her Electabuzz [... audio reference provided by a gremlin subscriber in Discord ...
youtu.be/cuOpha_15x4
]
CLEARANCE!

Get the remaining items for $50 each!
set will close 4/5
BUILD A BEAU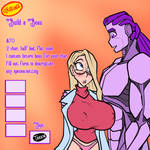 4/4 available
Let's play match maker a little too literally!
$70
- 2 character half bod flat color end result
- You pick 1 character
- Then you create a custom hetero beau for the chosen character!
- Fill out the form in the listing and send it to me (after claiming a slot)
- Do note that any species or setting is available, not just robo hunks