GOOD NEWS, EVERYONE!
Hey team!
Over the course of time I've been complimented here and there on my original characters that I've designed. I've contemplated how to make this more available to everyone at a more affordable price. With this in mind, I've decided to go the adoptables route.
You can buy characters from me.How does that work?
It's pretty straight forward. Periodically I'll post a batch of characters to choose from. Each will have a light back story and personality pre-packaged with it. Once you pay the nominal fee, you get to use these characters in any way that you'd like royalty free (which means you owe me nothing after the fact).
The specific details regarding pricing are on each of the batches. I've listed out which characters are available still from each set. Feel free to click on the pictures below to find out more.
Paycheck Leniency

This is a common question that I get regarding basically "I get paid next week...". The short sum is that after some experimentation I found out a process that allots some timing mercy but prevents negative behaviors such as predatory dopt sweeping.
You can place an order on a dopt if you'll be able to pay within the next week or so
The trade-off is that while said dopt is unpaid you will not be able to place new orders, nor will you be able to ADD to your order (with some minor leniency like adding to it the same day you place it)
Basically this means that you're locking in and committing to a dopt. It's intended to allow leniency in case there is a dopt that is JUST PERFECT for your story, and you're willing to forgo on others until you pay it off
By having this restriction in place, it helps prevent clients from getting eyes bigger than their wallets (i.e. ordering more dopts than they can possibly afford to pay off)
As always, if you have further questions, let me know
"People keep beating me to the dopts I want!"

You can consider signing onto the Gremlins' Benefits Subscription. This will let give you a full day of First-Look-First-Dibs via email. More info here -->
artofjonfreeman.com/Subscripti…
Cheers!
YCH - FLOMFLIBBER WORKOUT GEAR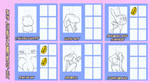 $12 base price, follow the link for more info
6/6
-
Caudeeyonyff6/6
-
Liendaht5/6
-
Shobah and Nainees
(same price, just pick a male and female for the pose)
3/6
-
Rakatak6/6
-
Erybitz6/6
-
YohnabanzAMAZEBALLS BUSTS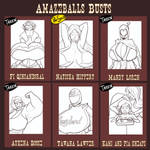 ... YUP!
ADOPTED!!
- Fi Qinsandoral, an elven diplomat who lets the bust do the talking
PRE-SOLD!!
- Natisha Hippert, her power cannot be contained by any means
ADOPTED!!
- Mandy Loren, she may employ unorthodox techniques, but her results are unquestionable
ADOPTED!!
- Athena Boose, a spelunker who retired early after finding the powerful amulet she was looking for
-
Tawana Lawver
, a controversial driver in the ASSCAR circuit, sponsered by Sexyland
ADOPTED!!
- Kami and Pia Sneaps, she encourages her daughters aspirations as a professional gamer ... after ruling out several other career choices
THE MORNING AFTER THE EGG HUNT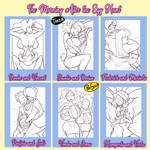 Seems that the festivities went a little sideways.
-
Brooke and Vincent
, this Easter Bunny immediately booked a spa resort vacation after her job was done
ADOPTED!!
- Shantie and Dorian, he underestimated her enthusiasm when she said his pink nightmare bunny costume was cute
-
Frederick and Marisela
, the evening prior he warned her that she was enjoying a few too many hops
-
Porfirio and Juli
, he didn't realize until later that she was only cuddling him for his candy
PRE-SOLD!!
- Vonda and Irma, they were exhausted, but everyone enjoyed painting the eggs
-
Humperto and Verla
, she had a flood of questions when she woke up, but none more pressing that "Pecs!?"
OOZY DOPTS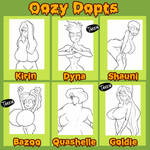 Sliming their way into your heart
-
Kirin
, an panacea slime who wants you to forget all your worries
ADOPTED!!
- Dyna, a nitroglycerin slime with an explosive temper
-
Shauni
, a shadow slime who tends to stalk and follow her crushes wherever they go
ADOPTED!!
- Bazoo, a gum slime who's got a really bubbly personality
-
Quashelle
, an oatmeal slime who's insistent that you eat a healthy breakfast
ADOPTED!!
- Goldie, a rare orichalcum slime who enjoys the finer things in life
COMBATY DOPTS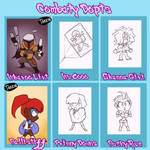 Find yourself in your heart of hearts in the heart of battle and mayhem.
ADOPTED!!
- Wharoo Lirt, a unique live-bounty huntress who specializes in tracking down naughty little boys
-
Wu Oooo
, a still and silent assassin who strikes her prey with the elegance of WOOOOOOOOOOOO!!!!
-
Shanna Giri
, someone just had to goad her into her full power
ADOPTED!!
- Ballistiff, a super heroine with enormous
-
Prinny Downs
, Arm wrestling champion turned terrorist
-
Bucky Rue
, she's got punchamania, addicted to the feeling of her fists on the faces of others
GOOEY DOPTS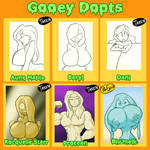 These slimes may be a bit amorphous at times, but they're always good for a laugh.
ADOPTED!!
- Aunt Mable, a maple syrup slime. she's a proud Canadian, naturally
-
Beryl
, this fruity girl is admittedly less of a slime and more of a jelly
ADOPTED!!
- Dani, this milky lass considers herself the cream of the crop
ADOPTED!!
- Rocquelle Starr, an energy drink slime who's definitely got too much energy for most people
ADOPTED!!
- Protean, a protein shake slime dude who's always aiming to impress
PRE-SOLD!!
- Blu'melk, rumors of this bluemilk slime'lek have permeated far across the galaxy
SEEKERS OF THE STRANGE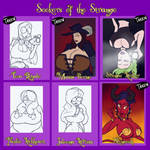 No oddity will be left undiscovered!
ADOPTED!!
- Teva Royale, a ghost hunter who's intimate spirit encounters tend towards a different type of audience
ADOPTED!!
- Ma'am Borne, a monster hunter seeking revenge on her devilish embiggenment
ADOPTED!!
- Spence Lurker, an agile spelunker with a grip against the s.h.u.d. menace
-
Neslie Lockheart
, is always keeping an eye out for sea serpents ... at the local pool
-
Jaleena Lupista
, prefers civil and/or sexy discourse over violence when dealing with the paranormal
ADOPTED!!
- Skineesh, this crafty succubus has found that strictly preying on monsters is a surprisingly fair payment for room and board in human dwellings
BRAWLY DOPTS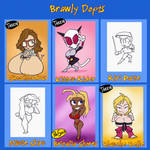 Even yet more fightier than ever!
ADOPTED!!
- Smooshlord76, an unseatable Street Fighter fighter champion
ADOPTED!!
- Kitten Rider, meow-shin a go go!
-
Riri Poste
, she tends to get the point across with the competition
-
Minnie Skirn
, people are starting to suspect she's aware of the futility of skirts while kicking
PRE-SOLD!!
- Britalia Shores, she's a proud champion in the Walk-Off competitive circuit
ADOPTED!!
- Blanche Belle, disregards criticisms of improper use of her black belt
PARANORMAL HUNTERS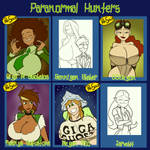 Such a lovely bunch of loonies who are obsessed with the not normal...
PRE-SOLD!!
- Gigli A Suckalos, "... Aliens."
-
Bennigan Shaker
, a ghost medium who secretly gets advice from his ghost extra large
PRE-SOLD!!
- DDDegon, she does feel good after bustin' ghosts
PRE-SOLD!!
- Teianys Sulfurstone, casual ghost hunter of a rebelious nature
PRE-SOLD!!
- Megan Milo, she is udderly convinced these are evidence of ghosts, she must show the proof
-
Jar'vebit
, he hunts down alien cougars, like the scruffy little nerfherder that he is
FIGHTY DOPTS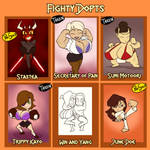 punching their way into your heart
PRE-SOLD!!
- Stastea, just don't call her "Sith Tits"
ADOPTED!!
- Secretary of Pain, a ferocious professional wrestler who always starts off so nice and polite
ADOPTED!!
- Sumi Motoori, instead of the cold shoulder she gives the THROW shoulder ... eh? eh?
ADOPTED!!
- Trippy Kayo, the Fluffy Panda Boxing League's top sexy competitor
-
Win and Yang
, tag team duo of sexy aspirations!
PRE-SOLD!!
- Jun Doe, has had enough of your crap
MELONAZONS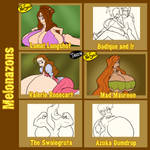 Strange goings on in the jungle...
PRE-SOLD!!
- Lomni Longshot, this jungle princess is tired of people telling her she needs to wait until she grows into her body
-
Bodique and Ir
, they are constantly scheming things
ADOPTED!!
- Valerie Rosecart, did not listen to the locals' warning against eating the sacred fruits of the jungle
PRE-SOLD!!
- Mad Maureen, she means business ... JUNGLE BUSINESS
-
The Swolegruta
, part of the Galactic Wrestling Federation's attitude era
-
Azuka Gumdrop
, a gnome whose research in jungle herbs produced some odd results
ROBOTIT DOPTS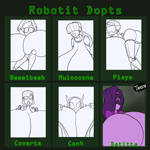 Not to be confused with Robutts
-
Beemibeeb
, an early attempt at realistic artificial stupidity (the obvious was intended to amplify clumsiness)
-
Mulooone
, an education instructor droid with some aftermarket upgrades
-
Playo
, prototype sports athletics droid with self-defense measures installed
-
Coverta
, a stealth gearbag (robotics under simflesh) that never proved effective
-
Con4
, she was cobbled together in some kid's basement
ADOPTED!!
- Datitta, computational, research, and cuddle droid. Fluent in over 3,000 forms of snuggle
YCH FLOMFLIBBER SCHOOL UNIFORMS

$12 per YCH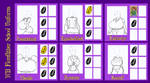 - 3/6 Prestitttant- 3/6 Ezsakeddeh- 4/6 Kudostyo
SOLD OUT!!
-
Cheelie
- 4/6 Bymemo- 4/6 NeemfiYCH FLOMFLIBBER BIGGUS DICKUS LINE OF SWIMSUITS
$12 per YCH, +$15 to add a female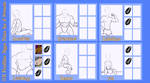 -
6/6 - Smawfwai
- 6/6 - Graponaut
- 4/6 - Kalleklaye
- 2/6 - Zawshajz

-
6/6 - Bessboi
- 4/6 - yup
CLEARANCE!

Get the remaining adopts for $15 each!
set will close 4/25
FOXILY BOXILIES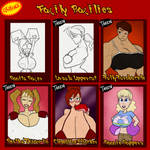 Even yet again more foxier than the normal foxy boxer!
-
Bonita Boxer
, a bored warehouse worker has found an idiotically amusing way to pass time
ADOPTED!!
- Ursula Uppercut, an upsetting upstager who's climing upwards in her career
ADOPTED!!
- Tully Turnbuckle, [cliche boxing bragging goes here]
ADOPTED!!
- Bertha Throw-in, she's somehow able to convince oppoents to throw the match after whispering in their ears
ADOPTED!!
- Clementine Clincher, one tie-up manuever is all it takes for the opponents to lose the will to fight
ADOPTED!!
- Bonnie Boppers, insists that she play-boxes with all her sitters