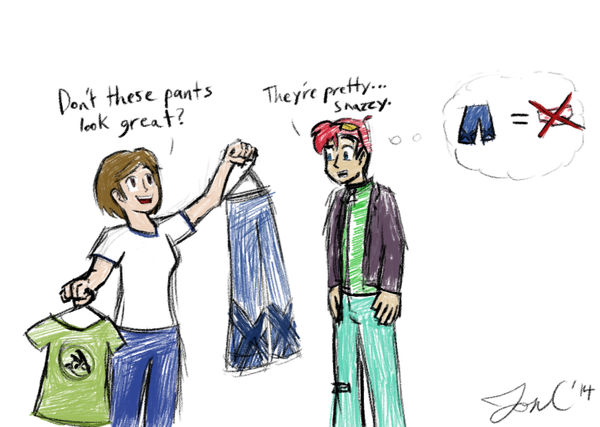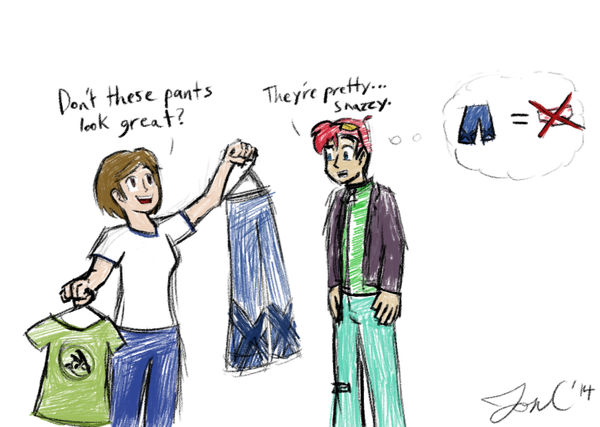 Watch
So I've been reading a lot of written works by my best friends, one of which is Pokémon Rebirth: Ultimatum by the best of my best friends, Gemma!


The story is loosely based on the Pokémon anime, keeping most of the seasons in continuity, while continuing on years after the Sinnoh Arc, and it's actually VERY well done! The characters are very nicely written, the plot is heavy, and there are a lot of scenes that put a smile on my face!
One of which is this scene: Denise picking out new clothing to disguise herself from any Team Rocket members recognizing them. During this part, she asks if Caley likes the pants that she picked out. Unfortunately, "pants" in the Tatto region has a different meaning than what Denise meant.

American/British word definition differences, gotta love 'em!
Hope you enjoy it!
Pokémon is © to Nintendo/Gamefreaks.
Pokémon Rebirth is © to Gemma Bright.

What's funny for me is whenever I see characters in British shows saying "pants" I know instantly that they're referring to undergarments... because the word パンツ (pants) in Japanese has the British meaning.

This project sounds really cool! I hope it's going well for you and your buds. (^^)
Reply

Hehehe, yeah. I remember that being the case in Japan as well. I've watched a few anime where they mention "pants" as underwear. Case in point, one episode of Bomberman Jetters involves everyone trying to give hints to Shirobon to use thunder bombs against water. Most of the hints revolve around the Japanese God of Lightning, Raijin, such as the ring of drums on the back, the tiger-striped undies and so forth.

Gemma's having a lot of fun with it! She's getting closer and closer to revising Ultimatum, and I'm doing my best to give feedback while she's working on it. When it comes out, I definitely recommend giving it a read!
Reply

Funny, I saw a pair of pants with a similar design at the mall, except that the X's were at the knees

Reply

Hehehe, interesting! I think I've seen jeans/trousers like that around Walmart or some sort. Either way, funny bit of coincidence that you found a pair similar to this!
Reply

So, wait... pants in America means underwear in England?
Reply

Yup!

In England, 'trousers' is the term used for pants, while the actual word 'pants' refers to underwear.
Reply

I love the look of this.
And yes, welcome to 2 very different forms of English.
Reply

Reply

I love this sketch! Denise looks so pleased with herself. ¦D
Can't wait to share Ultimatum with everyone. Thanks for drawing this!
Reply

Heehee! Aaah poor oblivious Denise.

I really enjoyed drawing her pleased expression along with Caley's perplexed reaction to Denise's comment about the-totally-not-underpants-pants.
Anytime Gemma! Glad you enjoyed the pic!

Reply