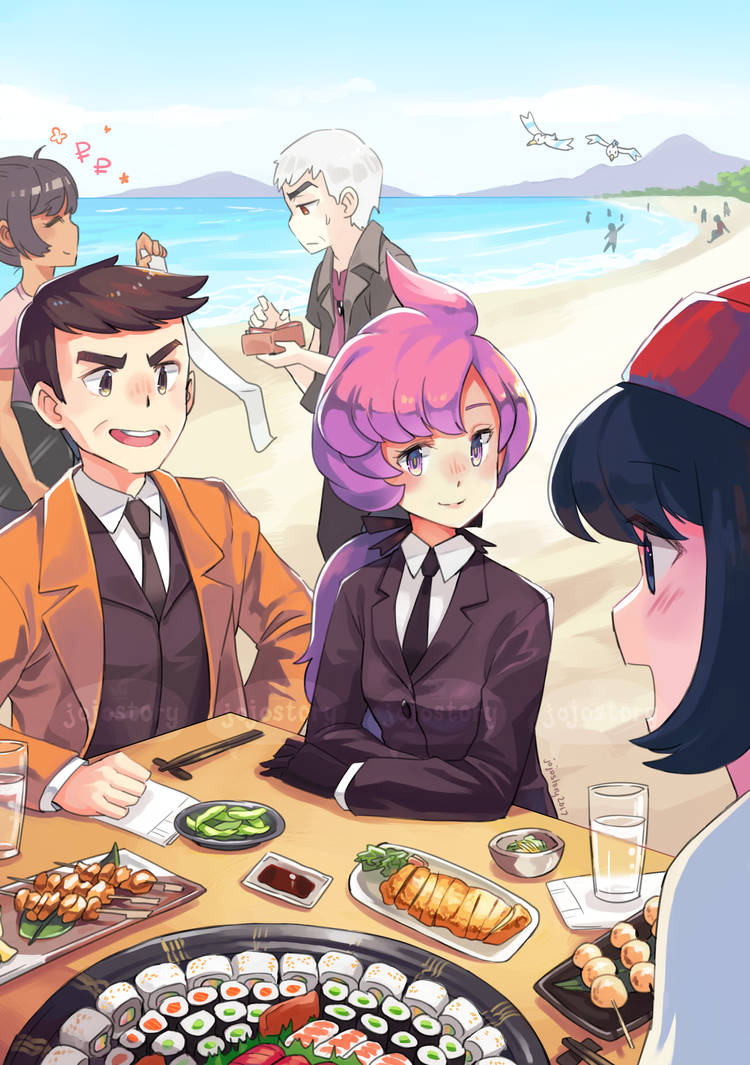 Watch
This was my full entry for the
Z-Food Zine
! I went with the concept of finally celebrating after capturing all the Ultra Beasts near the end of the game. I had a lot of fund tyring to push my coloring and composition abilities here!
Go check out the zine if you haven't already -- a lot of really cool artists participated in the project!
SPEEDPAINT VIDEO:
YouTube

Anabel's really pretty, which is one reason why she's my favorite character from Sun and Moon. The other reason is because she's a strong trainer, and I had a lot of fun battling her! Some of her Pokémon, like her Alakazam, Mismagius, and Weavile, were easy 1-hit KO's, but boy were Salamence and Snorlax trouble! They kept KO'ing my team, but I was able to beat her first go thanks to the fact that I had a BUNCH of Revives and Full Restores on hand, so thank gosh I had the common sense to keep reviving and full restoring my team before all 6 members got knocked out.
Edit: ugh, DA messed up the Pokémon part of the comment when I posted it, so I had to go in and edit it and I saw it has registered the word the right way but didn't display it the right way, so I didn't change a thing, pressed preview, and then pressed Submit Comment to save it and correct it.
Edit 2: Anabel's expression is just so sweet! Looker's, though, is hysterical, and Nanu's is hilarious!
Reply

Thank you! And I really admire Anabel too! When she showed up in Sun and Moon, I was like, "Wow... she's so cool!"

Reply

I made it! I've successfully caught all of the Ultra Beasts in the game.
Reply

Reply

Why didn't they do scene like this in the games ?
Reply

How much that food cost, because that paper looks like it would the price of Goku eating for 5 persons
Reply

Haha, Nanu's paying. Lovely picture, by the way!
Reply

Reply