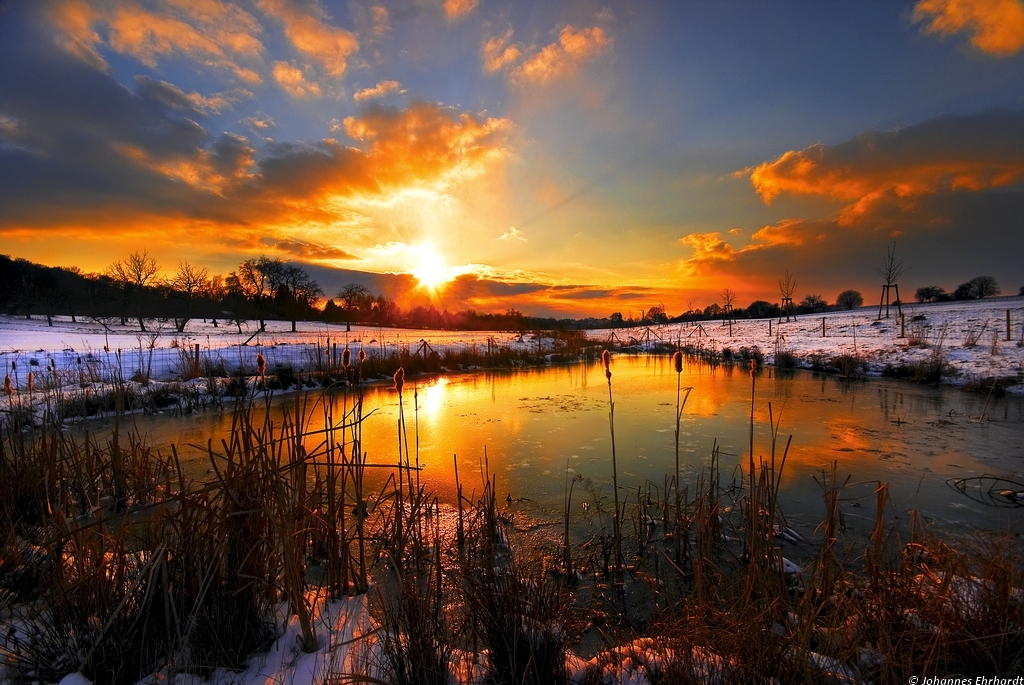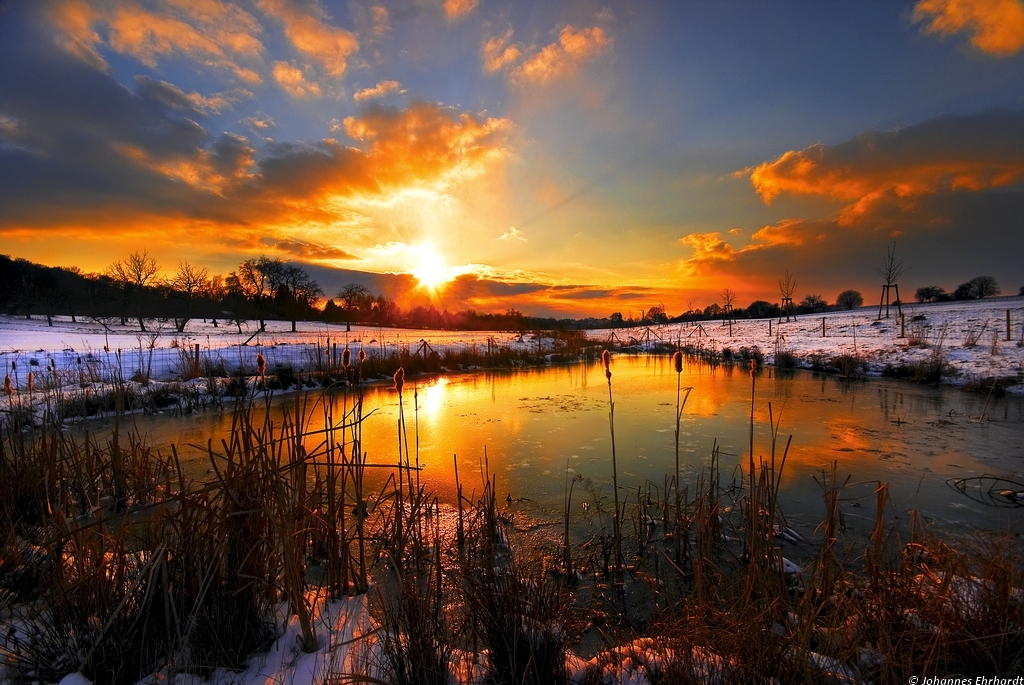 Watch
Hello guys,
South Germany Fullview pls!
new stuff from me

View of a cold winter sunset of a little little lake in Germany
Hope you like it!
Sony alpha 200
Comments are welcome
They say a picture says more than a thousand words, and sometimes that's more accurate than one might think. This shot accumulates all the values a true nature photo should have: color, composition, angle, concept and creativity.

The first thing that hits you is the play on colors. They are bright and powerful, and spread evenly across the beautiful winter landscape. The contrasts between blue and orange harmonize with the snowy fields and that giant mirror of a pond.

Placing the horizon in the center is a wise choice, considering the mentioned mirror effect. The angle and level of the camera create a warm and close environment in the grass and weeds near the viewer, yet an awesome view of this giant world we call our own. It's shots like these that makes one feel truly small.

I can't debate the originality of the artwork considering the fact that it has been done a thousand times before, but I do however feel a need to celebrate the way a photographer can re-invent the wheel. All in all, this is truly a great photo, and whether it's due to luck or technique.. it will still forever be a great photo.
The Artist thought this was FAIR
11 out of 11 deviants thought this was fair.
Excellent photo. Captured the sunlight across the landscape very well while still pulling the blue from the skies above. The silhouette of the trees in the background contrasting with the white snow is very nice. The pond in the center of the image reflecting the sky above makes this a very beautiful image. Mix it all together and you have a A+ photo. You dont get many chances in life to capture images this nice. I assume you may have used Lr or Ps to boost the color saturation of the photo, but you did a good job without over doing it. Good job and keep taking more photos!
The Artist thought this was FAIR
4 out of 4 deviants thought this was fair.