I rewrote the Xnalara/XPS importer-exported from scratch. Now it has better performance, unicode character support, binary and ascii import/export, pose import import/export and default pose support.
First thing is the new
XPS Toolshelf. It only appears in object mode and the available options depend on the current selected objects.
You can import from the file menu or use the toolshelf for quicker access. Also from the XPS toolshlef you can change the view mode to GLSL, Shadeless materials and reset to normal.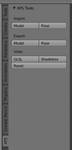 Importing to Blender
When importing Xnalara/XPS models bones that don't affect the mesh will be moved to the layer 2 of the armature.




Pose bones will be colored according to Bone Groups and affected meshes.

To import a pose, just make selection that includes the armature and import the pose. The selection can include other objects (meshes, lamps, etc.) but the pose will be applied only to the first armature within the selection.
You can import ascii or binary meshes.
You can adjust UV mapping displacement.
You can import the default pose if any
Exporting to XPS
All meshes within selection will be exported. But only the first armature found in the selection.
You can export ascii or binary (.mesh or .xps).
You can adjust UV mapping displacement.
You can export the current as the default pose.

im using 2.70 and trying to import the addon with the zip file but it keeps on giving me ImportError no module named zipfile