It's been a few years since my last group of updates to this journal. I just posted an entry about attending C2E2 (Chicago Comics & Entertainment Expo) this year (2019). In this post, I'll fill you in one what I've been up to since 2016. I'm still installing furniture into military (my day job) but I'm hoping to make this is my last year in that line of work. I still feel good doing the work but I'm getting older and I need to think about the future. I'll probably get a different job back home early next year. I live in Bloomington, Indiana.
Grateful Zed:
The image above is from a web comic I started in 2018 based on an idea I'd been kicking around for over a decade. It's a comic strip about a newly dead gentleman named Zed trying to navigate the afterlife. His first encounter is with Death. Zed, our deceased protagonist, goes on to experience a great deal of drama and adventure in the Great Beyond. I'm creating it in the form of a comic strip. It's mostly just for fun so I've been drawing it in Sharpie on the pages of a large sketchbook I can carry with me while I'm out on the road for work.
You can read Grateful Zed on Tumblr here:
gratefulzedcomic.tumblr.com/
You can read Grateful Zed on Wordpress here:
gratefulzed.wordpress.com/
Zed started out as a side project I was doing so I'd have something to post online while I was working on a secret project at home on a four month sabbatical I took from work in 2018. I ended up using my top secret project to apply for the Creators for Creators grant this year (
creatorsforcreators.org/
). I won't find out if I got it until May. I turned in a short proposal along with twenty-eight pages of the project. I can't tell you much about that project yet. If I don't get the grant (which comes with a publishing deal from either Image Comics or Iron Circus Comics), I'll be pitching the book to a few more independent companies. If nobody wants it, I'll publish it myself. It's another project I'd been kicking around for years (since the 1990s) and I'd like to see it in print someday.
Homepage:
While I was at home those months, I also used Wordpress to create a web page. I had not created a homepage in years. This one is sort of my calling card as an artist, writer and creator. I'm also creating an alternate homepage for Grateful Zed on Wordpress but it's not quite finished yet. You can see my main homepage here:
9chambers.wordpress.com/
Print: Crux by John Chalos
Something else I started during my 2018 sabbatical that I finished this past month is a large fine art print featuring a mangled tree in the form of a human heart. It's based on a dream I had about climbing a tree only to be passed by someone climbing the opposite direction. You can see it in my galleries here on Deviant Art. I made it available as a print on Deviant Art.
I also made prints available on Artpal:
www.artpal.com/johnchalos?i=11…
I also made products and apparel available on Threadless:
johnchalos.threadless.com/desi…
You can also see it on Art Station:
www.artstation.com/artwork/nQv…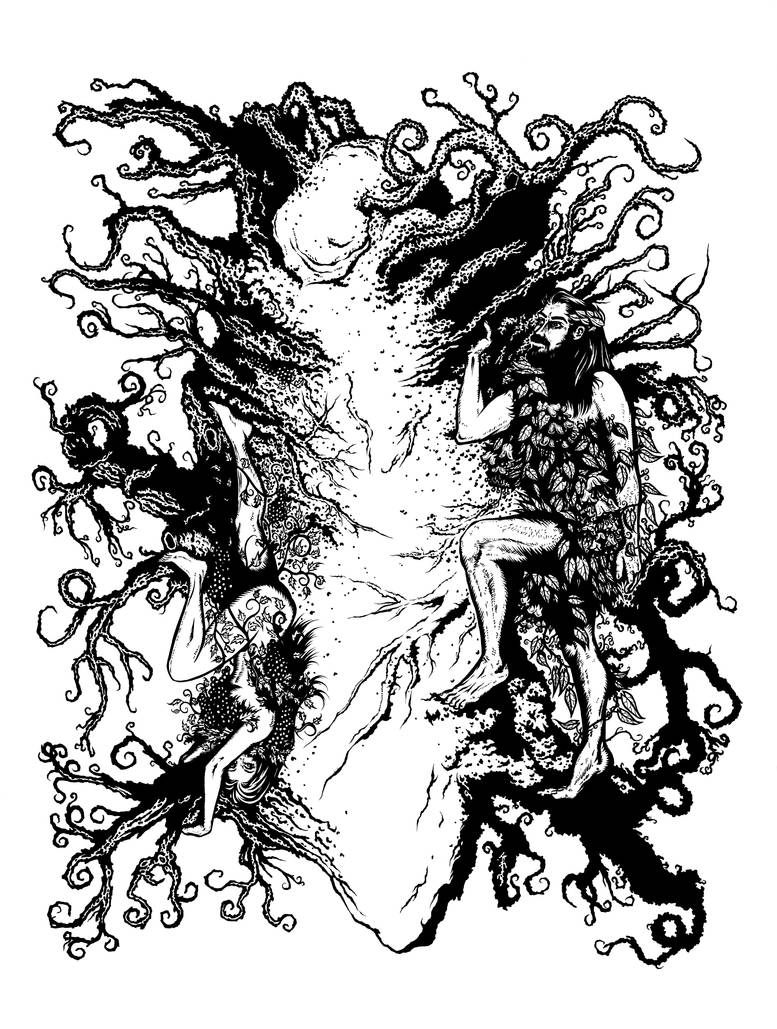 Epilogue:
I took another long sabbatical from work this year (2019). I took it earlier than I had planned on taking it because work was going to be really slow this winter. I didn't accomplish as much as I hoped I would accomplish this time out but I did get a lot done. I go back to work installing furniture into military bases in just about a week. One way or another, things are going to change this year. I hope I can find a day job more suitable for a middle-aged man that leaves plenty of time to draw. I'll turn forty-eight this year and I'm still pursuing a career in independent comics. I still plan on creating my own original independent comics and graphic novels.