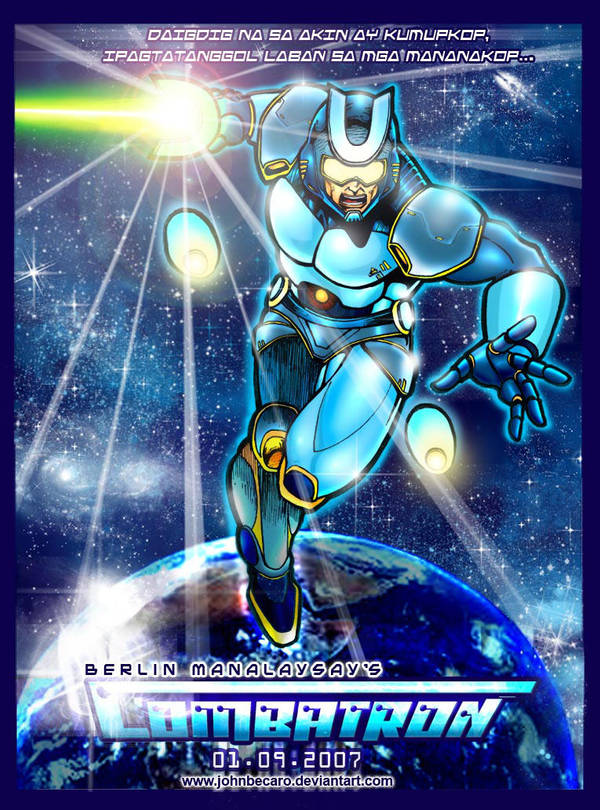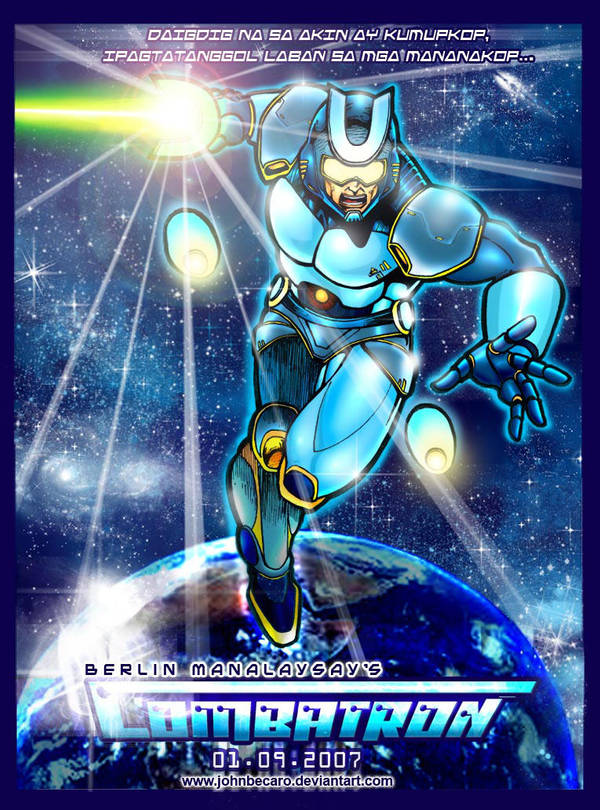 Watch
Here's the Colored version I promised last time.

And this is my full tribute to him.
This was done in 4 hours.Photoshop(CS2).

Well., Im now quite satisfied on this one (it matches on the way I visualize it in my mind).hehehe

How about a future movie, eh?

Combatron, where are you now?

Line art was here:
[link]
Notes:








Berlin Manalaysay's Combatron
I remember when I was a Grade Six Pupil (12 years old),I used to go to the komiks stands just to read Combatron
in Funny Comics (I think it was published every Friday).I used to walk kilometers away from home to go to the Market and read comic books in which only cost me Php 1.00 (quiet cheap isn't it?)Combatron was one of my first Lokal
Superhero other than Superman and the likes).Combatron was an icon to me even up to this moment.Every Child would dream to become like him.A Man of Character, Defender of Planet Earth. Combatron has gone numerous earth protecting and space battles in which hanggang ngayon nasa isip ko pa rin.It saddens me that this kind of character was not given an utmost recognition just like the other characters.And that most of the Generations today never have the chance to read his adventures.From robot monsters, character designs, story plot, Filipino essence and Human emotion- The Story of Combatron is Universal.
The question is where is Berlin Manalaysay? I don't know if he heard all the sentiments of Combatron Fans out there? If Combatron will be revived, More fans will be happy and the present generation will be able to know that
the Philippines has produced a character worth to be proud of.
It is also highly recommended as a potential movie production or a TV animated series production.
This is actually my own vision/rendetion of Combatron.In a realistic form and not in his "cartoonisque"or manga look.Im thinking of him as a matured person already..Notice the two disc?Remember it? I said wow when he used this weapon way back..hehehe.Dobbernaut,Askal, Axel,Metallica, Death Metal?Hmmmmmmm...Let us see.
Fore more exciting info about Combatron, you can click this links..:
[link]
[link]
[link]
[link]
Im thinking of more Filipino Created Superheroes and Characters.And gave them due recognition
and tribute here in my D.A.. I welcome everyone for suggestions by sending any images/articles, links
to my email:johnbecaro@yahoo.com.It is in honor for our Filipino Artists and Creators.