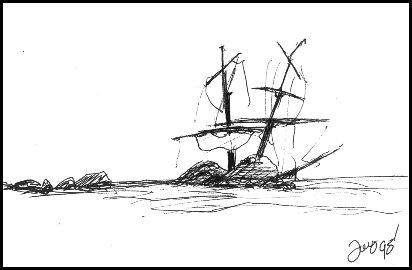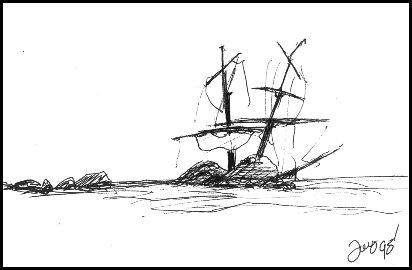 Watch
Don't y'all just feel exactly like this sometimes?

All that is,all that will be....will be chicken salad!You'll be comforted to know Shepherd Wong is still guarding " The Great Egg Salad " for future creation mythos!!!
Reply

I posted my first PRINT here. I choose SHIP WRECK. I'm working on "For Nettie" - that oil pastel of the hum bird and faerie. Not an easy process to build a proper submission. Go Read the instructions. I'm along time drafter so familiar with what they speak about, must be a mind twister for a novice.
Anyway, I realize much of what you draw are knock-offs of copyrighted properties but for your originals have you created prints?

Reply

O desire to print any of my work.
Reply

Hope you R celebrating B'day all month.

I set up couple of prints here and at 2 other "print dedicated" sites - sell the prints on throw-pillows, clocks, mugs etc. With all the years collections of religious designs and flowers, doves, candles and what-have-you! I might get to enjoy it. But bad timing...I'm writing and illustrating that next kid's book.

Go get drunk for me, I'm back at the old drawing board... again.
You know the feeling.

Reply

Forgot to mention that as some one who Raises chickens,wouldn't the Cosmic egg analogy be subliminally more appealing to your current thought processes? Baawk..bawk bawk!
Reply

Oh, yes. But according to my understanding the science community often uses a chicken egg to demonstrate what a singularity is - self contained entity that has all the ingredients for what it will become. And 100% separate from everything else ... due to it being in a shell.
See? Us farmers ain't dupid.

Reply

Without light? The force Luke the force! Seriously the Vethmamians of Kestraal-b have no "eyes" but phenomenal UV sensors,and an abundance of magnetite in their brain stems. Using heavy iron "ink"on metallic foils, they are able to heat read their crypto- divine etchings, which are said to be the rage in the inner quadrants!!
Reply

I don't know why but that all makes sense to me.
YIKES!
Reply

Since you are considering R&R google image radio-astronomy images and "see" what is invisible to humans,with our limited bandwidth! We Earthicans with our supposed PHOTONIC SUPERIORITY SYNDROME are basically considered the dull-witted throughout Orion's Arm and the rest of the HERTZIAN sensitive beings on the Elliptic!
Reply

Earthicans?
We were sitting around the UNO table over in Farmingdale when I asked you what you thought about the construction of the universe - specifically about it foundation/creation. I expected you to give me some Stephen Hawking or Einstein or Sagan or your usual "Earthicans" answer. But no, you blew me away in one short sentence. And it was the very first time in my life, in the culture I grew through, that the answer you gave is sweet, simple and so obvious (nowadays) the correct one. You said, "It's always been here."
As far as the art is concerned, I wasn't praising it just thought you'd like to see it. Hey my PHOTONIC SUPERIORITY SYNDROME not perfect, you know. After all, I'm just an Earthican.
Reply

No slight meant by Earthican. Less formal than Terranial,or as we're viewed in this Spiral arm, the Terraists from the planet of Terror!( Only trying to Make Earth Great Again, with MEGA emblazoned on our S.pace S.uit helmets)!Not knocking your PSS,it's genetically encoded. Photonic bias is just something we have to live with,exampled by the fact that even though radio waves and light waves travel at the same speed,nobody says faster than the speed of radio! Make the jump to radio-speed Mr. Sulu. Does the time dilation effect even come into play if you surpass the speed of radio?Einstein had Tesla envy.Regarding "always been here", can't get over the notion that the big brains could misinterpret the "Big Bang" so badly.The micro wave hiss that they picked up with their big horn(slightly less than primeval)was just the emissions of the universe humming along,sucking up matter and condensing it via black holes(again the photonic bias) and regurgitating it out via white holes at some other end of a galaxy,(Horse head nebula sound familiar?) All the matter in the universe from nothing ,How does that work???
Reply

All the matter in the universe from nothing ,How does that work???
Maybe what you think to be matter could be of a different nature. A nature that is akin to the nature of the entire picture.
I watched a TED speech few months ago ... if I can track it down I'll send you a link.... The man was saying that our eyes and observations do not deceive us and we over think creation. Example 1) What is all life about? Answer: More life as in procreation. 2) Does all life procreate in the same nature (not method)? Answer: Yes, like-life begets like-life. 3) At the birth of new life what is its condition? Answer: Stable - such as all life begins in an egg. 4) Then what: atrophy begins and life expands and goes back to step 1.
Now consider the universe: 1) Observations are that the further in time you peer back the more stable it is. Few argue it actually was absolute stability AKA Singularity. Then it expanded and all it really does is mix atoms through atrophy and create like and more like. The speaker finally pointed out that, as far as his concept goes, the universe broke out of an egg laid by a bigger universe.
You might come back at the speaker and myself saying: "Hey, where's the first chicken?" However, again trust your present observations, they were always here in one shape or another.

You were then and now correct. Carbon life form dies but (extract silly religion) it doesn't disappear, it is a function of atrophy.

Reply

Yikes! Where to start? I know ,at the beginning(because you can't start at the end,or can you?).Because humans have been Inculcated with their beginning- middle -end fixation, we try to impose this storyline upon the entire universe!Big bang-expansion- contraction,Ta-Daa! Everything fits nice and neatly so our limited braincases can feel we're right up there with "evolved"beings.We know this to be true,because our photonic receptors tell us so.As far as peering back in time(another arrogant scale we presuppose is constant universe wide) we are using photons as our constant,and they tell us we are 14 billion years old!Prior to this when our T-scopes were less sensitive we were only 6 or7 billion years old.Using speed of light to measure time is insane, for it is NOT a constant ! Gravitational lensing shows light waves can be bent millions of miles off course from their source. Twenty years ago scientists were able to slow light beams down to 38 miles an hour! So it's not much of a constant,or dependable measuring scale,is it? If you want to use this version of space-time calculations so be it. The part that seems strange is that unless through some truly bizzaro quirk of fate we are in the exact center of the universe,when we , look north with our powerful t-scopes we perceive it to be 14 billion years old.South, same thing .East, West,same. you would think that through the uneven distribution of matter,if we looked in a certain direction, the universe would only be 7 or 8 billion years old! Also say you are a being on some planet 14 bil. light years out, you look to your "north" and you see what? Abagillion zillion stars and galaxies.But if you look "south", all you see is an endless black void!! Yeah right! The further out we look, the more the smart guys are going to have to rekurgigger the big bang's birth day!
Reply

Thanks so much for that. Impressed most by the painstaking effort to write it. Far as message goes; you are a modern thinker - like I didn't know - very informed and yet so ... you.
I'm so damn proud to know you - and everyone related to you, come to think of it.
I'm still wildly lost in that Ditko drawing. Anyone who has ever drawn, especially doodled, can just feel with their eyes the journey your hand enjoyed and hated, and got whimsical, then tedious, then taking a shape maybe as a message, no! just fill space, is this fun or what?

Reply
(1 Reply)

Reply

Exactly how I feel tonight.
Tedious nonsense with Cathy's family (but nice to see another human visit us, been many years) I also just tore up a 11 x 14 portrait of St. Ita I've been working on for days, just not turning out right, and my soul is now drained because after 40 years of My Drawing Board, it is finally awash of contributing designs and is live at
www.joepegasus.com/yman/career…
Whatta day..
My Prussian-blue electric clock's
Alarm bell rings, it will not stop
And I can see no end in sight
And search in vain by candlelight
For some long road that goes nowhere
For some signpost that is not there
And even my befuddled brain
Is shining brightly, quite insane

"I see my life shine on brightly........."
Procol Harum
Reply

Sounds like all is normal!LOL. Never tear up your work!We are in the multi-verse,(reconfiguration of st. ita,green hair,ghastly red lips ,and toothy smile=Religious Joker of earth-47)! Downtime is important,(I didn't pick up pen or pencil for 5 months recently).Sometimes you shine on TOO brightly my friend.Appreciate the PH but go full on WSoP (Across the sea and far away.To where the weary exiles stay.And some arabian oil well, impersonates a padded cell).Luv to the Cath!
Reply

Cath sends love.
I thank you for the encouragement you extend. I truly appreciate it, just now.

I happened to fish out the last marker I had left today from a box of you gifted me with - must be during olden Uno days; prior to 1996. A gift I only today and suddenly realized how insightful it had been on your part. You gave me my very first set of tools needed to step from a life of pencil draftsmanship to fine art. You did that. For me...to me.
......and it took me over 30 years to grasp the kindness of the act. I may in deed shine brightly, but not at the speed of light.
Thank you.

Reply

Light is over rated! It only lets you perceive TEN PERCENT of the universe !!!
Reply

10%...hm...how does one draw without light?
Cathy just mentioned that she had phoned you couple times nut never got through. Sends her love.
I'm taking your comments about turning-off seriously. Let's see how that works out...going to nap the morning away........... afternoon too.........early night tonight...LOL but true.

Reply