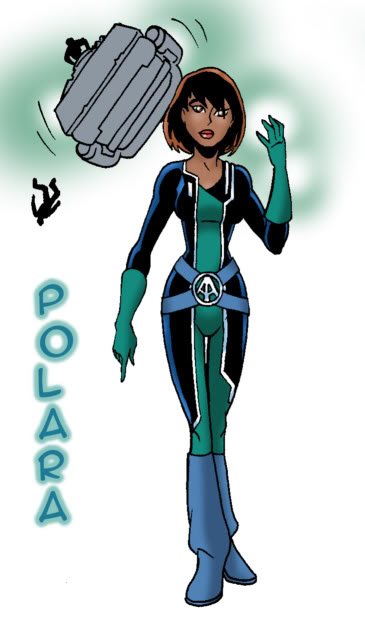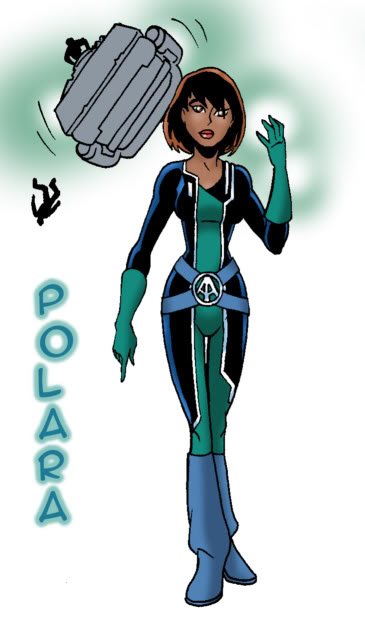 Watch
Polara is a native of Nelvanna with magnetic powers. She is able to generate and manipulate magnetic fields to create barriers and to move objects with sufficient iron content or intense enough electromagnetic fields.

nice concept. is nelvanna a planet,too?
Reply

In the Ad Astra universe, Nelvanna is a planet with a spectacularly strong magnetic field, enveloping the planet in an auroral halo.

I'm just now introducing Polara to the story, but I created this version of her in 2007.

When the supers were exiled from Earth in 2119, all the supers with electrical, magnetic and other EM type abilities were transported there.

In the history of Ad Astra, all Earth's supers were magically transported off Earth by a super-villain called Magister. He intended to kill them, but he mistranslated the complex spell he used against them, instead of killing them, it sent them all to worlds where their powers would be tested to the limit.
Reply

wow.cool concept.that explains ad astra.
Reply

I set out to create a Legion of my own. I always liked the idea of the planets where everyone has the same powers, but I needed an explanation why so many humans with the same powers would settle on the same world. It wasn't until I started actually working on the comic that I came up with the idea of something forcing them onto those worlds, rather than settling voluntarily.
I think Ad Astra is different enough from the Legion that I'm not being too much of a copycat. It's been going a little over 3 years, now and I'm still having fun with it. I only wish I could get some more readers.
Check it out. adastracomic.com
Reply

i think what's crazy about the idea is if there were any people on other planets to begin or if they existed before,too.i tell you one thing there is a lot to the world than you realize,it ain't even funny.
Reply

Well, DC already has a LOT of planets out there with what appear to be homo sapiens inhabiting them. Too many for my tastes, as a science fiction fan. You've got interbreeding between Earthers and Thanagarians, Rannians, and who can count how many others.

They used INVASION to place the humans with a common power on the worlds we know from the Legion. At least that makes them full human, and it's not so ridiculous they can interbreed with Earthers. And why they look just like us.

Yes, the interfertility thing is a pet peeve of mine. I'm only 48, but I cut my teeth on old-school sci-fi, and alien/human hybrids are verboten in good SF. And the Legion is supposed to be sci-fi.
Reply

that's a very good point,i'm not the biggest sci fi fan, but it is amazing what you can get out of science, cause at least that stuff makes you imagine and think outside of the box and that's the good thing about.

What's bad about it is just because it may be a realization,don't mean it actually happened or ever will.i don't know some things were meant to be.

I'm also into Guardians of the Galaxy,too.i mean the intergalactic stuff is a trip.literally!!
Reply

I haven't read any of the recent Guardians of the Galaxy, but I mostly hated the old stuff, because Marvel's future was always so bleak and hopeless.

One of the reasons the Legion was so popular was timing. At a time when kids were doing Duck and Cover drills in school, living in fear of nuclear war, DC showed them a future with more than a glimmer of hope. A world where we managed not to blow ourselves to oblivion. Star Trek managed to tap into the same thing, a decade later.
Reply
(1 Reply)