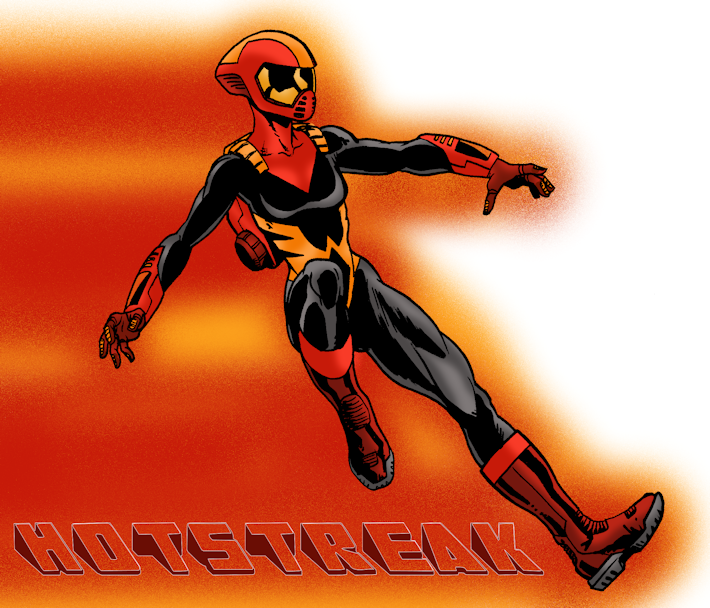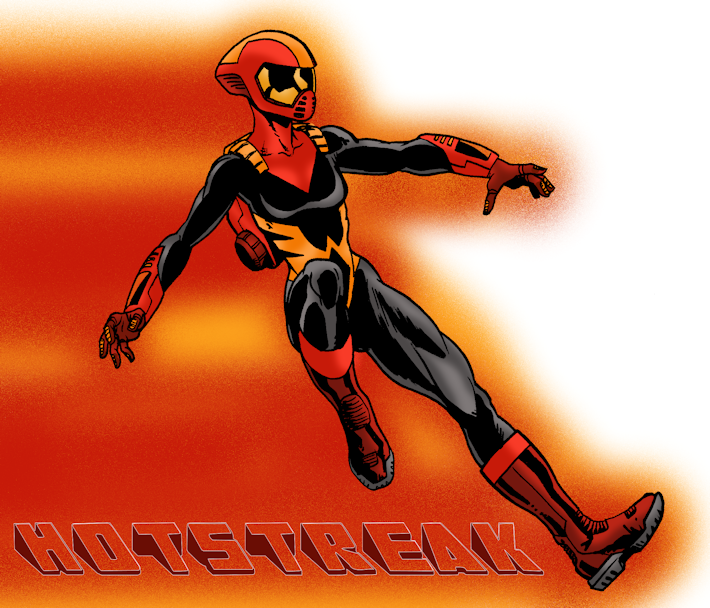 Watch
So, I'm thinking of characters for the 27th century Valiants, and since they're an Avengers homage, I thought they needed a speedster. But, all the speedsters were Exiled in 2119.
Here's the thing, though. The Exile Worlds were selected for conditions that would test the supers exiled there. Atlas has six times Earth's gravity to test the super-strong folk who were exiled there. The speedsters were sent to a world stuck near the event horizon of a black hole. Time there is nearly frozen and only the strongest speedsters managed to survive more than a few days. Slow down to rest and you were stuck forever. A few of them teamed up and saved one young speedster, who became Rush of Ad Astra. His story needs to be told, because unlike most of the other kids there, he's got a tragic history.

Then we come to Hotstreak. A speedster villain in 2119, she was on the run from Delta Vee, in New York when the Exile spell was triggered. For weeks, she sped around the exile world the speedsters never bothered to name. She was nearly exhausted when she suddenly found herself back on the same New York street, buried in snow. Hotstreak was the last living Exile on the testing world and was returned to Earth when the spell broke. A few weeks had passed, for her, but about 600 years had passed on Earth, due to time dilation. Like some of the other Valiants in the 27th century, she's out of her own time, too.

On a slightly more pleasant note, any chance we'll eventually get to see Delta Vee?
Reply

Heh. I hope to do some of those characters soon. I plan on doing an origin story for the Ad Astra character Rush, who is an actual survivor of the Exile Event. He's a teenager who was a young speedster in 2119 caught in the spell and he's the only one who go off the speedster's exile world. I haven't come up with a name for it, because I don't think they had time to bother. Other than Hotstreak, who was able to keep speeding long enough for the spell to break (on a world where months went by with every subjective second, time-dilation is a bitch), all the other speedsters are frozen in time on a planet orbiting a black hole, just far enough away to not be torn to shred and close enough to be really slowed down. Probably not possible, but magic bends the rules. Hell, when the spell broke, the planet might've torn itself apart. I don't know how cruel I want to be.
Reply

Sounds interesting. Really looking forward to seeing Ad Astra and hero blog kick off again, as I was enjoying them much more than anything being put out by the Big Two at the moment. And I know I wasn't the only one, as I've gotten questions from several people asking if I knew when you were going to be starting them up again.
Reply

Any idea of when or if, you'll get Heroblog and Ad Astra up an running again, as I know you don't have as much spare time as you used to. I ask because I've had several people ask me if I knew when you were planning to kick them off again.
Reply

I wish I knew. I am having such a hard time getting back into that headspace. I had a routine and it was smashed when they changed my schedule at work. I've yet to settle into a new routine, and it's making it impossible to get my head back into the game. I've done a few pages of Ad Astra to get the story going again, but haven't had time to color or write them. It's just hard when I can't count on long stretches of time to work, like I used to. Sounds whiny, I know, but that's what I'm dealing with. I would kill to get back to my old schedule, with 3 days off in the middle of the week. Plus, I used to have a little time after work to get some coloring and writing done, but not anymore. Ugh. I'm sure there's a way to do it, I just haven't hit upon it, yet.
Reply

What schedule do they have you on now?
Reply

I work 12:30 pm to 9pm, Mon-fri. For most people, a mon-fri schedule is ideal. I used to work Fri-Sat-Sun-Mon 2pm to 1am. I had time alone when I got home at night to play around on the computer, do coloring, lettering, whatever, with no distractions. On my days off, Tues-Weds-Thur, I had all day, every day to do what I wanted. If I had art that I needed to do, I had time, I could go see a movie during the day and be one of only 5 or 10 people there. It was bliss. Nirvana. It was perfect for me.
On top of that, when I went to the 5-day schedule, my shift differential was lost (about $200 a month) and I added one more commute per week, another 50 miles I had to drive, for less money. I am still bent outta shape because of that.
Reply

Joe one of these days you're going to have to sit down and write out some sort of "bible" detailing all of these characters. I know I'd love to read it.
Reply

I've avoided doing that since I started Heroblog all those years ago. I've found, if I fill in too many of the blanks for myself, I lose interest in the whole thing. Every other project I ever tried to do ended that way. I overthink it and it goes stale. I'd be terrible as a real writer, having to do rewrites and such, I'd get bored and never finish.
Reply

You don't have to get to detailed, it could just be a list of names, with a line or two of info about each one. Say a brief description of their abilities, whether they're a hero or villain, etc. That would still leave you room for future development.
Reply

Well, I have a doc with all their names. A LOT of names, for different story ideas I've had over the years. I've actually managed to cross most of them over into Heroblog, at some point or other. I brought the Guardians into the Heroblog universe, which was the team we created when I was in high school. I crossed the Seven Sisters over during my big crossover event, which was an idea I had for an all-female super-team that was NOT meant to be cheesecake fodder. And I had Amp and the Guardians go into the Gladiators' universe, which was my Big Damn Universe project with a timeline and families of heroes and all that, but which never saw the light of day because I am inadequate to the task of doing the idea justice.
When I sat down to create Heroblog, I was determined to keep it loose, and it worked better than anything I ever did. Not a monetary success, but satisfying to me.
Reply

Reply

An as-yet-unrealized speedster hero from the 22nd century. One who didn't survive long enough on the exile world to be returned.
Reply