The moment I saw this contest here on Deviant Art, I was pretty sure I wanted to felt something, but I didn't know what. And then, it got really hot and my cat was really miserable, so as I have to do, I held his little furry butt down and sheared some fur off his side to make him more comfortable. As I gathered together the cat-sized lump of extra fur and commented to my partner for the nth time, "we could make a whole other cat out of all this hair," it hit me... I'll make a whole other cat.
I had seen a video of an artist who makes cat sculptures and wondered if I could do it, so I set out to make my own felted version of my own cat.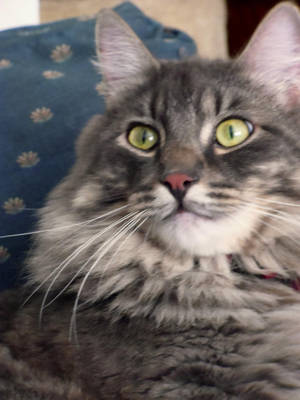 Señor Stevie Nicks



I started by using white sheep's wool, core roving to sculpt his face. And since I'm disabled, a lot of this was done in my bed, where I do most of my artwork.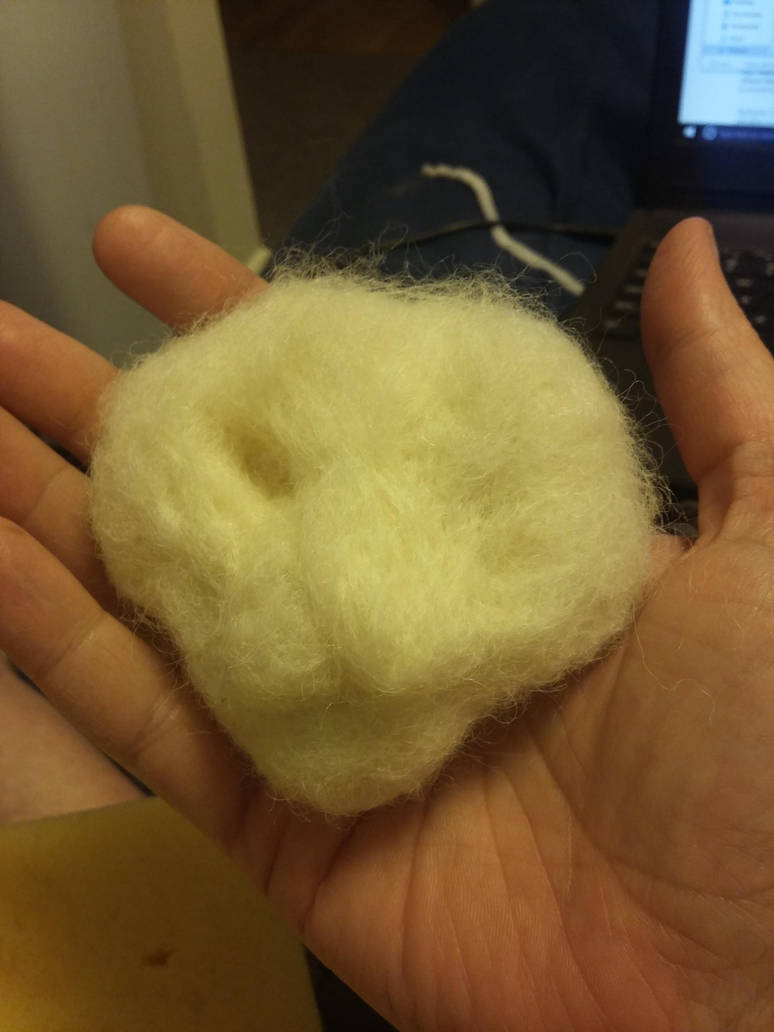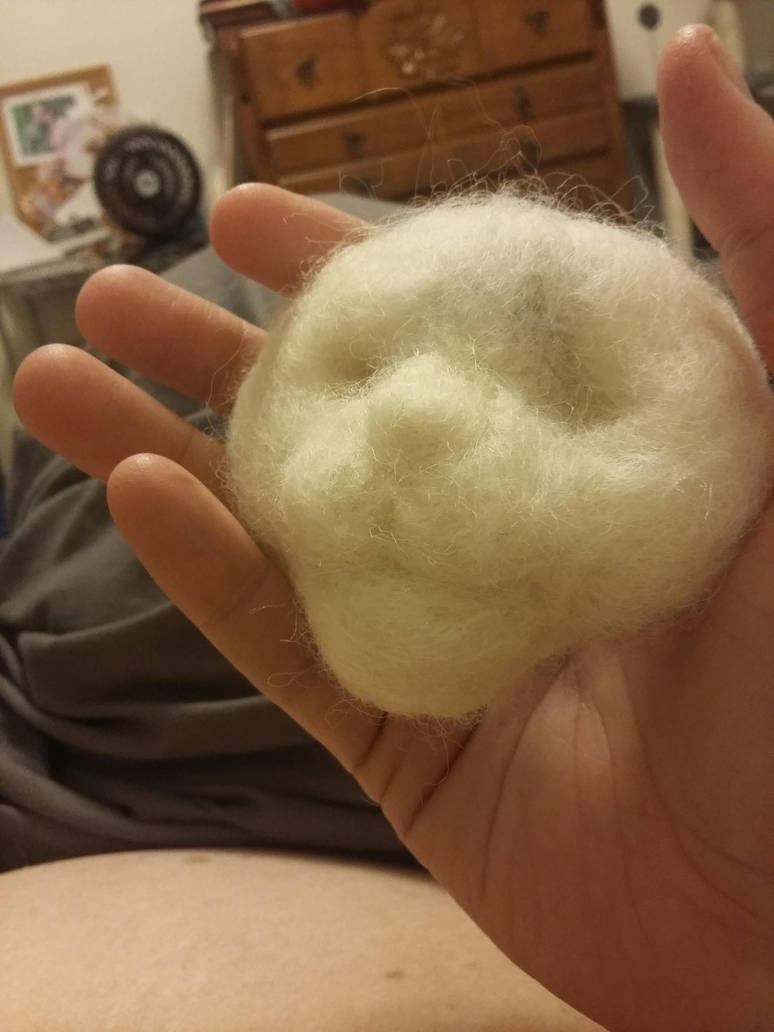 The next step was to sculpt his nose, so I pulled out an old box of fimo modeling clay and some nail art tools and sculpted a close approximation of his nose. I made a loop of metal, as a fastener, and inserted it in the back of the nose so I would be able to sew it on when I was ready. When it was set, after a short baking period, I painted the nose using acrylic paints and then sewed it to the head sculpt.
Once I got the shape right, the nose was attached and I'd added a little definition to his mouth with black wool, I moved to wet felting his ears. For that, I laid down grey wool and pink mohair in layers on top of bubble wrap, covered it with a mesh fabric, and rubbed hot soapy water into the wool. After rolling it and squeezing it for a while, it turns into felt, which I then cut in half and formed into ears while it was still wet. Felt will hold whatever shape it is put in while wet (which is how felt hats are made), so I pinned the ears to the head and let it dry overnight.
Once I had the ears attached, by felting them in place (again, felting is a process of poking wooly material with specialized barbed needles, which tangles the fibers and creates a solid mass), I added details, like the cat furnishings, which I learned is the technical term for the white hairs in kitty ears, using white fur from Stevie's belly. I also started placing sections of hair on his forehead, which is done little by little, using short pieces of fur, which are laid down, punched in and then trimmed to the right length.
I also traced some of his markings onto the wool with a purple pen (or tried to) so I could get his markings in the right place.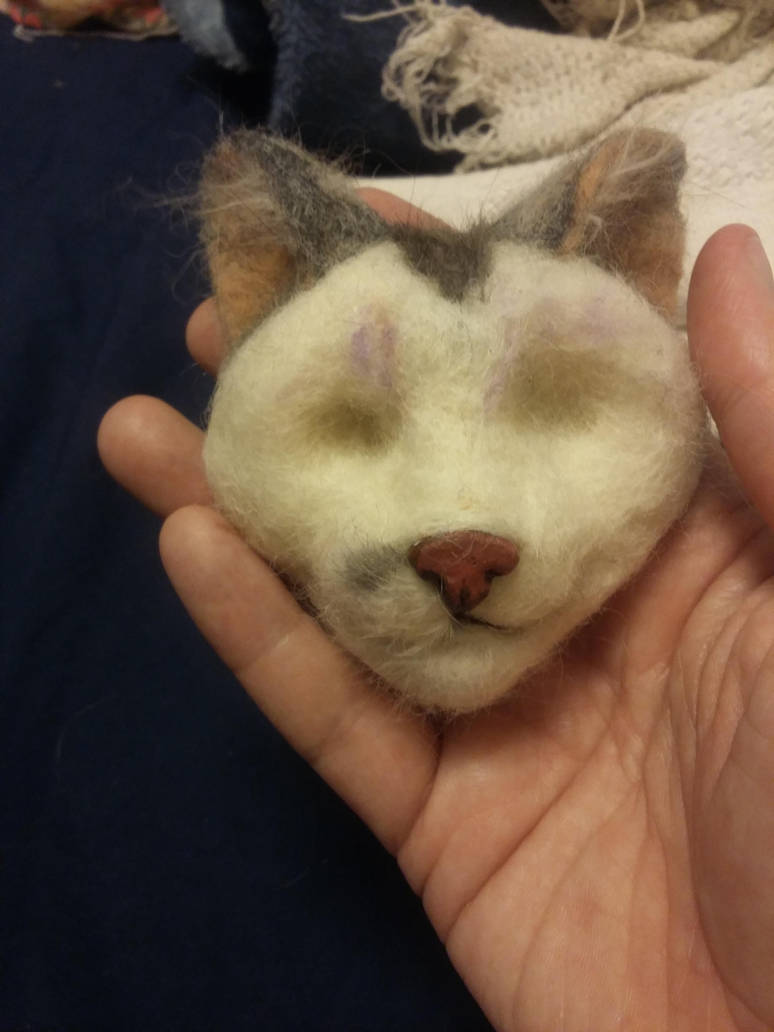 While waiting for his eyes to arrive from Spokane, WA, I worked on laying more of his fur, again, piece by piece, punching in bits, and trimming as needed. This is where he started to look like a real cat.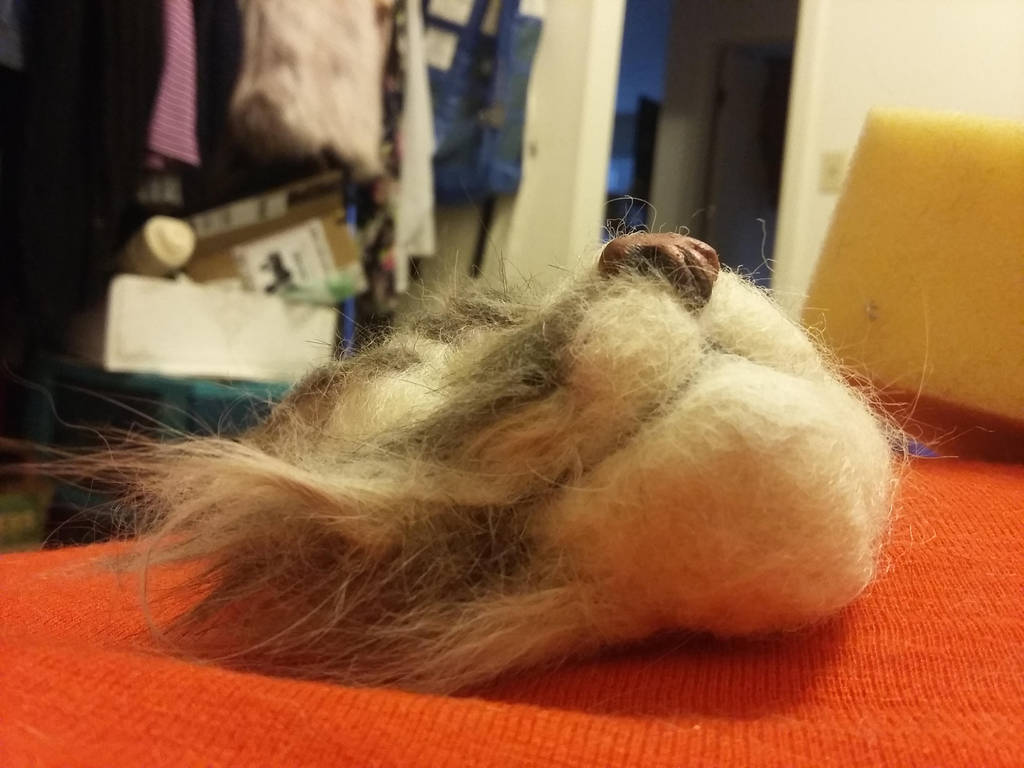 From some angles at least!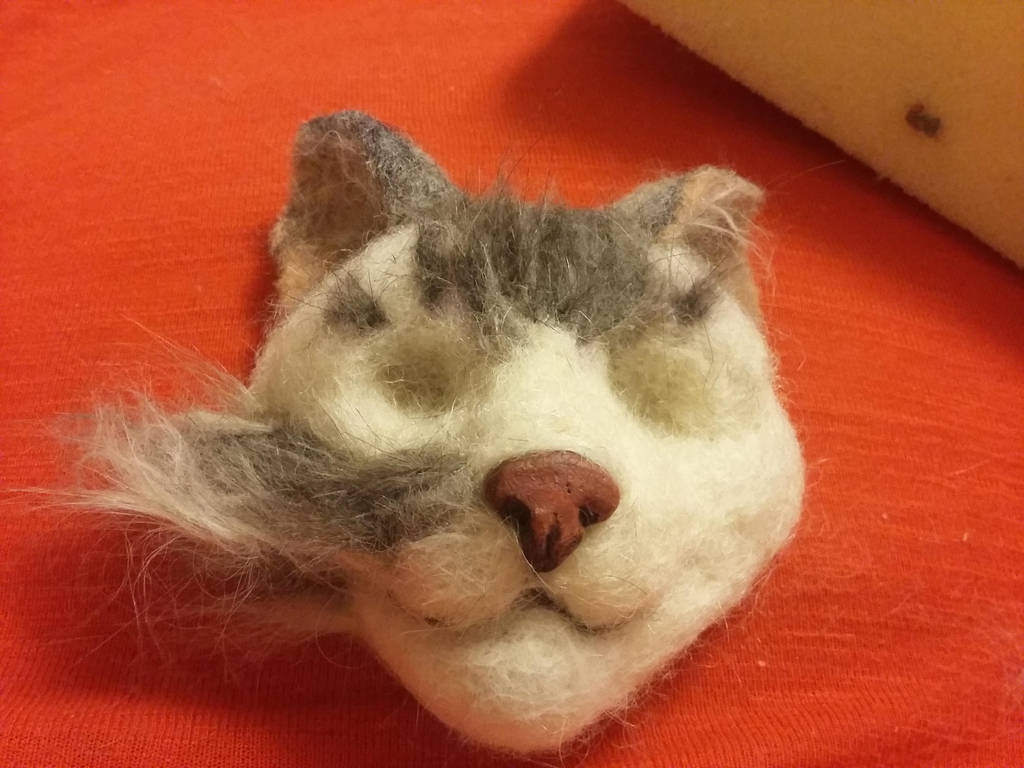 I continued to work, avoiding his eye area, for the next couple days, laying in more fur slowly but surely.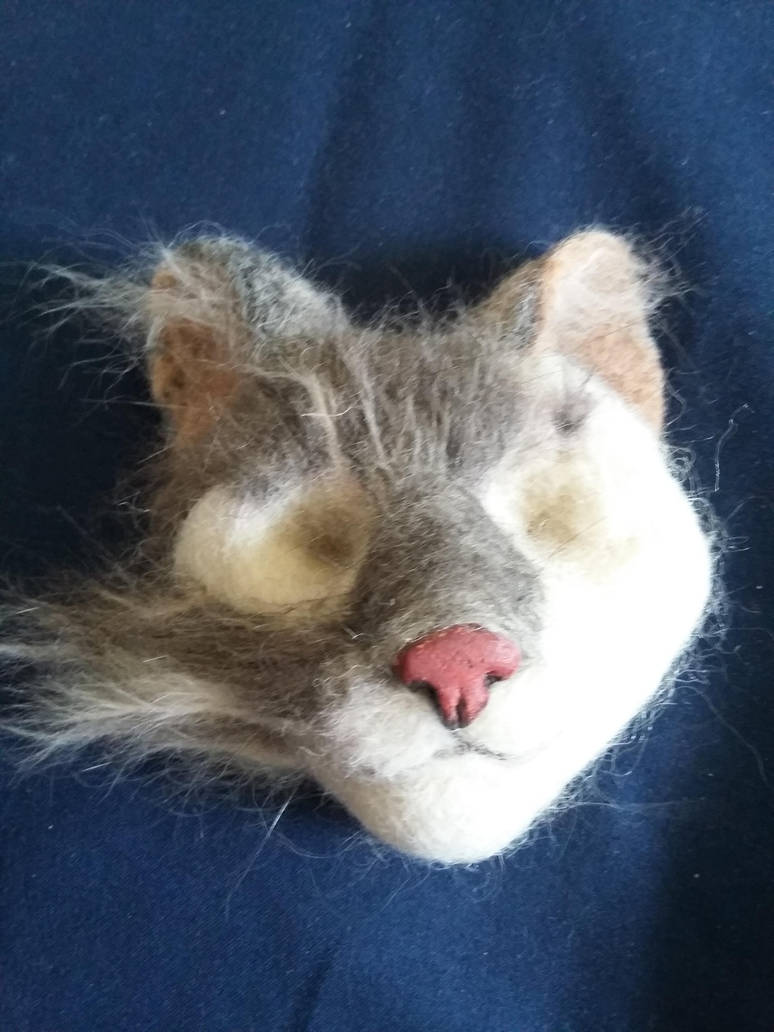 And finally, the eyes arrived, so I could sew them in and get to finishing my boy.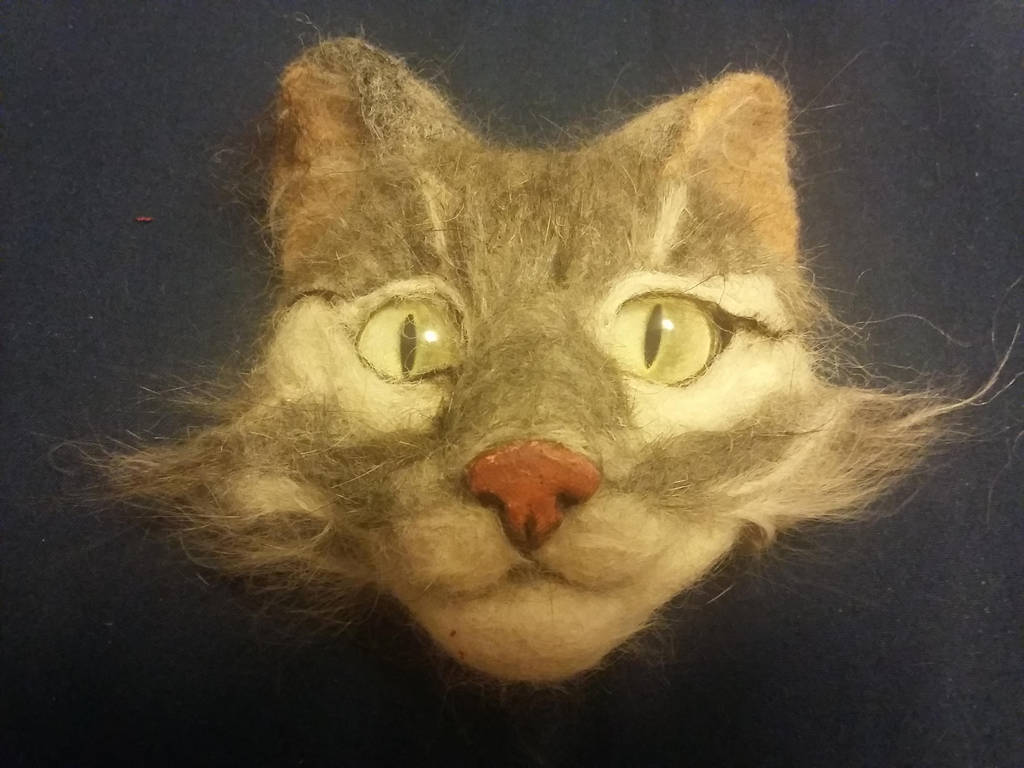 Which he was very surprised about, by the looks of him. LOL
But with eyelids added, and more fur added, he really came together quickly.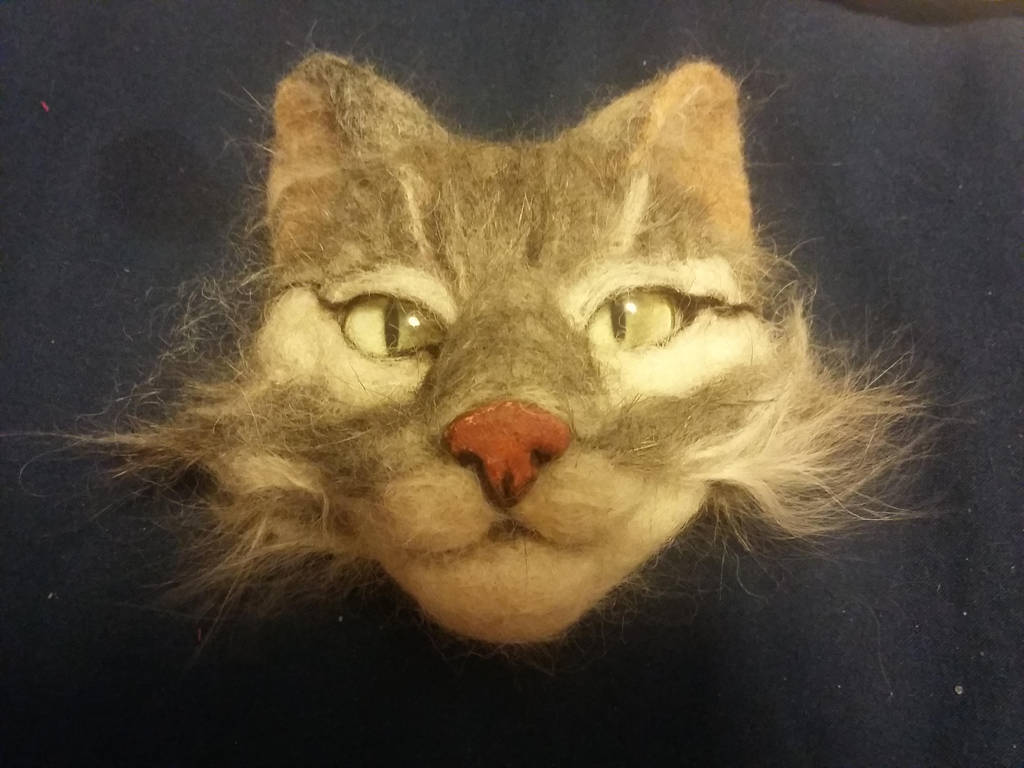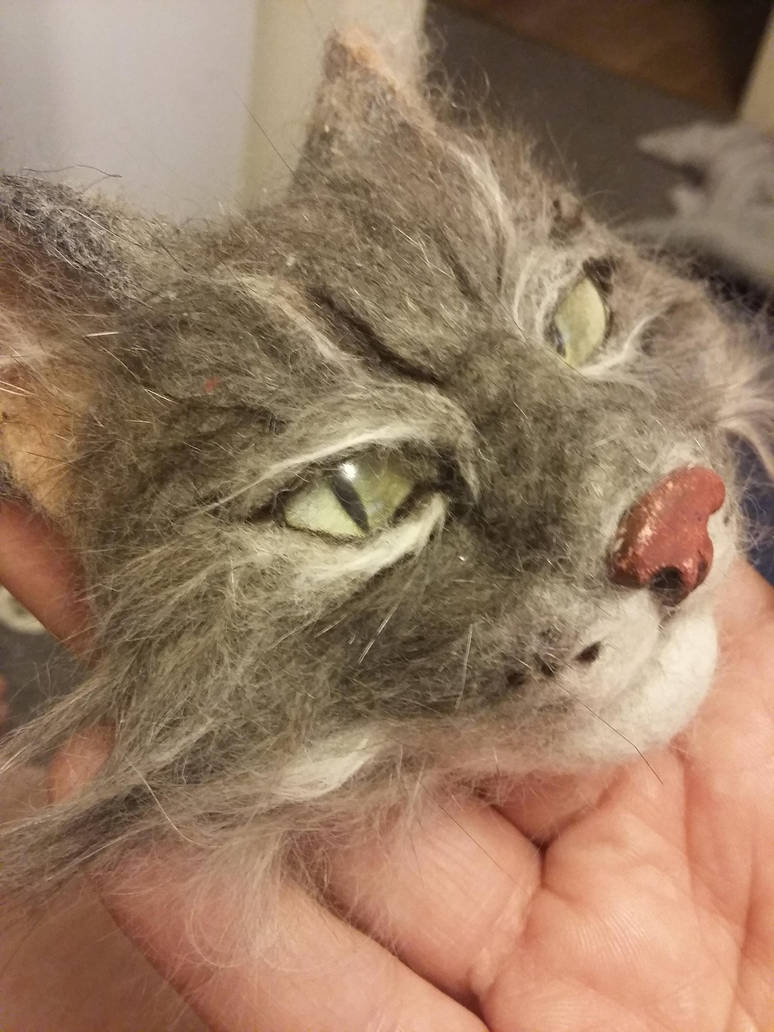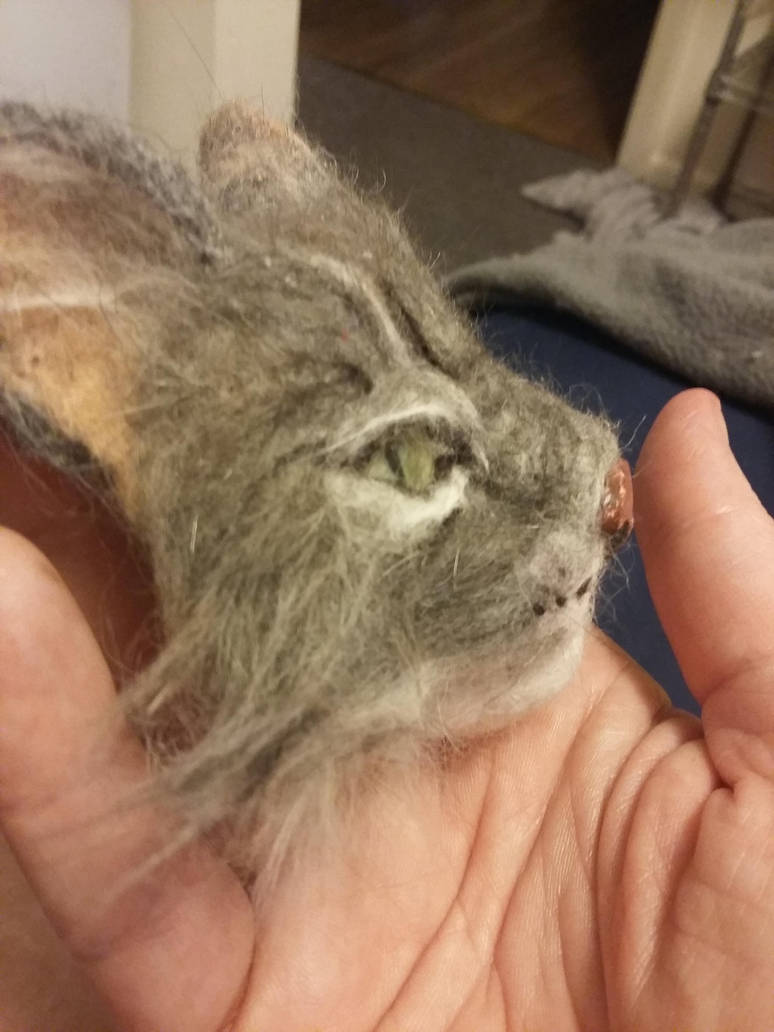 Once the cat was done, I decided that he needed a chest tuft to balance the composition, so I started with some more core wool, added some grey mohair, and then, with a few more snips of his hair, to get the right color, I stabbed a small chest tuft together, and sewed a bowtie on to add some extra flair.

And the last step to complete the look, I added whiskers, using a simple sewing needle, threaded with the bow hair to pull through his snout. Once it was through and trimmed to my liking, I used small amounts of white glue on tweezers to anchor them in place. The smaller eyebrow whiskers are simply inserted into the wool by hand.
Then came the utter pain of upholstering a hand cut oval (cut three times because... cutting is hard) with corduroy. And repainting his poor stabbed nose where bits had come off while I worked. And finally, gluing down the edging, because you can't make a perfect curve with foam and corduroy, or at least I can't. And attaching the cat to the backing and the backing to the pine plaque.
I couldn't bear to hot glue the cat to the backing so he is held on with pins which can be adjusted as needed.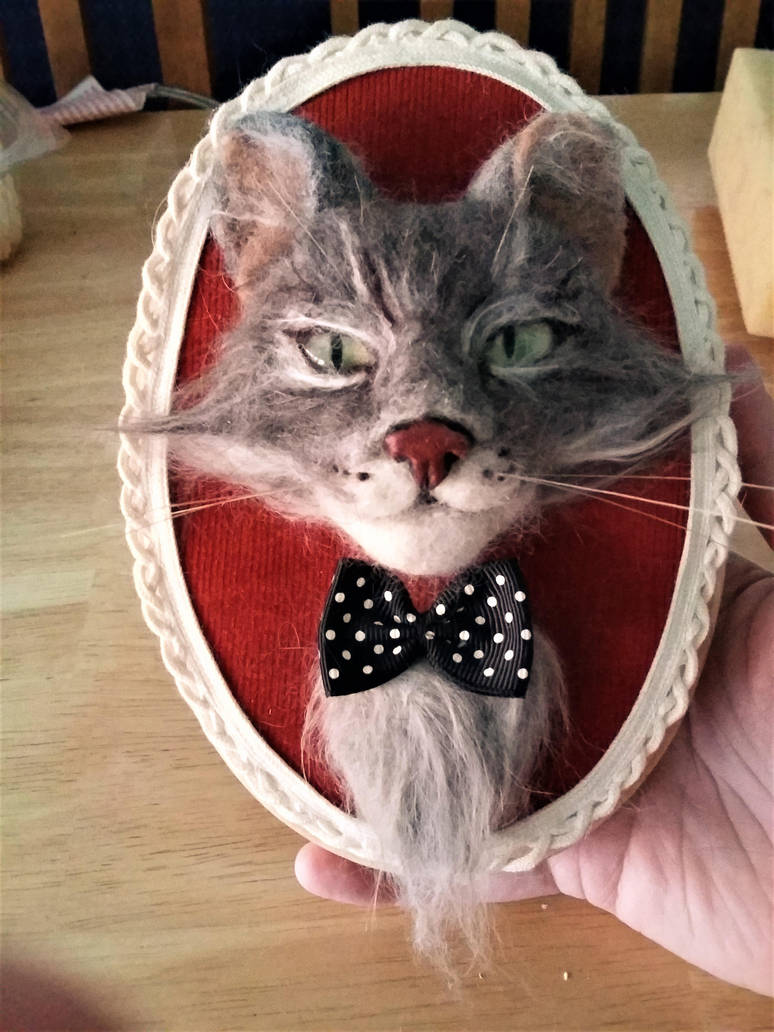 And voila, 11 days later, and at least 22 hours in, a felt cat bust, ready to show, and hopefully, win!