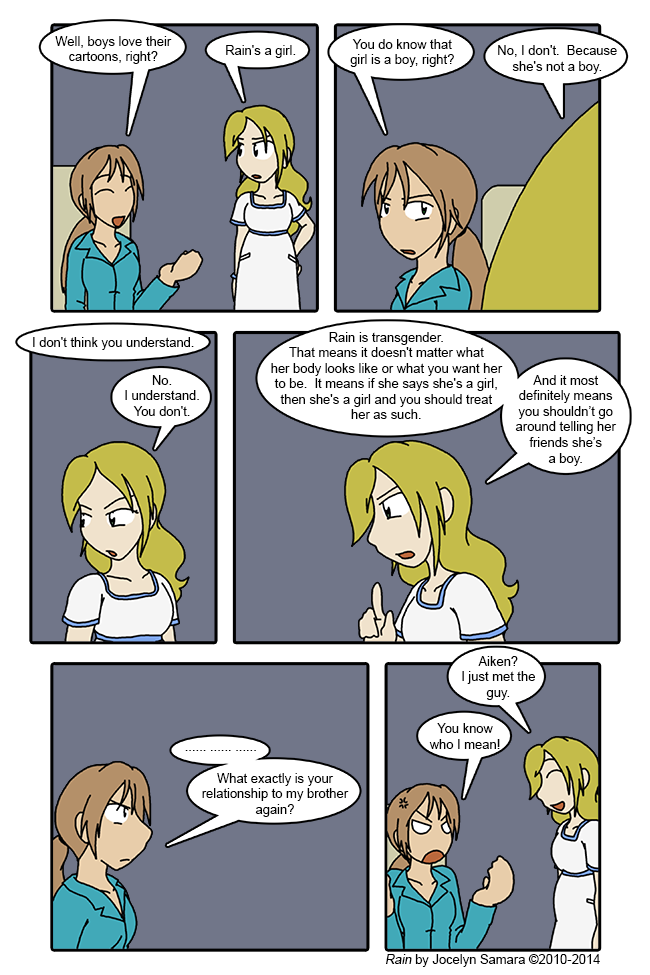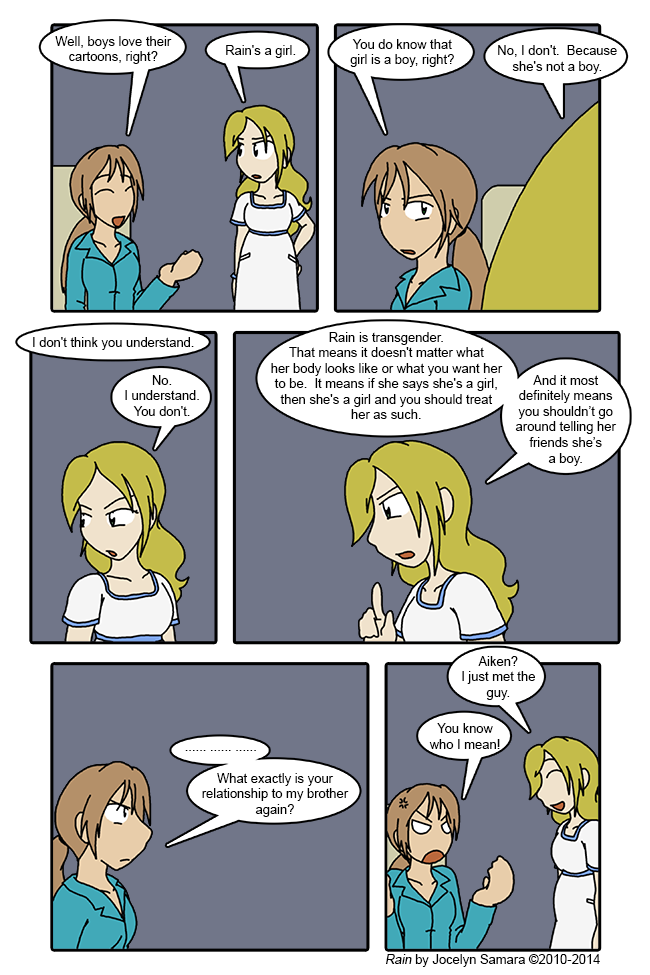 Watch
First -
jocelyncd.deviantart.com/art/R…
Gallery -
jocelyncd.deviantart.com/galle…
Prev -
jocelynsamara.deviantart.com/a…
Next -
jocelynsamara.deviantart.com/a…
Alternate page title:
"How to be an Awesome Trans Ally"
by Emily R. Caston.
©2004-2014
Rain, all characters and all other aspects of the story are copyright material belonging to me.
Just in case anyone still hasn't gotten the memo, I'm just going to repeat this one last time: I've learned recently that I have testicular cancer. The good things are that this is extremely curable, and getting it removed will actually be something of a blessing anyway. The bad things are that I've been spending a lot of time calling doctors, getting tests done, making appointments for other tests to be done, and when I get a free moment, I'm not really feeling up for drawing. So I think there's unfortunately going to be a hiatus starting now. I want take my time and just focus on what needs to be done for this, and not stress myself out trying to make page deadlines at the same time.
Unfortunately, this is cutting into the middle of a chapter, and for that I'm sorry. The hiatus may be a long one, going until I get this thing removed and am recovered and ready to start drawing again (and at this time, I can't even guess when that will be). I will keep you posted in the meantime, and maybe try to casually do a few non-plot things if I feel up for it.
Other than that, I'm trying to keep a good attitude and a sense of humor, so I would appreciate it if you all did too. And I suppose I'll leave the
donation link
here too if anyone who's able to help still would like to (don't beat yourself up if you can't though). Just keep me in your thoughts and prayers, and I think we'll be through this in no time.