This is the whole monument (one side of it of course) found in a Montreal (Canada) cemetery. It is a replica of a renown 1894 sculpture by William Wetmore Story.
en.wikipedia.org/wiki/Angel_of…
.
There are many replicas in various cemeteries in the world.
Close-up already submitted: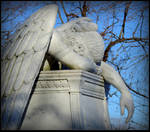 ____________________________________________________________
Kindly featured by:

tigles1artistry.deviantart.com…

pagan-live-style.deviantart.co…

elly--art.deviantart.com/journ…

gigi50.deviantart.com/journal/…

vasidgallery.deviantart.com/jo…

rms-olympic.deviantart.com/jou…

Mythology

Paris.

sublime-feline.deviantart.com/…

and

Monthly Challenge July/August

All my images are available for use as stock. I only require that if you use them to create works of your own, that you provide me with a link to your finished work so that I may fave it and enjoy it as well. Absolutely NO sexual, racist, offensive or harassing use of my images!