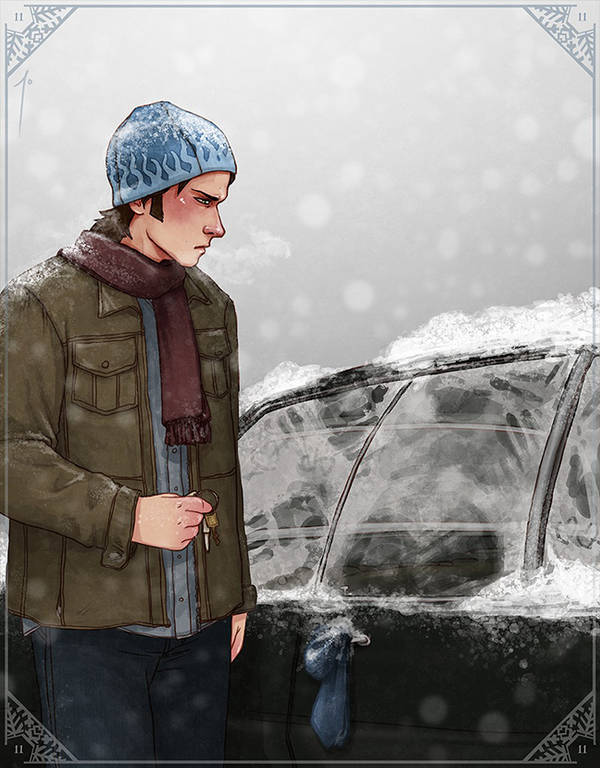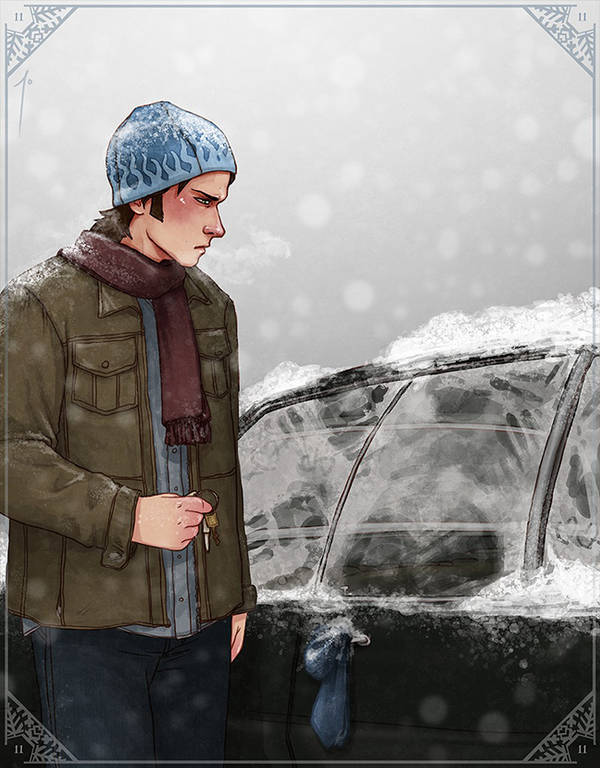 Watch

Day Eleven, "...Seriously?"

Medium: Photoshop CS6
Fantastic
~Flutiebear
featured ficlet below with citation source link:

[link]


They spent Christmas hunting a shtriga outside Syracuse. It was a white Christmas, of course. Not that Sam expected anything else: Somehow, Dean always made sure to scrounge up hunts in snowy areas around the holidays.

"Looks like another white Christmas," Dean said, looking outside the hotel window with a smug grin.

"You sure called it," replied Sam, rolling his eyes.

"Me 'n Cas are going out for eggnog. Can you believe he's never had eggnog? Heathen." Dean shook his head in mock disapproval and cast a quick glance out the still open door, where the angel loitered like a lost puppy. "You in?"

"I'll pass," sighed Sam as he plopped down on the bed, not bothering to remove his blood-spattered boots. "Have fun. Bottoms up."

Grinning, Dean nodded and trudged outside, back into the bitter cold.

Despite all the snow and chill, Dean hadn't come back to the hotel that night. It wasn't the first time that had happened, of course; in fact, it'd become something of a habit. Sam never asked what Dean and Cas did together. Probably just stared into each other's eyes all night, with a side order of not talking about their feelings. Ugh. Those two. Emotionally-constipated morons.

For his part, Sam surfed through some bad Christmas movies, halfheartedly jerked himself off to sleep and did not call Amelia, no matter how badly he wanted to.

The next morning, Sam woke up grumpy and cold. Dean's bed was still empty, which only made Sam grumpier. And their hotel room was out of coffee, which officially made this the worst Christmas ever.

Sam grabbed the keys and stumbled out the door. The nearest Dunkin Donuts was five miles back toward the interstate, and at this time of day, it was probably slammed. Great. Just great.

It wasn't until he was right in front of the Impala that he noticed the tie.

Snow-dusted and frost-stiff, it was looped around the back-seat door handle like a sock. It waved a little in the chill morning breeze, thunking dully against the Impala.

Sam felt his face grow hot.

Then he started to notice the letters. "C" and "D" traced into the drivers' side window. The little heart smudged next to it. And handprints. Everywhere handprints, even in places where it was physically and anatomically impossible to place handprints.

And one large print that was definitely not made by hands.

Goddammit.

With a deep breath, Sam steeled himself and peered into the car.

The backseat was a tangle of limbs and clothes and hair. Sam could make out only the half of Dean's face; the rest lay buried under a forest of dark hair. A certain pale and lean and very, very naked angel butt jutted toward the car roof.

Sam made a choking, animal sound. This was his home, man. It was like he'd caught his brother fucking around in his childhood bed. Hell, this was his childhood bed. He raised his fist to pound on the window and wake both these assholes up and give them a piece of his mind.

As if on cue, Dean opened one bleary eye. Noticing Sam standing outside the window, he blinked once, twice, and then grinned lazily at his brother.

"Seriously?" Sam scowled at Dean. "What the hell, man?"

Dean lifted his hand from its perch on Cas's naked ass and gave his brother the thumbs up.

"Bottoms up," he mouthed at Sam.

Sam growled and stomped back to the hotel and didn't talk to either of them for the rest of the day.

BONUS extra ficlet also found here:
[link]