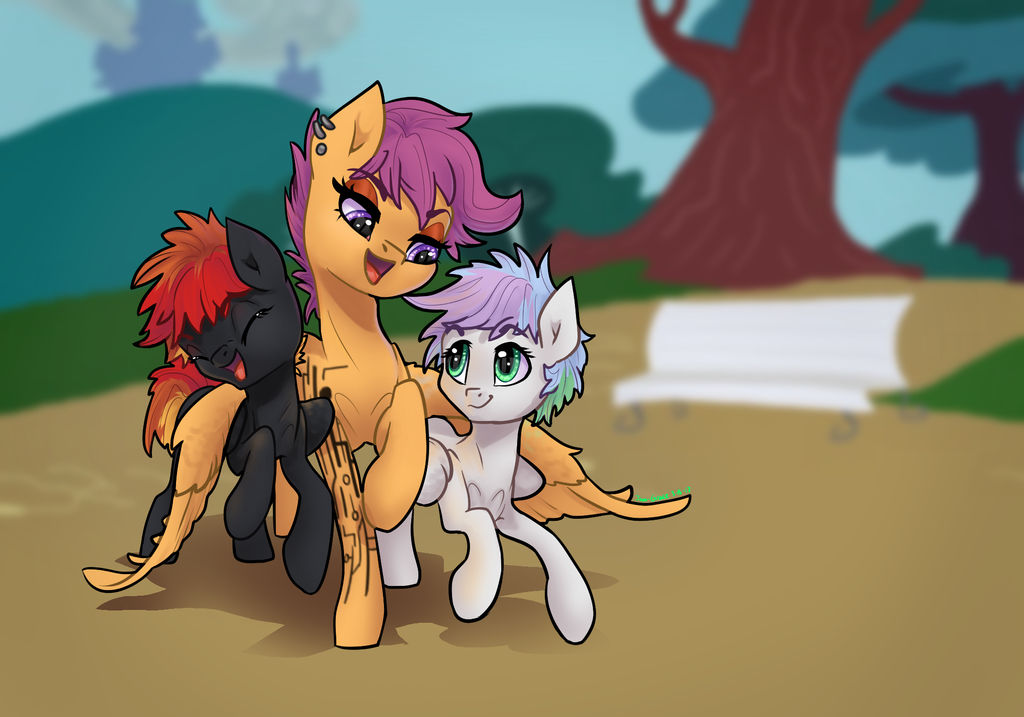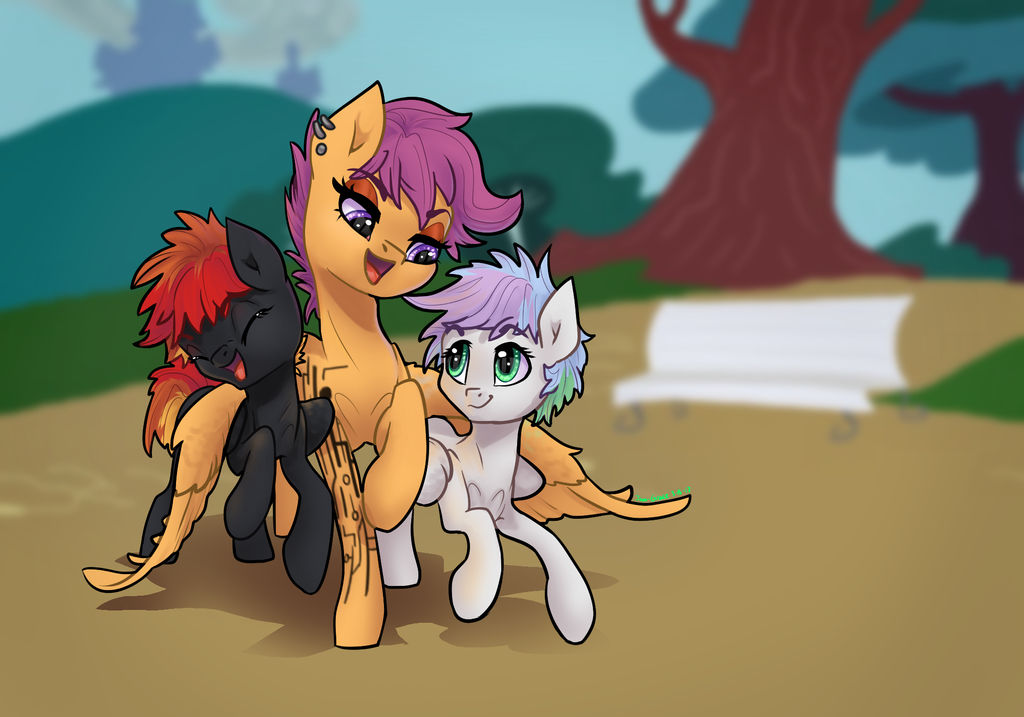 Watch
EDIT: forgot to color some lines in

EDIT: Forgot a title XD
Scootaloo, Prism, and Spectrum had been walking around the park for the past hour, Scoots teaching her nieces some tricks and all three creating new ones as they went. "Aunt Scootaloo! Watch this!" Spectrum called, running up a tree and doing a twisting backflip.
"Whoa! You've been practicing that one, haven't you, kiddo?" Scootaloo laughed.
"Yep!" Spectrum puffed out her chest. "Was it good?"
"Absolutely!" She ruffled the filly's mane with her wing. "Come on you two, let's head home!"
"Aww!" The twins' heads drooped, disappointment in their eyes.
Scootaloo snickered. "How 'bout we get some ice cream first?"
That
perked them up.
"Yeah! Beat ya there!" Prism was off, kicking dust playfully in her sister's face as she ran.
"Hey! No fair!" Spectrum sprinted after her sister, giggling. Scootaloo chuckled.
Cuties
.
**************
A few minutes later, all three relatives stood at the ice cream shop, looking at the flavors. "Prism, you can order first since you beat both of us here," Scootaloo directed.
"What? She had a head start!" Spectrum whined.
Her aunt smiled unsympathetically down at her. "Suck it up, kid. You'll still get yours. And I'm going after
you,
so if anyone should be whining, it's me." They each ordered a cone and, after paying at the counter, headed out onto the street. As they walked, Scootaloo would impart her ice-cream-cone-eating wisdom when she felt the need. "Lick the edges every few seconds, Priz. It won't drip onto your feathers so much." "Don't eat it that fast, Spec, you'll get a brain freeze." "Try biting out the base of the cone. Then you can suck everything down like a straw."
"I ike i eher igh ay," Spectrum gargled incoherently as she drank her ice cream through the cone tip. Scootaloo raised a questioning eyebrow.
"She said 'I like it better this way'," Prism informed her, translating for her sister.
"You sure? It kinda sounded like she was drowning for a moment there," her aunt said hesitantly. She and Prism giggled as Spectrum finished up her cone, glaring at them and
harumphing
every minute or so. "Wipe your feathers with this." Scootaloo passed a napkin around, each wiping the sticky dessert from their primary feathers. Prism ran it to a trash can that they passed.
Scootaloo ruffled her feathers, shaking the last bit of gunk out from them. "So, whatcha kids learning in school?"
Prism's ears perked up excitedly. "It's SO COOL! We're learning about Griffon culture. I really wish Equestria would have some of their traditions! They have the coolest parkour competitions (like, its a HUGE deal), where you have to run all day
while
going over obstacles. They can get up to 30 miles long!!" She squealed. "It'd be SO AWESOME if we could be in one someday!"
Scootaloo blinked. "That
does
sound pretty sweet. Maybe all three of us could go together!"
"And we also learned that the reason parkour is so important to griffons is because a lot of resources in Griffonstone can only be reached on hoof (or 'talon' i guess), and-" She was cut off as Spectrum started laughing. "What?"
"Y-you're..." She gasped for breath wiping a tear of mirth from her eye. "You're such a teacher's pet!"
Scootaloo jerked back in shock. "Spectrum!" she gasped.
"No, it's fine," Prism sighed resignedly. By the looks of it, she was used to this.
"No, it is definately
not
fine!" Scootaloo retorted, her voice so sharp that Spectrum instantly sobered up, even looking a little scared. "You may never
ever
call someone a teacher's pet. Understand me?! Prism likes to learn, and that is a great quality that you should mimic. Now apologize,
right now
!" Both fillies were rather stunned by their aunt's outburst.
"Uhh... O-okay." Spectrum turned awkwardly to her sister. "Sorry, Priz."
"I forgive you," her sister replied, just as awkwardly.
Scootaloo sighed. "Look, kiddo, the reason you should never call someone that is because it is so deponyizing [*dehumanizing*]. It's really hurtful, especially when it's someone you're close to." She exhaled, trying to stay calm. "I called Sweetie Belle a teacher's pet once, and both she and Apple Bloom wouldn't talk to me for almost a week, the whole time of which Sweetie was crying." The mare locked eyes with her niece. "Look, you two have to promise never to call anypony that name, ever again. Understand?"
The twins nodded, still a little shell-shocked. "O-okay. I promise," Spectrum stuttered.
"Me too," Prism chirped nervously.
Scootaloo smiled weakly down at them. "Thanks for understanding, you two." Trying to lighten the mood, she narrowed her eyes challengingly. "Last one to Mom's house is a rotten egg!"
"I'm gonna win!"
"No, I will!" The two shot off like little bullets, Scootaloo taking up a position behind them. As she flew, she tried to shake off that dark feeling that kept creeping up on her, but she couldn't. Something was going to happen.
****************************
Suggested by the awesome

She has some fanfics, so go check 'em out!

Anyhoo, I wanted to do some next gen stuff and these two always come to mind.

Basically, I imagine that Rainbow Dash officially adopted Scootaloo as a sister once she was old enough (18, I think? Maybe 21), and Scootaloo sorta took on the 'older sister' role with RD's kids.

She teaches them tricks and goes on flights with them all the time. When Prism and Spectrum are younger, they both worship their aunt and got haircuts like her (although it just turned out to make their hair extra fuzzy XD). I think (not sure yet) that Scoots is going to grow closer to Prism than to Spectrum, simply because Spec is a big fat sinking bully and Scootaloo wants to be there for Priz when she hits low places.

Also, Scootaloo has a tattoo on her leg. I think Ill probably change the design in the future, but that's what I came up with for now


Background from here:
Because I'm incredibly lazy and didn't want to draw a background.

This happens a couple years before this:


Characters:
I've redesigned them since then, but you get the general idea