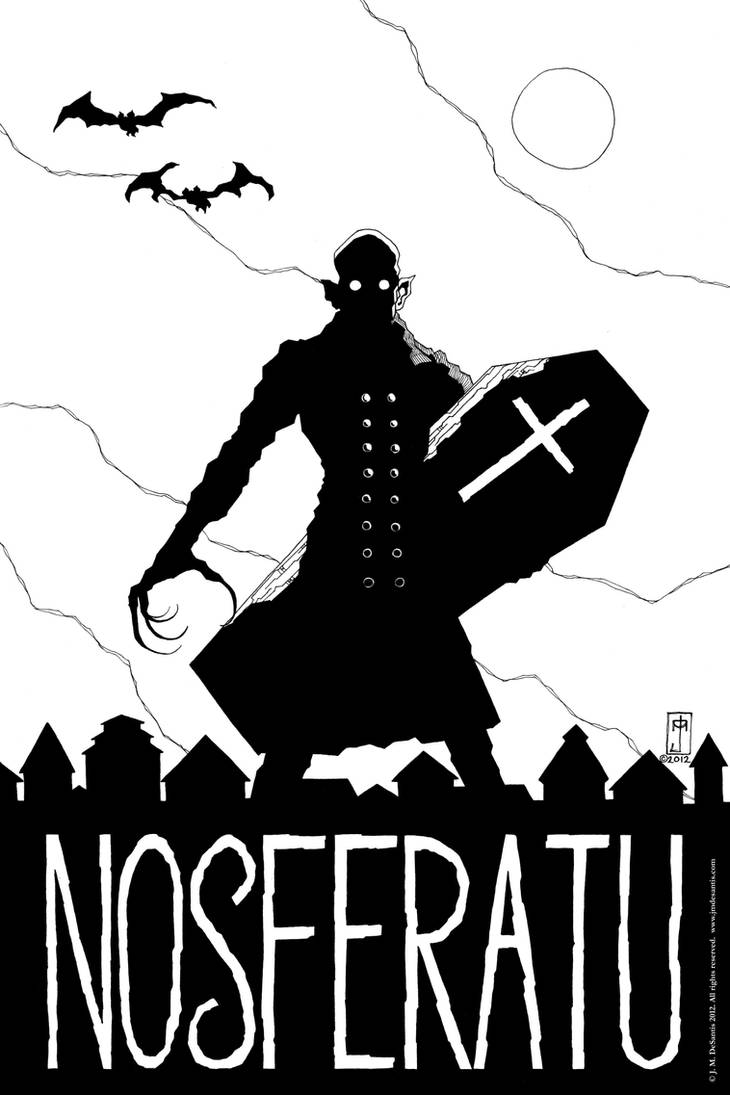 Watch
Sumi ink and microns on Bristol board
I'm getting my annual Halloween post in a bit early this year, in case Hurricane Sandy knocks out my power (and so also my internet).
The image you see here, I've actually had in mind for quite a while; years, in fact. Though, I'm not entirely certain why I never took the time to create it before now.
The goal was to create something like a poster with this image (hence the "NOSFERATU" running along the bottom) that was a throwback to the original film's German Expressionist style. What's more, I combined the images of Orlok carrying the coffins when he arrived in Wisborg with that creepy image of him walking across the deck of the ship that brought him there. Wisborg is the town in the back.
I realise the bats are not as much of a Nosferatu reference as rats. Unfortunately, I didn't really see where I could fit the rats in. I hope you enjoy the piece. HAPPY HALLOWEEN!
J. M. DeSantis
Writer - Illustrator
Official Website:
jmdesantis.com

Reply
Reply

beautiful! I love the style. The movie is a total classic, I should watch it again if we still have power later.
And, good luck with the hurricane - where are you located? A lot of my old haunts back in Maryland are already trashed, and we're supposed to get hammered here in Massachusetts tonight ...
Reply

Thank you (for the compliment and the well wishes). I'm from and still live in New Jersey. Parts of us are looking to get hit really hard, but fortunately I'm just outside of the eye of the storm.

But good call. I may actually attempt to watch "Nosferatu" myself, before the power goes out (as I don't know if we'll be up on Halloween or not). Good luck up there. Hopefully the storm doesn't turn out to be as relentless as they say it will, for any of us.
Reply