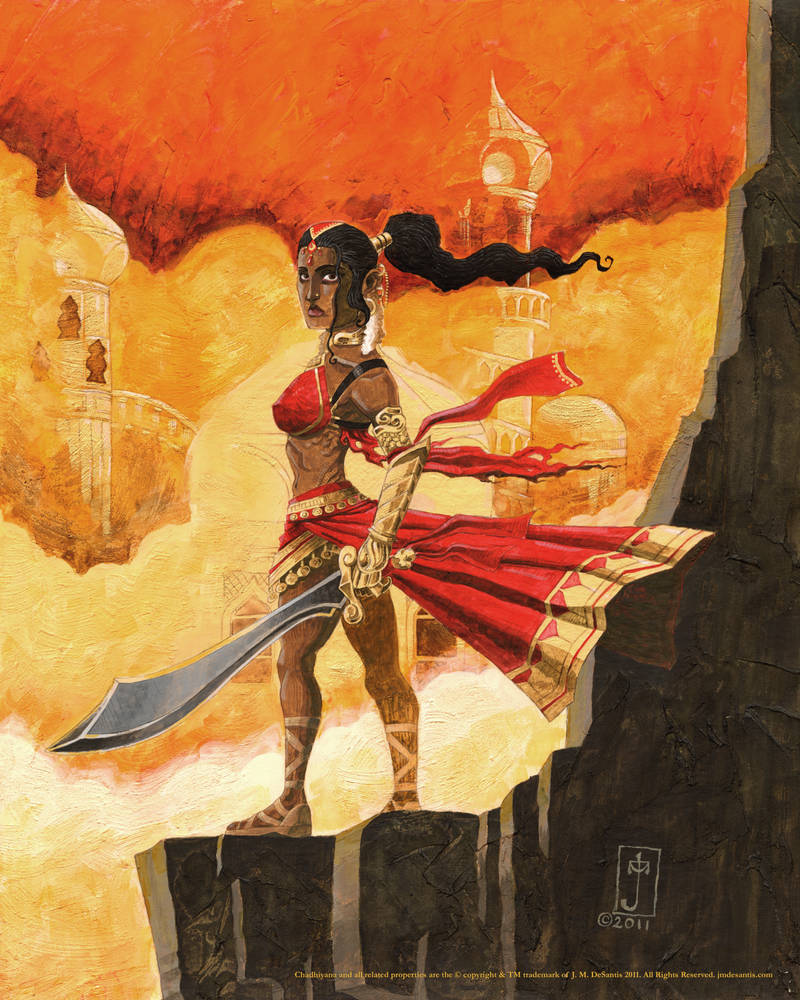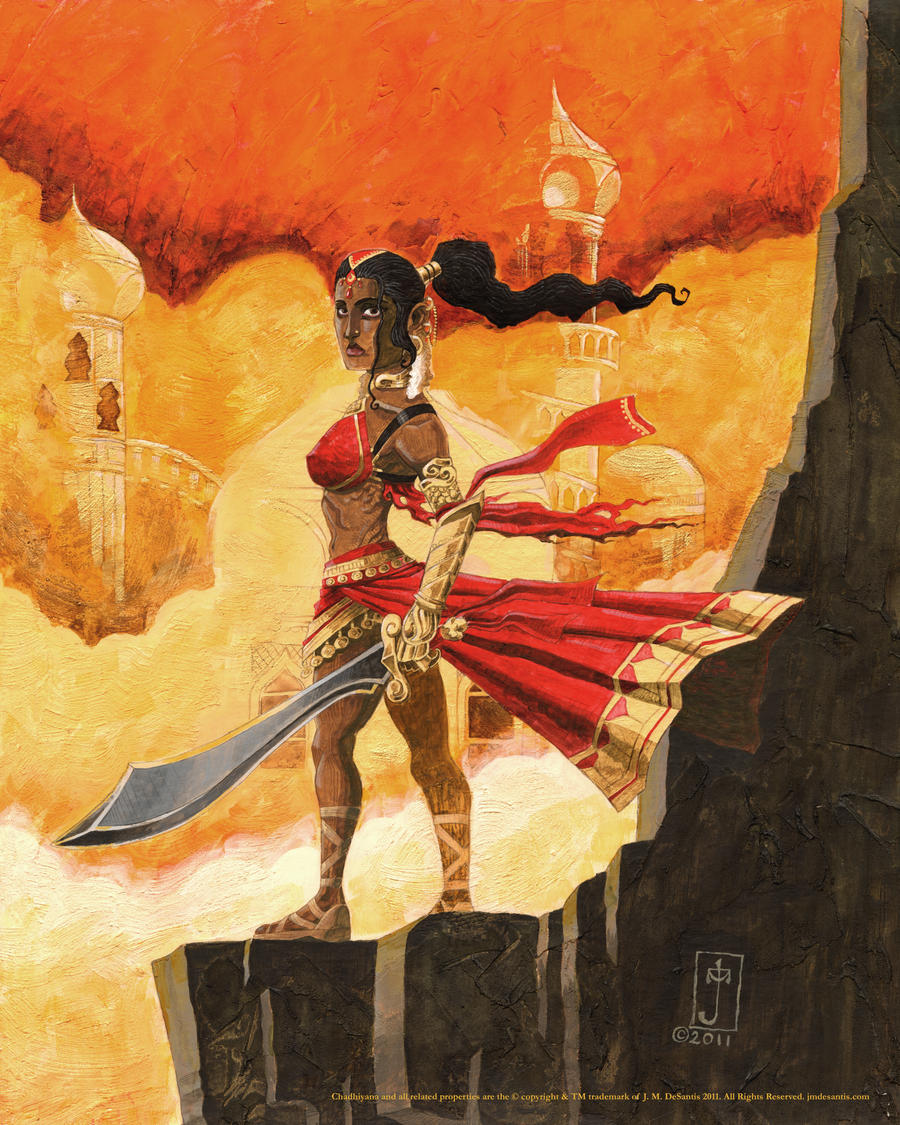 Watch
Original Size: 16" x 20"
Medium: Acrylics, Coloured Pencils & Molding Paste on Illustration Board.
Some time ago, I decided to create new artwork for a collapsible display (to use at conventions), and I wanted to do one Fantasy piece and one Horror. Since I hardly ever create art with women in it (which I'm rectifying), I thought I'd put a woman in the Fantasy piece. What's more, I decided to make the woman Indian, as I find Indian women to be some of the most attractive women in the world.
The colours are brighter than I'm used to, and I think the background looks great (a little more fleshed out than my typical abstract backgrounds). I also got to try something with the palace I've been wanting to do for a while: letting the background act as the shadows, while only defining shapes using highlights. All in all, I think it came out great, and I'm very happy with it. I hope you all enjoy it too.
J. M. DeSantis
Writer - Illustrator
Website:
jmdesantis.com
Figmunds:
figmunds.com
Game Flush:
game-flush.com
*Note: I received a quite a few questions about this lady at the NYCC, so I suppose putting her on my display worked. Though maybe a little too well. People want to know her story, so I'm beginning to explore ideas for a graphic novel about her. Wish me luck!

I love the this piece. Love the pose, her sword and the castles in the background. We spoke at the Baltimore Comic Con a few weeks ago and was nice chatting with you. It was this piece and the other painting of Chadhiyana that drew me to your table, and the similarities to my characters and story Mekonnen Epic. I'll keep an eye out for you books and on your website. All the best.
Reply

Thank you. It was the similarities that got me interested in your work as well (I only hope they aren't too similar, though I simply love your multicultural approach, which is something I'm looking to do as well--though not nearly in the same way). I'll definitely be keeping my eye out for your work as well, so keep me posted.

And, to speak about similarities again, I often end my e-mails with "all the best." It's good to see someone else using such a phrase.
Reply

Wonderfully painted! Aside from the colors, I just love the textures you were able to create with your brushstrokes! It gives the picture an aged. storybook feel which again goes well with the setting. The character is greatly designed; its so wonderful to see powerful looking women of color.

Reply

Thank you. I'm glad you liked the painting (and the colours?). I feel strongly that there needs to be more strong female characters (especially "women of color") in fiction. In fact, she received such a positive response at the New York Comic Con, with a lot of people asking me what her story is, that I'm currently doing research and brainstorming ideas for a graphic novel featuring her. So, hopefully, you'll be seeing more of her in the future.
Reply