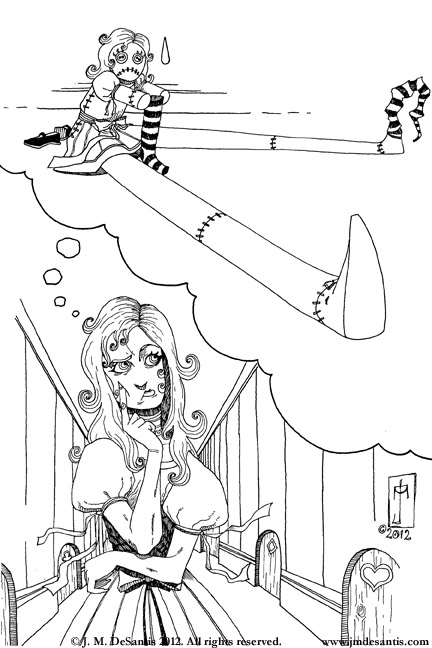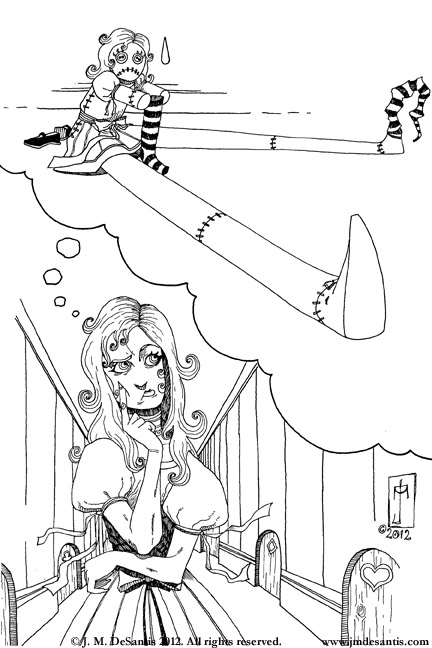 Watch
Microns on Bristol Paper
This is the second piece I did for the forthcoming "What is the Use of a Book Without Pictures?" which is a completely visual retelling of "Alice in Wonderland." The project is headed by Mike Schneider (of "Night of the Living Dead: Reanimated" fame, which I also contributed to). You can see more of the project here:
www.facebook.com/media/set/?set=a.2690890283232.129744.1585765695
.
The scene is when Alice eats the "Eat Me" cake and grows to a tremendous height. During the scene, she begins to consider she has grown too big to take care of her feet anymore (which, obviously, are now too far away from her). The idea of using the doll as her imagined self was admittedly an aesthetic choice (I just liked the doll idea), though with Alice being such an imaginative young girl, I think it fits. Enjoy!
J. M. DeSantis
Writer - Illustrator
Website:
jmdesantis.com
Figmunds:
figmunds.com
Game Flush:
game-flush.com