I'm a digital artist from Estonia. I want to bring a sense of wonder back to peoples' lives through the gorgeous and exciting worlds i portray in my paintings. I started out creating RPG-s in the video game Warcraft 3 and one day decided to pick up drawing because it has more creative freedom. And i've been making beautiful paintings ever since!
Prints, phone cases, pillows and more:
society6.com/jkroots/
I'm
OPEN to commissions
, so feel free to send me a note here or email at johannes.roots@gmail.com
Go here for Commission Info: www.deviantart.com/jkroots/art…
Prices depend on complexity.
For example this is easier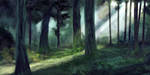 And this is more complex
You can support me and my art by pledging on Patreon:
www.patreon.com/jkroots
You can also follow me on:
Facebook:
www.facebook.com/jkroots/
ArtStation:
www.artstation.com/artist/jkro…
Society6:
society6.com/jkroots/
Favourite Movies
The Prestige
Favourite TV Shows
Breaking Bad, Game of Thrones
Favourite Bands / Musical Artists
Too many to list. Mostly metal and post-rock.
Favourite Writers
Jules Verne
Favourite Games
All S.T.A.L.K.E.R. games
Favourite Gaming Platform
PC