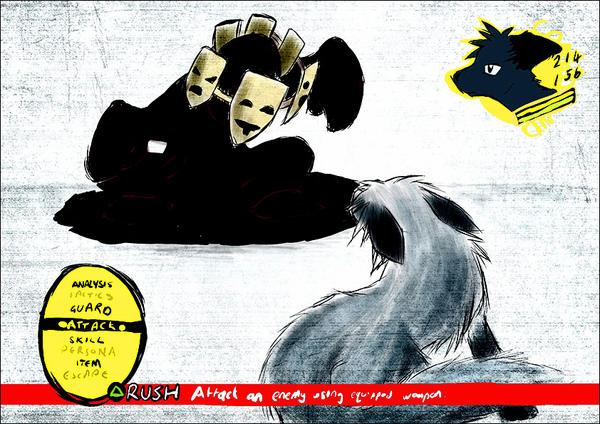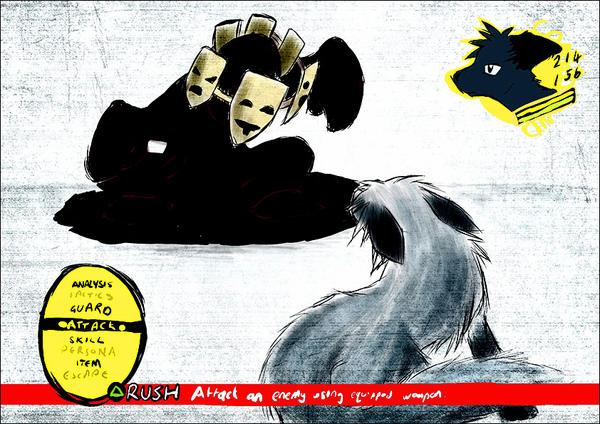 Watch

Someone likes Persona 4 XD That game is awesome, can't wait for it to come out on the Vita n.n
Reply

Ahaha, yes. I'm a Persona fanboy. . -.

I'm not entirely sure about P4G on the basis that I have no intention of getting a Vita. (Though I'm surprised at the screenshots, didn't hear about this machine before P4G and it's impressive.)

P4U on the other hand...
Reply

Well, I'm never gonna get a PS3 or PS2 even, so this is something I'm way excited for. Almost done with Persona 3 Portable n.n
Reply

That thing is hot.

What is the command above "ATTACK" It looks like Gupro but I can't quite tell?
Reply

BOSS BATTLE

Or actually probably more like the tutorial battle
Reply

I chose the background because I thought it would be good enough to sorta be an inner mind plane, then realised later it was like P4's first "battle".

But I suppose it could work.
Reply

See that thing?

Draw it more often.
Reply