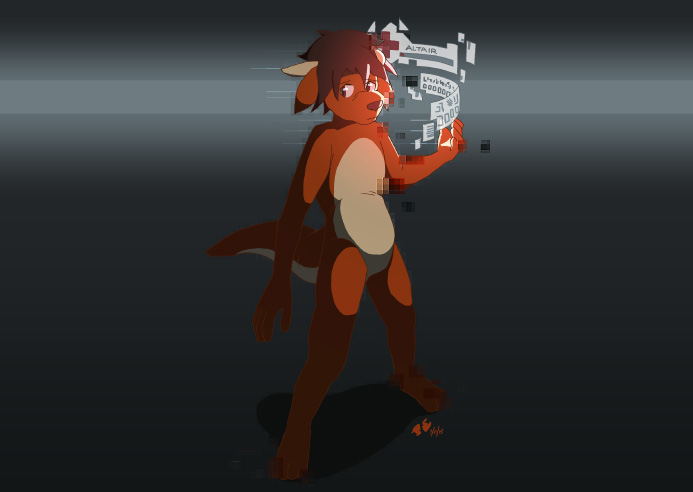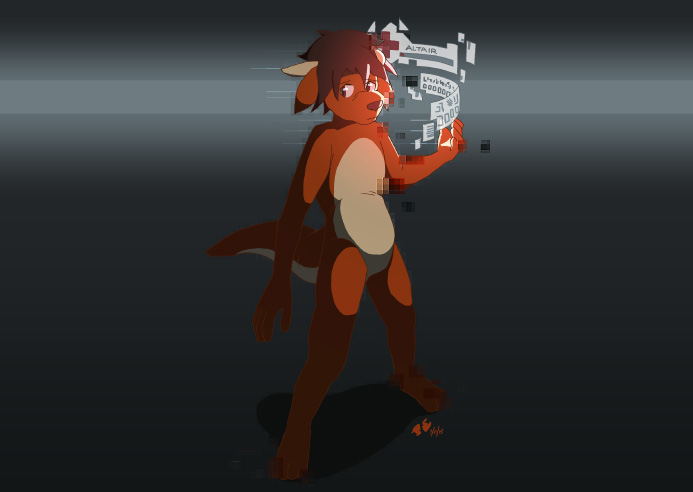 Watch

Ooo, I really like this character's design. It's kindof... dog/lizard? The anatomy looks really good too (and I like the detail of the few wrinkles just above the stomach and on the tail), and the lighting looks great! And then the whole interface thing there around his head looks pretty neat... The glitchiness is kinda scary though (especially accompanied by that music you linked to).

I almost wanted to say that it feels like it needs some reflected light, but the lighter outlines sorta take care of that.

Overall, nice work. \o/ (aaaaaaa how do you make everything so clean looking)
Reply

Well I did write up
this
a while back, it's not terribly detailed, but the jist of making things clean is there I suppose. Lots of layers and resizing the image and new lines.
It's possible there could've been some light on the ground, but I seem to have already set it that the light it not strong enough to reach that far, getting dark below the knees. I'm not sure why/where there would be reflected light...?
Reply

Well, reflected light can just be the colors from the ground bouncing up onto the figure. Though since this is a sort of virtual reality then the lighting doesn't have to be quite like the lighting in the real world.

Oooh, did you use the pencil tool for everything? That would also explain why everything looks so clean... I can't really do pencil tool much. XD; I'm bad with it.
Reply