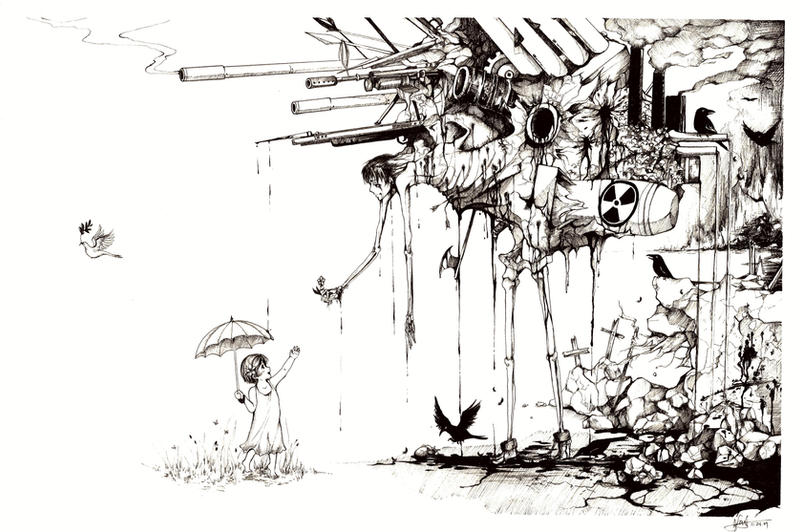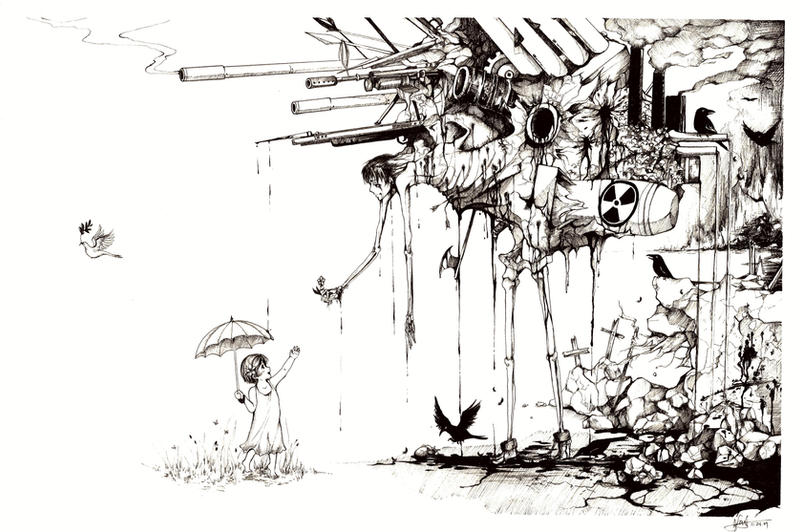 Daily Deviation
Given 2010-06-18
From the artist's comments:
War, in the form of a mutilated young man merged with weapons of mass destruction and spewing toxic waste as it passes, justifies itself as the protector of Peace (giving flower to her), but in actuality wherever he steps, Peace is inevitably destroyed.
War and Peace
by ~
DreamlessxPassion
.
(Suggested by ~DEMONxINxME, ~CinnamonSwirls, and *Gwendolyn12.)
(
Featured by SRaffa
)
My biggest comment is on the color contrast. This is probably the best black and white contrast I've ever seen in a drawing. Not many people may notice, but the light and dark blends so well together. At first I didn't notice it, but when you hold the computer far away you see such a difference on the opposing sides. It's like two different drawings got melted into each other. Death and life, hope and despair, love and hate, kindness and cruelty. The color contrast made the piece work... without it the product wouldn't be as powerful. It was a little "already been done" but I think that is okay, all because of your technique and presence within the drawing... good job.
The Artist thought this was FAIR
134 out of 141 deviants thought this was fair.
First off, The piece is wonderful. It completely grabbed my attention. Second, the title is perfect. I get annoyed when people get more deep with the title then with the actual work of art its self. I think Its beyond original and the detail gives it the perfect effect to make it so wonderful. True the idea of war vs. love is very simplistic, but how you presented it is on a whole new level of its own. And your technical skill is also something to brag about. I love it and am very jealous that I didn't think of something unique like this.
The Artist thought this was FAIR
149 out of 150 deviants thought this was fair.