What is Loli!?
What is the difference between Lolicon and Lolita!?
Thanks deviantART for banding our
LoliFansClub
, Now I have to explain this all over again!
First! Loli is indeed what deviantART call as underage girls,
BUT
under age girls or Loli art, ARE NOT 100% CHILD PORN GRAPHICS!! lots people always mistakes the meaning of this word, and think everything that is called
Loli
is related of child porn! which is NOT TRUE!! here is an example of Loli which is done of the
LoliFansClub
owner
ZiyoLing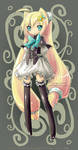 If may I ask, which part of this
Loli ART
is EROTIC?
If you're gonna say something like :
"OMG she's wearing mini skirt..its too temptation...!!"
Then I would say... :
"LIKE I TOLD YOU SO...stay away from porns... even its not child porn, it ruins your innocent mind!!"
deviantART is filled of many Loli arts, that are just not being notify as a Loli, such as Anime, Naruto characters are even underage, Original Characters that we have created, some of them are also underage, they could be called
Loli
or
Shota
(boys) but that doesnt mean they ARE CHILD PORNS!!
You might ask...
Then why some people always calling my cute art Loli, Lolicon!?
Because they do not know what they are talking about!
Loli is the little cute girl that everyone likes!! that even females cant resist the cuteness of the Loli character, and Lolicon "IS LOLI IN WRONG THOUGHTS" yes, now you can yell "STOP THE CHILD PORN" for Loli's sake...
*ALTHOUGH some would say he or she's a Lolicon, but does not do child porn arts, and dont like those kind of arts. I wont have any comments on that, because its not matter of right and wrong, it is if you believe them*
For the enormous of child porn art are spread in the internet, it seems to misguide lots of people to think that the "Loli" word means of "CHILD PORN" which is NOT NOT NOT AND I SAY NOT TRUE!! enough? NO!!
NOT TRUE!!!
and Lolita is Fashion! the way you dress, also doesn't need to be underage, anyone can be in a Lolita dress style or Gothic Lolita.
※Its not the Loli word is wrong, its the person who draw the art wrong, or even think its wrong!!!
And if we must say, the club which =sash0 created is NOT for child porn!! calling the club is Created to promote and encourage artwork featuring erotic artwork of underage girls. is very unfair!! cause the club is avoiding those kind of arts!! and for the word Erotic, What is Erotic for you? same cute art *something like a Loli in pajamas sleeping quietly* could have different thoughts from different person,not because you think its erotic, it doesn't mean IT IS!! erotic...! why do you think its erotic? while the other person doesn't?? maybe because YOU ARE THE ONE WHO HAS EVIL THOUGHT ABOUT LOLI!!