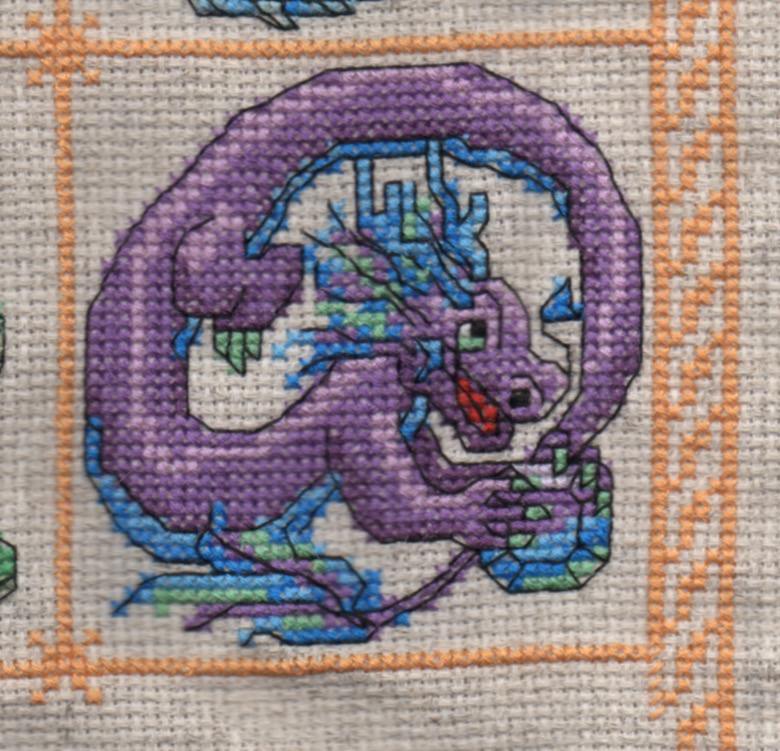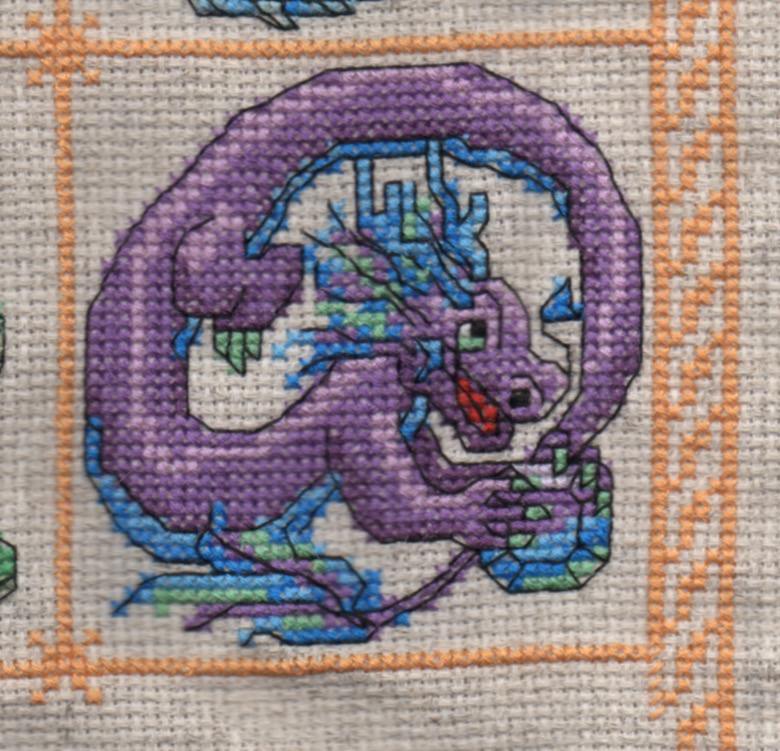 Watch
The sixth dragon in the Birthstone Dragon SAL:
www.etsy.com/listing/498195209…
It's been bugging me that I haven't worked on these guys for a few months (already 3 dragons behind!), so I sat down the last three days and just busted this little guy out. Whew! It felt good!
The month of June has both Pearl and Alexandrite as birthstones, so the designer had put out two color combos for each stone. My daughter picked the Alexandrite because it encompassed most of her favorite colors. I had really wanted to do the pearl (you can see it on the Etsy page if you click the link above) because it was a more sedate color combo and I thought it gave balance to all the dragons hanging out together.
But, of course, Alexandrite it was.
He actually didn't come out too bad with the other dragons - I thought he would be darker and, therefore, more obnoxious. So, fairly happy with it and excited my next dragon will be July (he's a real cutie!). But, alas, I will be rotating back to a few other projects first. We'll see how quickly I get to the next dragon!
Pattern by: InglesideImaginarium
14ct Oatmeal Aida

DMC 553 - Violet
DMC 554 - Lt Violet
DMC 211 - Lt Lavender
DMC 208 - V Dk Lavender
DMC 996 - Med Electric Blue
DMC 995 - Dk Electric Blue
DMC 913 - Med Nile Green
DMC 310 - Black
DMC 5200 - Snow White
DMC 817 - V Dk Coral Red
DMC 3854- Med Autumn Gold


Hi Gayle! I just wanted to let you know that I've featured your work once again, this time in a post called
June Birthstone Dragons by Various Artists
on my dragon artwork blog (with proper attribution and links back, of course, including to the original designer). This guy was so cute, I gave him top billing this month! As always, you can find me at
Writing Dragons
, and this feature
here
. Keep up the great work!
Reply

You are so sweet! Thank you so much! I need to remember to backtrack and see your previous articles - I haven't been online much due to work and life.

Reply

Reply

Very nice embroidery piece

I also peeked at the other dragons and those are all cool! Very curious how your final piece will look.
Reply

I'm very excited for the end of this one....though I doubt it will be finished at the end of the year!

Reply

I love this one! My birth month dragon, and I think he's my favorite so far.
Reply


Since I have bought and own the pattern outright, I was thinking that doing individual dragons would be nice gifts.....

Reply

I love this one's expression, looks mischievous to me

Reply