I am officially open for commissions
!
Info sheet:

Information
What I definitely draw
- Humans
- Animals (feral and anthro)
- Fantasy creatures
- Pokemon (original teams and characters only)
- Original characters
- Romantic, couples
What I can draw, but am not used to
¹
- Multiple (3+) characters interacting (lineups are fine)
- Robots and mecha
- Sci-fi
- Gore, blood and guts
- Highly suggestive content, nudity (for mainly reference purposes)
- Complicated, cluttered backgrounds
What I will not draw
¹
- Vehicles, infrastructure, architecture, sceneries
- Porn, sexual nudity, any kind R-/M-rated material
- Offensive or hateful material
- Political opinions
- Fanart of existing franchises, unless it includes original characters that are the main focus
- Animations²

¹These are listed, because I lack the experience to guarantee the quality of the result. You may still request them as commissions, as long as you understand that the work done will be somewhat experimental. I will also retain the right to decline requests involving these items, and/or adjust the pricing of commissions involving any of these items.


²I have very little experience in animating, mostly revolving around sprites and simple walk cycles. Each animation request will be reviewed on a case-by-case basis, depending on the animations complexity. I will also retain the right to decline requests involving these items, and/or adjust the pricing of commissions involving any of these items.
Also please note that when you commission me, you get my work. While "my style" is still forming and it might end up looking similar to someone else's work, I will not imitate other people's styles per request.

Prices:

Prices updated

Prices are per illustration - all separately drawn characters will be charged as separate illustrations, thus at full price.

Standard background is either a transparent*, 1-2 colour, simple gradient or texture background, whichever is preferred.
- *Only the client will receive the version with a transparent background, I retain the right to add a simple background for all artwork I upload here and/or my portfolio.
More complicated background as well as additional elements and accessories are an additional 5-20€+ depending on detail and complexity.


References
I prefer to receive references for the commissioned artwork, whether from a drawn image of the character in question, a photograph or a moodboard, especially on full illustration works.

The prices listed below assume such reference is provided.

Written description alone adds a 15€ design fee to the final price, or 10€ per character if 2+ characters. This can also incur on especially complicated character designs even with a moodboard. References and moodboards of different characters may still require either full or partial design fee.

I will unfortunately not accept points as a payment.
I work mostly digitally, however the 'Sketch' option may often be a traditionally made sketch or line work, and may include some colours, however either not as detailed as the actual 'Coloured/shaded' option would be or it's more experimental and less clean.
Headshot/Bust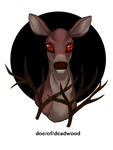 Shaded headshot, 1 character, standard bg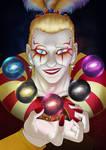 Shaded bust, 1 character, standard bg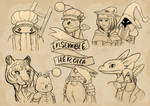 Sketch bust, 9 characters

Shaded busts, 5 characters, standard bg
Sketch/B&W
15€
Flats 20€
Shaded 25€

+15€ for each additional character (max 5 if shaded, additional characters full price)
Waist/Mid-thigh
Sketch/B&W
20€
Flats 25€

Shaded 30€

+20€ for each additional character. (max 4 if shaded, additional characters full price)
Full body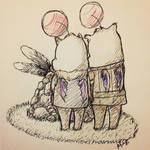 Sketch full body, two characters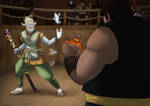 Shaded full body, 6 characters, 15€ bg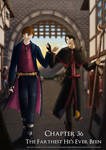 Shaded full body, 2 characters, 70€ bg
Sketch/B&W
25€
Flats 30€
Shaded 35€
+25€ for each additional character. (max 3 if shaded, additional characters full price)


Twitch/Discord emotes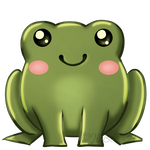 Includes three sizes, 112x112px, 56x56px and 28x28px + the working size
10€ each
Set of 5
40€

Miscellaneous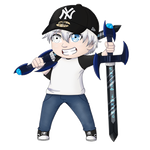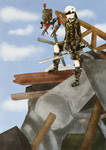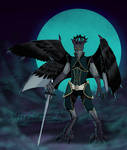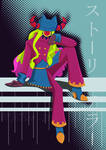 Anything else in my gallery that picks your fancy? A chibi, a more sketchy finish on a full illustration, or a more stylized portrait, just to name a few examples?
This category doesn't have a fixed pricing, but is instead quoted case-by-case. It does follow loosely my regular pricings, but might be either discounted or added on, depending on what you're looking for.
If you're interested, don't be afraid to ask, I'd be happy to negotiate a price we can both feel happy about c:
What I want from you:
Send me the following information
- Commission option(s), size, sketch, flats or shaded, how many characters, background details

- Specific information on what you want in as much detail as possible (setting, mood, background, pose etc, do you want me to depict a certain situation or a scene or just a ref).
- All necessary reference sheets. I can draw for you from a written description also, but even still I will still prefer some guidance from pictures such as clothing, hairstyle etc.
- As mentioned above written description alone incurs a design fee.

- Payment through PayPal only (link will be provided through note/pm).
- Suomalaisille maksuvaihtoehtona tilisiirto.
- Once the commission is finished, the artwork is non-refundable.
- Possible refunds will not include PayPal fees, as those are out of my hands.
- If you have any issues downloading the full-sized file, let me know as soon as possible. I often use stash for file sharing, however it seems to cause some issues especially for non-dA users.

- Once the commission is done, you must credit me as the creator of the commissioned artwork whenever you publicly display/share said artwork. This goes for both illustrations and emotes.

You can reach me through:
- here via note
- Discord (note/pm me and I'll tell you the nick)
- Email (note/pm me for it)
My rights:

- I retain the right to my own prices and the final estimates and quotes.

- I always retain the rights to the commissioned artwork(s)
- I retain the rights to feature all the finished piece(s) on my portfolio and/or here in my deviantArt gallery either as they are or with slight edits,
unless otherwise specified
by the commissioner. Requests for exclusive, non-public commissions incur +100% price increase, however I am willing to hold any artwork before posting it (such as gifts or surprises for a third party).

- I retain the right to decline any commission without the need for a specified reason.
- I work at my own pace, and while I try to give an estimate on how long something takes, I can't always guarantee an accurate estimation or fast turnaround. Deadlines and rush orders are possible, but incur +50% price increase.

- The above prices are for private, non-commercial works. Commercial inquiries will be handled and priced on case-by-case basis. The art created is for personal use only.
- I do not and will not create or approve of my art to be used in NF/Ts, crypto or blockchains at this time under any circumstances, even by the commissioner. If such usage is spotted, it has been done without my knowledge or permission.

- Payment - all upfront, or half first and rest after the first sketch

- First sketch - greyscale, this is the where you can point out any changes you might want (anything, pose, details, mistakes I've made etc), or give me the go ahead for the next pass
- (Additional sketches, if any major changes were requested - for minor changes this is skipped unless otherwise requested)

- (Rest of the payment, if any is left)
- Optional - Flat pass, where I confirm choice of colour scheme. Let me know in advance if you'd like this step included.

- Final image - basically the finished artwork, however you can still request minor changes like colour changes, small details etc. Otherwise, the image is for you to use, share or display as you wish (with proper credits), and I thank you for your support<3

- If at any point you want an update on your commission or want more progress passes, you can message me at any time and I'll share my current status with you.


Any questions/inquiries you have feel free to comment, but I prefer to keep the actual commission discussion private.
If you have other comments or inputs that you would like to say anonymously, I will leave this questionnaire open:
goo.gl/forms/paABBLtww7
All characters pictured in the examples © their respective owners. More info in the pictures' descriptions.