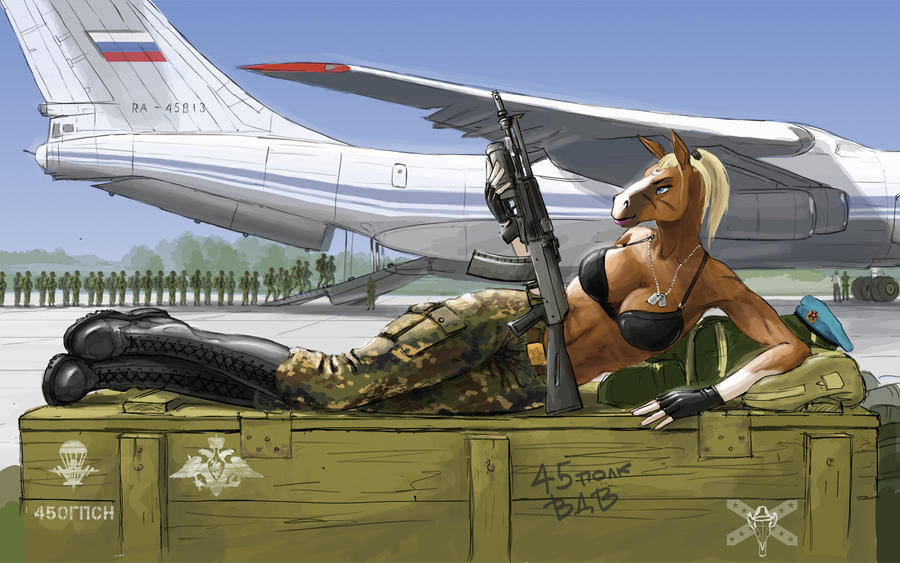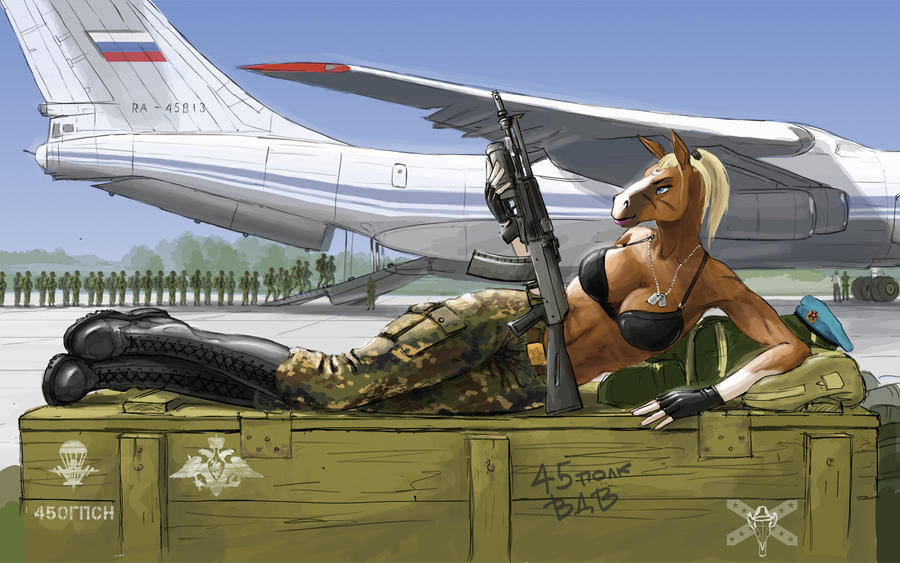 Watch

How much do you exactly know about the VDV since I have some questions.
Reply

Maybe

a little more than the average russian.
This isn't area of
my

interests.
I know very well how beautifully they swim in the fountains
after getting drunk
on the 2 August
holiday.
Or bombing the
caucasian market
from the dump body of a stolen dump truck
with stolen watermelons - as well getting drunk on
the 2 August
holiday.
What do you want to know?
Reply

Whats the connection to the stripey shirts? Telnyashka I think there called. Aren't they navy? Does that imply prior connection to the Soviet Navy or Marines?
Why the fountains? I mean I get the celebration part and doing some rowdy stuff but, why bathe in public fountains?
Seen a couple of cartoons and almost always one or more of the Desanthiks are either good singers or play instruments or both, is that like how the Navy has those outrageous dance moves?
Does every single person who becomes a Desantchik get a tattoo? Is that mandatory or just preference?
Any idea how foreighners who join are looked at? Is that frowned upon or if you prove yourself you are just one of the guys?
What do you think is the general attitude towards us Bulgarians and can you see one of us potentially joining the VDV?
What is the attitude towards women? I mean can they join nowadays, is that a rare occurance or stricly off the books?
How are the VDV treated as opposed to other branches like Spetsnaz? Are considered hardcore pros or just drunker lads that get into fights? What is the overall oppinion of them? Or when an army captain sees em paradroping he sighs because he knows whats comming?
I see ALOT of people and kids dress up for August 2nd, I mean if you are not VDV can you just put a shirt on and berret and walk around town on the 2nd and not get bullied? Or do you guys treat it like Stolen Valour and such? Or does it not matter so long as you dont pretent to be an actual paratrooper?
Have you ever heard of some VDV becomming mercs after their service expires or is that not even allowed?
Do you think a former soldier from a NATO allied country with a tour of duty under his belt and rank can join and still be part of the squad?

Apologies for the weird questions but I am rather curious, the rest are just organisational things that might just be too speciffic, like how many VDV are in a squad or who does what in such.
I am just rather curious since most forums I went to talk about the Soviet era VDV or just more military oriented questions. Not really this oddly speciffic stuff I need/ am curious about.
Thanks again btw, hope this isn't too overwhelming.

Reply

1)
Telnyashka (Telnik), initially unofficially, introduced by Vasily Filippovich Margelov. In WW2 he was in marines, after he was command vdv division, so
he continued the tradition of marines. But colors of the stripes was different.
The Navy for a long time resisted the official introduction of Telnyashka (damn how stuped that sound when using in eanglish text) in the uniform of the airborne. So yes there
connection to the Soviet Navy.
2)
This stupid tradition was born from hooligan tricks of drunken morons.
But they are trying to justify it with all sorts of Orthodox rites.
Elijah the prophet is considered their patron, as well as the patron saint of thunder and rain.
August 2, according to belief, the last day when you can and should swim in water.
And I think that this tradition came from the beginning of the 90s, when the army was in a terrible state. From hopelessness, people were drinking, and drunk people are always engage in vandalism.
To the credit of the VDV, I must admit that this tradition is slowly dying off.
3)
I can't say for sure, but it is possible that there is a connection with the Navy too.
4)
I cant say - I do not know.
5)
I dont know.
I think - to get to theVDV you must have at least Russian citizenship.
6)
Man ..... I don't want to hurt you somehow, but most people
do not care,

I don't even remember when I read about Bulgaria in the news last time. About whether you can join the Airborne Forces - you should ask this question to people who are directly serving there.
But I can give you advice.
Any foreigner who says that Russia is cool is taken in our country with pleasure.
Our people love foreign flattery.
Sometimes it just comes to the point of absurdity

7)
Only nurses, telecom operators or
parachute handlers.
Recently, they may have officer ranks.
8)
They are considered elite, but not the same as special forces.
If you dig deeper, they are cannon fodder delivered by air. But this definition will hurt them.
Maybe this is just my opinion.
But I need to clarify that even in the ranks of the VDV there are special units
and they are really elite.
9) They treat this differently. If we are talking about any drunken civilians in uniforms, then the attitude towards this is negative. If these are children or women, then most likely they are the families of the paratroopers themselves.
10)
I dont know.
But I think it is possible.
What else should a soldier do after leaving the army.
PMCs pay well.
11)
I dont know.
These is special questions, and I didn't even serve in the army.
I told you what I know.
But don't forget that I am only civilian

Reply

Oh thank you very much, thats plenty actually.
I did manage to find something in the mean time that does that, it is possible for foreighners to join and there is an effort to attract them they just need fluent Russian and I dont think they can be promoted to officer ranks,
But again this answers plenty, especially the fountains, I always wondered about that. Oh and dont worry about us, honestly I am not suprised, we have this aura of mysthicism that allows the whole world to ignore us. Most of my American friends seem to think its some sort of magic haha

Gotta ask something else, you seem really interested in Southern Americana. Why is that? What brought it on?
Reply

Each person sooner or later finds something of his own — something that interests him.
For me, this was the South of the USA.
Culture, history, folklore, a lot of things.
At first I
was interested in

the history of international relations during the Cold War, from there I came to the Vietnam War.
The history of that conflict is unthinkable without an understanding of the culture of the United States in that time,
and from there came a love to
rock-and-rol

l.
rock-and-roll
leads to country music

and so on.
Of course it's not only what I live - just a part of my interests.
Reply

Well that will make my american friends proud and flattered.
Hope you also manage to post more art, your stuff is really good.
Reply

Reply

"не бьёт головой кирпичи"

Reply

Applejack has left her farm...
Reply

Обожечки

Reply

Wonderful and thanks a lot for this great piece of art

Reply

Awesome mate love it out standing great work. out of this world. amazing i wish you all the best i hope your well take care speak to you later great detail awesome colour god bless from daniel.
Reply

Reply