I figured quite a few of you guys by now have wondered.... "what is with this guy's quicksand artwork?"
Well..... i guess it all started in 1998 with a little movie I like to call "Scooby-Doo On Zombie Island...
Anyone remember this?
I thought of this and thought to myself.... what would happen if Velma actually DID step in quicksand here?
Then I started seeing more quicksand on TV... namely...
Among other scenes....
And not too long after.... quicksand ended up in my childhood games....
I'm not sure what it is.... but I guess it was because I found girls in quicksand rather adorable...
In my fantasies I started dreaming of...
Coco Bandicoot...
(
ImaDeeJ
)
Princess Zelda...
(
PersonSix
)
Amy Rose...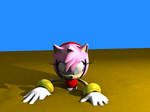 (
T-Wolf101
)
...and many others sinking in quicksand.....
After about 2014 i realized something... this stuff turned me on! My love for quicksand developed into a sexual fetish!
And then I met Ruby Rose. The love of my life..... GOD she looks adorable in quicksand...
I guess my love for Ruby sort of
enhanced
my sexual desire to see her in quicksand.... to the point where I even draw myself making out with her while sinking!
I even have this little Easter egg where I draw mud hearts on the sinking girls' faces!
I guess it's my weird way of saying I love them.......