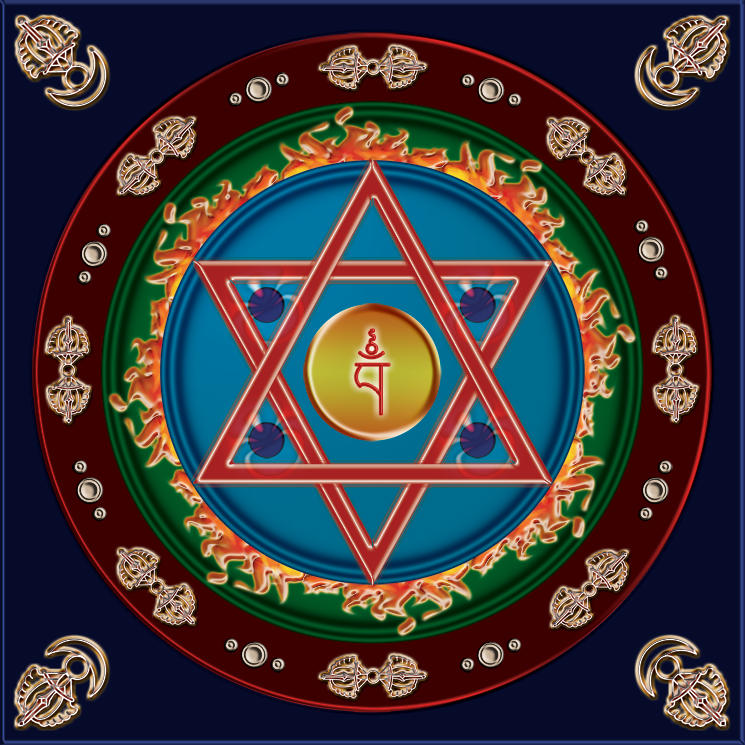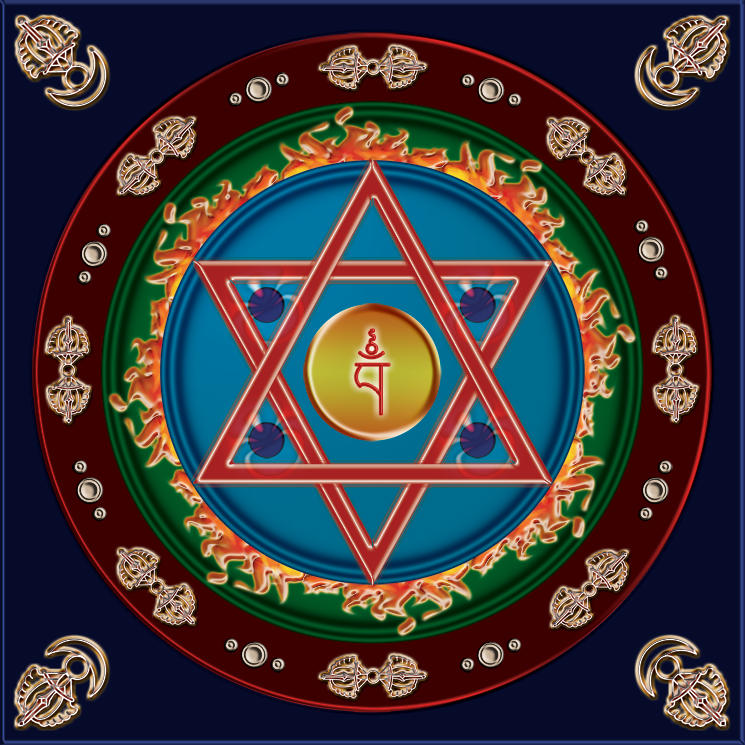 Watch
Vajrayogini symbolizes the female tantric aspect of the Buddha embodying the union of method and wisdom, which is shown with the two interlocking triangles. At the center of the hearth is her seed syllable bam.

--

gewa diyi kyewo kun, sunam yeshe tsok-dzok shing, sunam yeshe lejung way, dampa kunyi topar shok

Reply

Reply

and tell me wat this sunam means over here
Reply

Wow!, its very beautiful find vajrayoguini´s mandala again... thank you for your pure mind!
Great job... inspiring!

OM OM OM SARVA BUDDHA DAKINIYE VAJRA VARNANIYE VAJRA BEROTSANIYE HUM HUM HUM PHET PHET PHET SOHA
Reply

Wonderful. If I ever finish my Ngondro, Vajrayogini will be my next practice. Then Chakrasamvara.

Do you happen to be in the Vajradhatu/Shambhala Buddhist Sangha?

Cheers.
Reply

Thank you

I rejoice in your practice! Are you part of the Vajradhatu/Shambhala Buddhist Sangha?
I study with the Asian Classics Institute in NY and at home (my father, who is a Buddhist and has studied the same courses, teaches me) which is rooted in the Gelukpa tradition. I am still studying the sutra teachings, but it is a good foundation for tantra, and this particular group practices Vajrayogini. I really feel that Yoga is my spiritual path, but Buddhism plays an incredibly important role in that, since essentially they are the same

Reply

Cool. Yeah, I belong to the Vajradhatu Sangha. I've heard of the Asian Classics Institute however. I've listened to several of Geshe Michael Roach's talks online, and have read a couple of his books, one on the Diamond Cutter Sutra and one on Tibetan Heart Yoga (which includes very simple asanas for opening up the spine in general and the heart chakra in particular; nothing fancy).

My teachers however have been Kagyu and Nyingma. I lived at the Shambhala Mountain Center in the Rockies for a couple years assisting in the painting of murals in the Stupa there.

What style of yoga do you practice?
Reply

That's so wonderful that you were able to spend time at the Shambhala Mountain Center. I bet being in an environment like that was really beneficial to your practice

It must have been an incredible experience to paint murals in the Stupa!
I actually just finished taking a course on the Yoga Sutra with Geshe Michael Roach and Christie McNally last week! About a year or so ago, they started the Yoga Studies Institute which teaches the Classics of Yoga and Tibetan Heart Yoga Asanas. I have read all of their books, except the Diamond Cutter. I even helped to publish one of Geshe Michael and Christie-hla's books, How Yoga Works. The reason I got into yoga initially was because I read the manuscript for the book and knew that was the path I need to be on. But buddhism is so important to really making my yoga practice effective.
The style of yoga I practice is Tibetan Heart Yoga which is what is covered in the Tibetan Book of Yoga. I learned from and still study the practice with a wonderful teacher who is a student of Geshe-hla's, and I was forunate enough to learn an extended series (which is beyond what the book goes into) from Geshe Michael and Christie last September. I actually just started teaching as well!
Reply

Nice. The Yoga Sutras of Patanjali is my favorite non-buddhist teaching. I have B.K.S. Iyengar's translation and commentary called
Light on the Yoga Sutras of Patanjali
.
I'd love to do a Tibetan Heart Yoga course. Perhaps one day you'll be my teacher.

Living at the Shambhala Mountain Center was incredible. Meditation in the morning, mindful painting during the day, meditation at night, followed by study and contemplation. I had the great blessing of meeting many wonderful lamas and participating in their weekend programs. I also got to participate in a month long dathun where we meditated 10 hours a day for 30 days. I capped off my stay with a three month program where we meditated for two weeks, recieved teachings for two weeks, meditated another two weeks, recieved teachings for two weeks, and then once more meditated for two weeks followed by a final two weeks of teachings.
Do you know if your father has any interest in doing a three year retreat at some point? Or perhaps he already has. I would really like to do that one day though who can say if life circumstances will make it possible. I think it is probably one of the most powerful and meaningful things a person could do in this life. Some of my teachers have spent as much as 12 and 14 years in solitary retreat. Just sitting in their presence you can feel how this has completely transformed their beings. You can experience their minds. They radiate with realization and when we are open to them we can experience some degree of that realization without the need of any words being spoken. There is no experience more incredible and precious to me. I would like to be able to do this for others one day.

Reply

I think I found a photograph taken of the Stupa you worked on:
The Great Stupa of Dharmakaya
.
Your experience at Shambala Mountain Center sounds extraordinary! I am in awe of all that you did while there.
I know my father has an interest in doing a three year retreat, but for the same reasons as you (life circumstances), who knows if and when that will happen for him. I also have an interest in doing a three year retreat, but know that I am not yet ready to do something like that. One day, I hope to do one, when I am ready.
I don't know if you are familiar with the Buddhist University being built out in Arizona, Diamond Mountain, but many of the students there are planning on going into a 3 year retreat in a little over 5 years. They have the perfect space to do that sort of retreat if you are interested:
Diamond Mountain
. There is a link up in the header for the University.
Reply

Yes! Thats it. Cool to find a picture of it here on DA.
Diamond Mountain looks real nice. The landscape is very similar to the Mountain Shambhala Center ... maybe a few less trees.

I'll definitely keep the university in mind. No idea what the future holds in store for me.
Reply

mm me and uuuu like da mandala thingys...sweetness
Reply

Nice. Very good job on the details

Reply