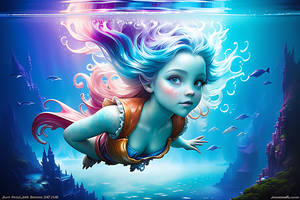 PLEASE HELP ME GROW!
Support my work by contributing to my tip jar every month.
---

Description
Some of you may remember this painting I did back in 2009:
[link]
The story goes like this -- I has gotten a new (supposedly) badass computer, which it turns out was a lemon, that blue-screened nearly constantly and with no provocation. The Elizabeth Bathory CHOW for ConceptArt.org was the first painting I did on that computer, and it was honestly the best painting I had ever done - until the computer did a BSOD in the middle of saving an iteration and corrupted not only my new file, but my old working PSD too. I lost the whole thing, and it was awful. I finished ... something... in time for the challenge, but I never was happy with it.
I put this away for a year, and then started this REALLY ambitious re-paint. Now, two years after that - working very sporadically on this from time to time - I think it's done.

Elizabeth Bathory is also known as the Blood Countess - one of the first female serial killers and one of the first modern vampire myths. More on her here:
[link]
Most people depict her nude in a bath full of blood, I'd decided to be different and show her recording her victims' names (she had over 650) into her book. With blood for ink, natch.
PS - I left the image kind of large so I can show off the details I am proud of. Don't go stealing stuff and make me put a watermark on it. <3
Photoshop CS5 + Wacom Intuos 4
Can't begin to say how long it took...
Image © J. Oyhenart-Ball, 2012
Image size
729x1200px 411.4 KB