Journal Entry:
Wed Jan 26, 2011, 10:48 AM
Got a tip that
Ph-Fraks
has used my work here:
:thumb186308452:
ph-fraks.deviantart.com/art/Al…
Here's my original: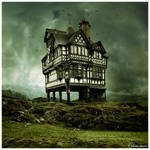 jeroenmurre.deviantart.com/art…
dA staff is informed.
Might anyone else stumble upon abuse of my (or others) work, please inform me.
Ciao
JeRoen

Watch

I think it is a permission issue since the person used your artwork as if it were free stock. I hope the situation gets resolved soon.
Reply

Hi Céline
Thank you for caring.
It is however not a permission matter as far as I'm concerned.
I don't give permissions for my work to be used as stock, so I didn't file the deviation report to dA staff as an permission issue, but as "my work used".
I guess at first I was a little confused about what exactly to fill in there, I probably filled it in wrong, because I got a message (twice) from dA staff that the complaint was ingored by dA staff. Only the third time it was accepted, but alas as an permission issue. The file has not been removed.
I have also filed a complaint with the permission option to dA staff and a message/note via the faq, but until now dA staff have not replied to me about it.
I don't understand why dA isn't more resolute about these thing, they say they are very strict when abuse is concerned, but I must admit I experience that in their actions in this case.
Ciao
JeRoen
Reply

I guess there must be a lot of complaints filed and that isn't a very happy thought...

but anyhow, I hope the deviation will get removed from that person's gallery.
Reply

The art thieves can steal all they like, but deep down inside they will always know it can't and never will be their own artwork.

Art belongs to the soul who created it.
Reply

I reported it under permission issue, or something like that. Hopefully, it'll get removed for that since that's what I usually report stuff under and it gets removed.
Reply

Reply

cool, thanks!!
hopefully dA gets it now...
Reply

geen van mijn reports is ooit afgewezen , dus denk dat het goed komt
Reply

Reply

What a shame that people steal. You're nice enough to not put a watermark across your pictures and here's what you get. I'll keep an eye out for any of your artworks being claimed by someone else.
Reply