Journal Entry:
Wed Oct 20, 2010, 12:21 AM
UPDATE:
Case closed. Alas no reaction from the maker, but dA staff has removed his work from the site.
Unpleasant surprise to see my work re-used without permission...
:thumb183204498:
original (mine)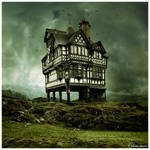 Watch

It happens all the time, unfortunately. I see kids posting obvious things that have been downloaded off of the net. I report them....nothing happens. Good to see something was done for you.
Reply

Reply

Well done admins!

Reply

It looks like garbage compared to the original. If you're going to resort to stealing other people's work, don't just slap a bunch of crap together all with different lighting and color leverls that don't go together at all. Good lord, what a slap in the face. Sorry to see this.
Reply

yeah, it was badly done wasn't it

DeviantArt admins have removed the image in the meanwhile.
Thanks for your support
Reply

Reply

Ik ben bang dat het nog wel vaker zal gebeuren

Sommige mensen hebben helaas zo weinig respect voor het
werk van een ander.
Reply

I know, dat is te verwachten.
Waarschijnlijk zijn er nog wel meer waarvan ik het bestaan niet weet.
Heb paar jaar geleden zelf een keer meegemaakt dat een of andere chinees mijn website (hoe die er toen uitzag) letterlijk had overgenomen (wat nog best lastig moet zijn geweest, want het was helemaal flash - dus hij moet screenshots hebben gemaakt en bewerkt etc) en daarin zijn eigen texkt gezet.
Heb het wel aan de jongen doorgegeven - gevraagd dat werk te veranderen, mijn aandeel eruit te halen, maar vooralsnog geen reactie.
dA admins hebben trouwens ondertussen dat werk removed.
Groet
Reply

haha. kids these days. no respect.

Reply

That sucks man you should report them
Reply